Meghalaya Polls: Government Possibly 'Encouraging' Illegal Coal Mining
The high court has minced no words in saying that illegal coal mining is thriving in Meghalaya with the possible "participation" and "encouragement" of the state government.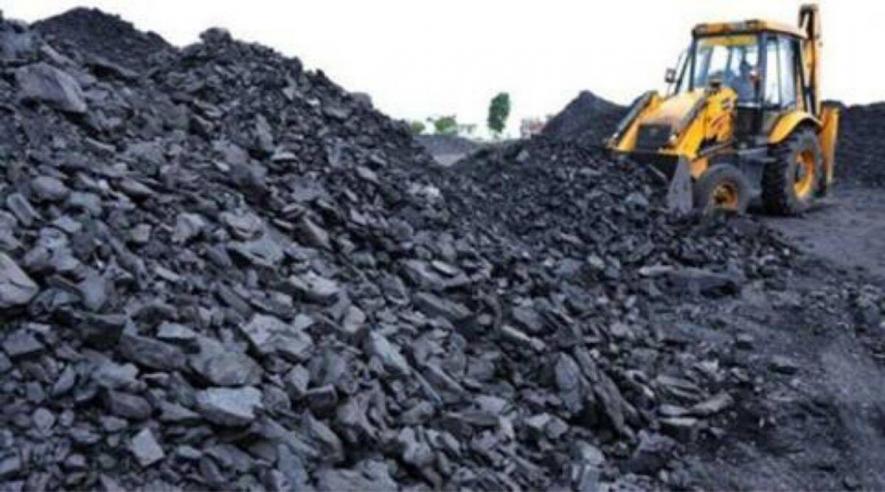 Image for representational purpose. Credit: The Indian Express
New Delhi: In a major embarrassment to the BJP-backed Conrad Sangma government of Meghalaya, just ahead of Assembly polls in the state, a high court-appointed committee has blamed it for exaggerating claims about coal lying unutilised after excavation ever since a ban was imposed upon illegal mining in the state. The state government had told the high court that 32 lakh metric tons of excavated coal are awaiting disposal at various places in Meghalaya ever since India's premier environment court, the National Green Tribunal (NGT), imposed the ban in April 2014.
However, the committee appointed by the high court has found that approximately 19 lakh metric tons of coal are lying unutilised after excavation in various parts of the state ever since the NGT ban. The aforementioned finding of the committee of Justice Brojendra Prasad Katakey, a retired judge who was appointed by the high court last year to probe into allegations of illegal mining in Meghalaya, assumes significance because it has often been alleged that ever since the ban, the mining mafia has been regularly transporting freshly mined coal under the garb of coal lying unutilised since April 2014.
Justice Katakey held a meeting with officials of the mining department last week where he also asked for an audit of coke oven and ferroalloy plants to find their requirements of coal.
The high court has minced no words in saying that illegal coal mining is thriving in Meghalaya with the possible "participation" and "encouragement" of the state government.
"It, thus, appears that despite the several orders of this Court issued as a consequence of the ban imposed by the NGT as upheld by the Supreme Court, illegal mining of coal continues in the State with, possible, State participation and even encouragement," the high court has said in an order issued in December 2022.
In a report submitted to the high court in September last year, the Chief Secretary of Meghalaya had claimed that 32,56,715 metric tons of coal were lying unutilised in the state ever since the NGT ban and was available for auction, in accordance with court directions, by the public sector Coal India Limited. However, Justice Katakey submitted a report claiming that approximately 19,54,258.816 metric tons of coal had been lying excavated at the time the ban came into force nearly nine years ago. The figure was arrived at by Justice Katakey on the basis of reports sent to him by Deputy Commissioners of the four coal-rich districts of Meghalaya, that is, East Jaintia Hills, West Khasi Hills, South Garo Hills and South West Khasi Hills.
"Committees had been formed in each of the four districts to assess the amount of coal lying excavated within their territorial limits. The figure of 19 lakh metric tons was arrived at by compiling the amounts of unutilised coal lying in each of the four districts as indicated in their reports. For greater clarity on the exact amount of unutilised coal in these four districts, I have issued directions to conduct drone surveys and volumetric analysis of the dumps," Justice Katakey told the NewsClick.
However, notwithstanding allegations that freshly mined coal is being traded illegally in Meghalaya the state government has further told the high court that the quantum of unutilised coal could go beyond the figure of 32 lakh metric tons. The high court has, however, called out the state government's bluff.
"What is apparent is that in addition to the previously illegally mined coal measuring approximately 19,54,259 MT a further 13 lakh MT of coal was illegally mined, transported and discovered which the State sought to pass off as coal mined prior to the imposition of the ban. There is, no doubt, further amounts of coal, in addition to the total quantity of 32.56 lakh MT as indicated in the Chief Secretary's report of September 20, 2022," the bench further observed in its order.
On the other hand, Justice Katakey has said in his report that out of the 19 lakh metric tons of coal, nearly three lakh metric tons have already been auctioned by Coal India Limited. This figure, he said, cannot be disputed, because it is reflected in Coal India Limited's account books from the 12 depots at which it gathers unutilised coal from different parts of the state before the auction.
The fact that illegal coal mining through the dangerous rat-hole drilling method has been continuing in Meghalaya has also been attested by numerous accidents that have taken place in various districts of the state in the recent past. Meghalaya Police had claimed in a report carried by NewsClick in August last year, following an accident at a rat-hole mine, that illegal coal mining was being carried out at the site in the West Khasi Hills district.
In addition, activists in Meghalaya have often alleged the state government to be in cahoots with the coal mining mafia in the state. Noted activist Agnes Kharshiing has not only been allegedly attacked physically by the mining mafia but has also been threatened for her campaigns against illegal coal mining.
"It is not possible that illegal mining on a scale as large as in Meghalaya could be taking place without the complicity of government authorities. On most occasions, the buck is passed on to the police for failing to curb illegal mining. But where are the other government departments?" Kharshiing questioned.
Kharshiing informed NewsClick that raids were conducted recently in Shillong and other parts of Meghalaya on the homes and business establishments of certain persons who work as middlemen in facilitating illegal mining and transport of coal.
"Old challans used for transporting coal several years ago are being revalidated by government departments to facilitate fresh transportation of the mineral. The nexus between government authorities, politicians and the mining mafia needs to be broken in order to put an end to illegal coal mining in Meghalaya," she added.
Justice Katakey had earlier been appointed by the green tribunal to probe into allegations of illegal mining of coal in Meghalaya. In a report submitted to the court in December 2019, he had submitted a report indicating that illegal mining of coal could be thriving in Meghalaya because of demand for the mineral from neighbouring Bangladesh. He had highlighted how excess coal was being transported into Bangladesh by hoodwinking land-customs stations on the international border. In the report, he had demanded that a thorough enquiry into possible smuggling of coal to Bangladesh be conducted through an independent investigative agency without involving Meghalaya's police department. However, no action was taken into the recommendation.
As per yet another report, submitted by Justice Katakey to the green tribunal in December 2019, cement manufacturers and small-scale thermal power producers in Meghalaya had been sourcing coal from illegally mined sources for producing power in order to avoid paying royalties to the state government. An audit of as many as nine industries had revealed huge discrepancies in quantities of power generated vis-à-vis amounts of coal procured from legal sources. None of these plants had participated in a public auction conducted by the Meghalaya government to dispose of nearly 38,000 metric tons of unutilised coal.
The responses of these industries to the discrepancies found in power generated vis-à-vis coal consumed, if assumed to be true at face value, would establish the fact that these were no less than technological wonders. They claimed to have replaced more than two-thirds of their coal requirements through slate, a non-fuel mineral. However, neither had these plants obtained permission from competent authorities for changing their fuel mix nor had they made any technological changes to their power-producing units.
"Even for the sake of an argument if it is assumed that the claim of these plants that more than two-thirds of their coal requirement during the Audit Period has been met by a non-fuel mineral (viz. slate) without making any change/modification in the design of these plants is true, it would have caused equal, if not more, damage to the flora, fauna, rivers, streams, water bodies and the environment in general in the State of Meghalaya as all such slate has admittedly been mined in an unscientific and haphazard manner without any mitigative measures and without obtaining mandatory mining lease, consent to establish, consent to operate, environmental clearance and authorization/no-objection certificate from the State Pollution Control Board in a flagrant violation of the existing mining, environmental, pollution control and labor safety laws," said Justice Katakey in his report.
The report recommended recovery of costs from these industrial units vis-à-vis royalties and taxes as also in terms of environmental compensation. However, no coercive action has been taken against these industries so far after they went to the Supreme Court seeking relief.
The writer is an independent journalist.
Get the latest reports & analysis with people's perspective on Protests, movements & deep analytical videos, discussions of the current affairs in your Telegram app. Subscribe to NewsClick's Telegram channel & get Real-Time updates on stories, as they get published on our website.
Subscribe Newsclick On Telegram