Members of Netaji's INA Bereft of Pension or Nationality
To unfurl the tricolour in Netaji's name, while disregarding India's freedom fighters in Southeast Asia is a travesty, and a gross misappropriation of Netaji's intrinsic values.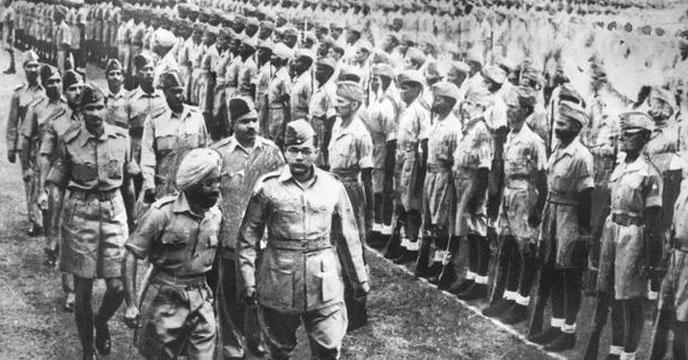 Image Courtesy: picswe.com
On October 21, 2018, Prime Minister Narendra Modi unfurled the tricolour at Red Fort commemorating the 75th anniversary of the announcement of the provisional government of Azad Hind by Netaji Subhas Chandra Bose.
As a citizen of free India, I applaud the fact that Netaji and his Indian National Army (INA) along with the Rani of Jhansi regiment – the first all-women's regiment of the world – are finally being recognised. The contribution of this amazing set of freedom fighters has long been ignored. However, while Netaji's 'Dilli Chalo', his exemplary patriotism and charismatic leadership is being lauded, let us remember that it was Habib-ur-Rahman who escorted him on the submarine from Germany, and Shah Nawaz Khan, who, along with Dhillon and Prem Sehgal, faced the legendary INA trials at the Red Fort. Precious little or perhaps the obverse is being done to emulate the values that Netaji and the INA stood for. Netaji had a memorial built in Singapore for those in the INA who had lost their lives, with the words: 'Coming generations will remember and honour you for your sacrifice'. The edifice was destroyed following instructions from Lord Mountbatten, who did not want to leave any vestiges of the freedom struggle.
However, despite petitions and letters, the government refuses to give freedom fighters' pension to the surviving INA members in Southeast Asia. At the time of writing, there are a miniscule number of INA members left in Burma (Myanmar) who are without citizenship of either India or Myanmar – they are indeed stateless.
In Yangon, I met Perumal aged 90, who is still awaiting some recognition from the government of a country he helped to free. Besides, having been in Burma for over 70 years, he and the other Indians are existing on a Foreigner's Registration Certificate, which does not allow them the freedom to have a proper job, buy property or even travel within Myanmar without permission.  A fellow journalist met Perumal last month and found him frail, in poor health, but alive.
In Yangon, I also met Chinnaya, who lived with his wife and a son in a hovel. He sang the INA's anthem, 'Sukh Chain ki barsa barkhe (Rains of happiness and contentedness)', and it brought tears to my eyes. I was grateful for a moment that he is blind, and could not see the tears of shame running down my cheeks, as I realised that those who had fought for my freedom were so poverty-stricken, and were living without citizenship. I met over a dozen INA freedom fighters in Ziawaddy and Kchautaga, who had all fought for the freedom of India, but remained both without citizenship and pension.
In Kuala Lumpur, Janaky Thevar – who took over as commander of the Rani of Jhansi regiment from Lakshmi Sehgal – kept writing for a meeting with the president, but her letters went unacknowledged. When I met the then president's press secretary, he shrugged, and said, "We get a lot of letters here". She died without getting any acknowledgement. In Kuala Lumpur, I also met Ahilandam, who, even after being a Rani, had married and been deluged with 11 children. She needed some monetary help, but nothing has come so far.
Meenakhi has remained a housewife, but says, "Those songs still ring in my ears, and inspire me to raise a family with values." I met several freedom fighters: Gandhi Nathan – a Tokyo cadet, Somasundram, Seethapathy and Kanusammy, all who had contributed in the freedom struggle of India, but remain unrecognised. When I asked Kannusammy in Prai – a small town off Kuala Lumpur – why he fought for the freedom of India without having set a foot on the Indian soil, he lost his temper, and said, "It's a funny question to ask to an Indian. Once an Indian, always an Indian!"
Rasammah Bhopalan, in Kuala Lumpur, retired as an educationist and is now 91, and I talked to her on the telephone last week. A country that cannot honour its freedom fighters might have no one left to fight for its freedom.
To unfurl the tricolour in Netaji's name, while disregarding India's freedom fighters in Southeast Asia is a travesty and a gross misappropriation of Netaji's intrinsic values.
The government should honour them with recognition and pension, and then unfurl the flag. That is what Netaji Subhas Chandra Bose's army justly deserves, and we would get to know our own heroes and heroines – worthy of renown for their deeds.
Jai Hind!
(Sagari Chhabra is an award-winning author and a film director. Her book, In Search of Freedom – Journeys Through India & South-east Asia has won the National Laadli Media award.)
Get the latest reports & analysis with people's perspective on Protests, movements & deep analytical videos, discussions of the current affairs in your Telegram app. Subscribe to NewsClick's Telegram channel & get Real-Time updates on stories, as they get published on our website.
Subscribe Newsclick On Telegram