Memories of Struggle: The Quest for Justice Continues 20 Years After the Gujarat Carnage
CJP and Teesta Setalvad bring together TM Krishna and Naseeruddin Shah to honour the memory of the victims, and the strength of the survivors with music and conversations.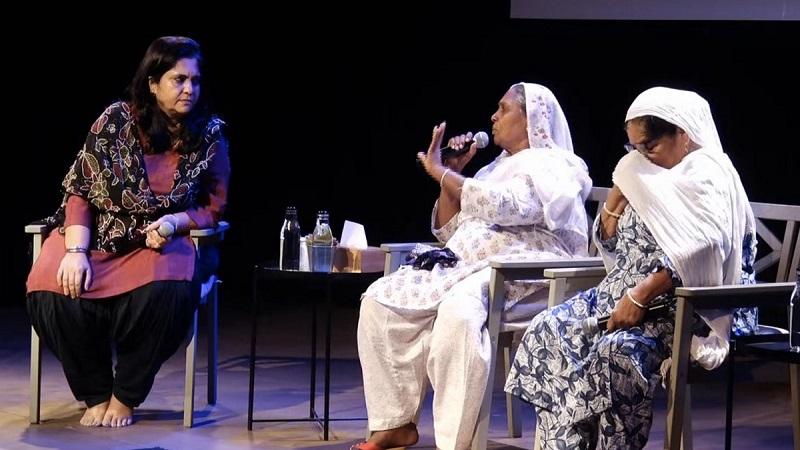 Gujarat 2002 – 2022 Memories of Struggle, an evening of music and conversations organised by Citizens for Justice and Peace (CJP) to honour the memory of the innocents killed in the anti-Muslim Gujarat genocide of 2002, was also an evening to honour those who survived, and continue seeking justice, 20 years later.
In 2002, Human Rights Defender and CJP secretary Teesta Setalvad was one of the intrepid reporters on the ground in the aftermath of the violence, visiting sites of carnage and speaking to survivors. Since then, she has stood in solidarity with them, engaging in advocacy, and providing them with legal and emotional support. On the 20th anniversary of the carnage, CJP, under Setalvad's guidance, curated an evening that marked the dark milestone in the history of modern India, in a unique, poignant and dignified manner.
The timing is also poignant, as even now Gujarat, along with many parts of India, continue to simmer with communal tension, and open calls are given for genocide. Areas that have survived bursts of violence, still remain vulnerable to more violence, and is crucial to recall what horror is on the horizon if not checked right away.
In conversation with Teesta Setalvad and actor activist Naseeruddin Shah were the brave survivors who recounted the horrors of Gujarat genocide of 2002, with clarity and detailing as if it was just yesterday. And it was. Considering that the wheels of justice have rolled on in slow motion, even though there have been small wins now and then, closure for the victims and those who stand in solidarity with them, is still some distance away.
CJP's journey with the victims and survivors
It can be said that CJP was forged in the fires that engulfed Gujarat during one of the darkest periods in Indian history, and is dedicated to upholding and defending the rights and freedoms of all Indians, especially victims and survivors of communal violence, in the courts and beyond. Naseeruddin Shah, noted how "CJP exists at a time when injustice and violence are the order of the day, and there are open calls for genocide. If we forget history, it repeats itself."
Survivor Tanveerbhai Jafri, whose father the eminent politician Ahsan Jafri was killed in public view at Gulberg society, recalled the legal battle still underway and said it was "with CJP's help that we were able to build a case against the administration for their possibly deliberate failure in controlling the Gujarat 2002 violence. We submitted our complaint and after a tortuous legal journey, the Supreme Court heard our case."
"Witnesses say when all other sources of help were exhausted, my father called the Chief Minister's [Narendra Modi's] office and instead of getting help, he was verbally abused. That's when everyone realised that no help was going to come," recalled Jafri and asked, "Why did the mob feel so empowered? The Police Commissioner's office is located nearby and police could have come within 10 minutes, and yet no one arrived until later that evening when 69 people had already been killed! It is noteworthy that the Police Commissioner had come to meet my father at Gulberg Society in the morning when the situation was tense, but after they left the mob realised they had a free reign. No subsequent help arrived despite my fathers repeated pleas!"
The pleas perhaps continue to ring in the ears of Rupa Behn Mody who was taking refuge in the home of Ahsan Jafri with her children when the Gulberg Massacre took place. As they tried to escape, her son Azhar's hand slipped out of her's. She continues to look for him 20 years later, and says, "Not much has changed in the last 20 years. It's hard for me to control myself. My husband Dara has been by my side. My daughter has grown up and is married. But we still live in hope that my son will return one day."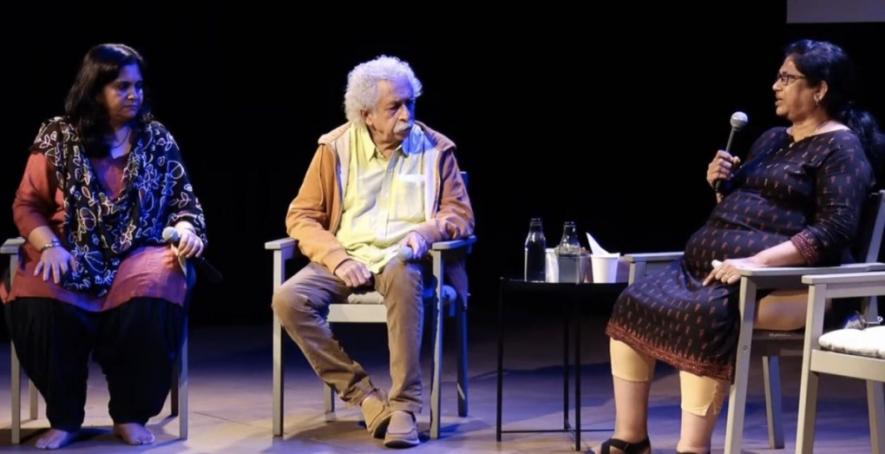 Teesta Setalvad And Naseeruddin Shah With Rupa Behn Mody
Teesta Setalvad hailed Rupa Behn Mody as a human rights defender too, who has stood in solidarity with all others who are victims and survivors. "Teesta has given me hope and strength. That is why I keep going to different protests. I will never let anyone forget that horror, because we cannot afford to forget it…," Rupa Behn said, adding that even when she wants to go back to Gulberg Society she can't, because permissions are denied. "Before 2002 we lived in harmony. It was a Muslim neighbourhood and mine was the only Parsee home. We could always rely on Ahsan Jafri saab, he would come to solve even the smallest of problems… now even if I want to go back I can't, because we are not permitted. If we land up there, the neighbours call the cops. We are afraid to go back because of this."
Advocate and human rights defender Mihir Desai did not mince words and reminded the world that "it was clear from the first day of the Gujarat 2002 violence that it wasn't sporadic or spontaneous violence, but genocide directed by the ruling regime."
No actual consequence for convicts
Setalvad pointed out how those accused, and even convicted, continue to walk free. "It is important to note that all people convicted in 2016 were given bail within six months. Though it is CJP's stand that we will NEVER demand the death penalty, we were shocked at how easily people got away despite being found guilty," said Setalvad highlighting the challenges in getting any real justice. "The Odh massacre case is in the High Court right now, but those convicted in the trial court were later granted bail and are now roaming free. In 2011, in the Sardarpura case, 33 people were convicted. But when the matter was appealed in the High Court, the convictions of only 17 people were upheld and others were acquitted. Then on January 22, the Supreme Court granted bail to all convicts," she said giving more examples. She further shed light on "politically powerful communities that have been lobbying hard to have convicts from their community to be acquitted. They have also been intimidating witnesses."
Witnesses testified despite threats
According to survivors Jannatbi Kalubhai Sheikh and Fatima Sheikh from Naroda Patiya, there were many intimidation tactics to scare witnesses who came forward to testify in court. "A man started yelling at me when I was testifying in court! The judge had to ask him to keep quiet" Jannatbi remembered how even the police personnel accompanying them acted strangely. "Sometimes they would stop the vehicle, as if to show that we were in the vehicle. But I don't know to whom we were being shown," Jannatbi recalled adding that she and other women women witnesses who were going to testify, were followed. "We would wear two dupattas, one over the other to hide our identities apprehending violence," recalled. Setalvad recalled that there were 38 women witnesses and "once they made up their minds to testify, there was no stopping them."
Survivors Idrisbhai Vohra and Ferozbhai Vohra, who witnessed the Odh massacre, also recalled how if it was not for Setalvad, CJP and Advocate Suhel Tirmizi, "we wouldn't have been able to seek justice. It is because of the protection provided that we are able to breathe easily." The protection he refers to, is the deployment of Central Industrial Police Force (CISF) personnel to provide security to 316 eye-witnesses of the various massacres in the state.
CJP was instrumental in helping witnesses secure this protection as there had been many instances of witnesses being threatened in the run up to the trials and even on the days they were expected to testify. "This protection will continue till the cases are finally resolved in the Supreme Court," informed Setalvad. Exclusion and discrimination still prevalent
Sabirbhai and Maqboolbhai, eye-witnesses and survivors of the Sardarpura massacre where 33 people were killed, feel the anti-Muslim sentiment is still felt across India. An anguished Sabirbhai asked, "We Muslims were also born in India, then why are we seen as "outsiders" in our own country? We are not terrorists! We are Muslims, and we are Indians!" Sabirbhai also shared, "When I visit the old neighbourhood, neighbours look at me with hostility and ask why I named them in court? I wouldn't wish what I endured and saw on anyone. People rendered homeless, little children burnt!" He recalled that there was also an economic boycott, against Muslims, that intensified after Covid pandemic reached India, and Muslims were denied employment opportunities, vilified and accused of spreading Coronavirus.
Both Jannatbi and Fatima Sheikh returned to Naroda Patiya and are still living there. They say even now there is a social and economic boycott of Muslims, "Shopkeepers shoo us away, and when we go to buy firewood, the seller tells us to keep the money at a distance accusing us of having Coronavirus." They are also denied opportunities to earn a living.
Idrisbhai Vohra said that even now "across Gujarat, Muslims are viewed as the "enemy". But there are a few good people. I have Hindu friends who feel that the Gujarat Genocide was wrong and say that God will punish the guilty."
Some melodies to salve old wounds
Musician and peace activist T M Krishna performed several soul-stirring pieces throughout the evening. He began with "Allah tero naam, Eshwar tero naam…", a hymn symbolising communal harmoney to honour the memory of victims of the Gujarat Genocide, as well as the strength and commitment of those who continue to seek justice for Gujarat 2002. He also performed "Vaishnav Jan toh tere kahiyejee," and Faiz Ahmed Faiz's celebrated "Hum Dekhenge" with some stanzas in Malayalam, Kannada and Tamil.
The evening of music and conversations is an archive of memories that need to be visited again and again, to remind citizens that such horrors can be prevented, and that citizens are the ones who must hold the government accountable. The complete live recording of the event may be viewed here:
Get the latest reports & analysis with people's perspective on Protests, movements & deep analytical videos, discussions of the current affairs in your Telegram app. Subscribe to NewsClick's Telegram channel & get Real-Time updates on stories, as they get published on our website.
Subscribe Newsclick On Telegram