Metro Rail Project Derails Slumdwellers of Patna's Malahi Pakdi Area
Hundreds of residents, including women, were thrashed by the police and the RAF during the latest anti-encroachment drive.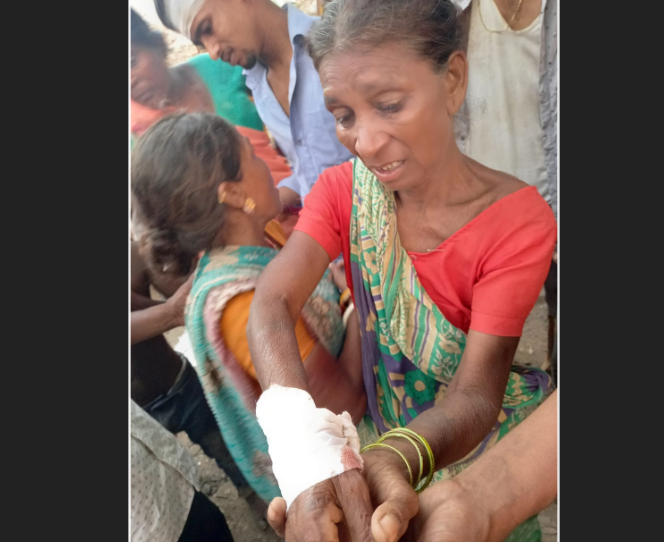 The incidence of evictions in the name of using land for public utility has increased in the past few years. According to a report released by the Housing and Land Rights Network in September, around 2,57,000 people were evicted for various government projects between March 2020 and July 2021.
In 2021, 169,000 people were evicted and 24,400 homes demolished across the country till July 31, the report, Forced Evictions in India in 2020: A Grave Human Rights Crisis During the Pandemic, revealed.
One such recent case of eviction was reported at Malahi Pakdi, in Patna, where several people were grievously injured and one person died when the police evicted them to make space for Metro construction on October 5. In the last four years, the Bihar government has tried, at least, 10 times to evict the inhabitants of Malahi Pakdi.
The slumdwellers of Malahi Pakdi, who stay right above the sewer line of the city, are mostly cleaners/sweepers with some of them staying there for almost 50 years. Despite several promises of a permanent settlement made during the regimes of former chief minister Lalu Prasad Yadav, the fear of eviction continued to haunt them.
The state's constant attempts to evict the residents of Malahi Pakdi violate Article 19(1)(e) and Article 21 of the Constitution, which guarantee the right "to reside and settle in any part of the territory of India" and "protection of life and personal liberty" respectively.
The Supreme Court, in various judgements, has thrown light on the right to shelter and put the onus on the State. In Kharak Singh Vs The State of U.P., the court observed: "By the term 'life' as here used, something more is meant than mere animal existence… The fundamental rights of life and personal liberty have many attributes and some of them are found in Article 19. The State must satisfy that both the fundamental rights are not infringed by showing that there is a law within the meaning of Article 21 and that it does amount to a reasonable restriction within the meaning of Article 19(2) of the Constitution."
However, Abhishek Ranjan, a former resident of Malahi Pakdi, has seen repeated violations of these rights. "We have seen this before. However, the administration was never so aggressive and brutal like this time."
On October 5, a police-Rapid Action Force (RAF) contingent with a JCB arrived at Malahi Pakdi to evict the residents without serving a proper notice. The situation turned ugly when they requested the police to wait for two hours to allow them collect their belongings. "I was the first one to talk to the police. I kept requesting them to allow us collect our belongings but they were adamant about demolishing our houses. An argument between a few women and the police resulted in a lathi charge" Shashikant Kumar, a 21-year-old resident who is a driver by profession, said.
In retaliation, the residents hurled stones at the force, which, according to visuals obtained from the locals, thrashed the women residents. Some of the photos show the injury marks sustained by the residents on their backs and heads.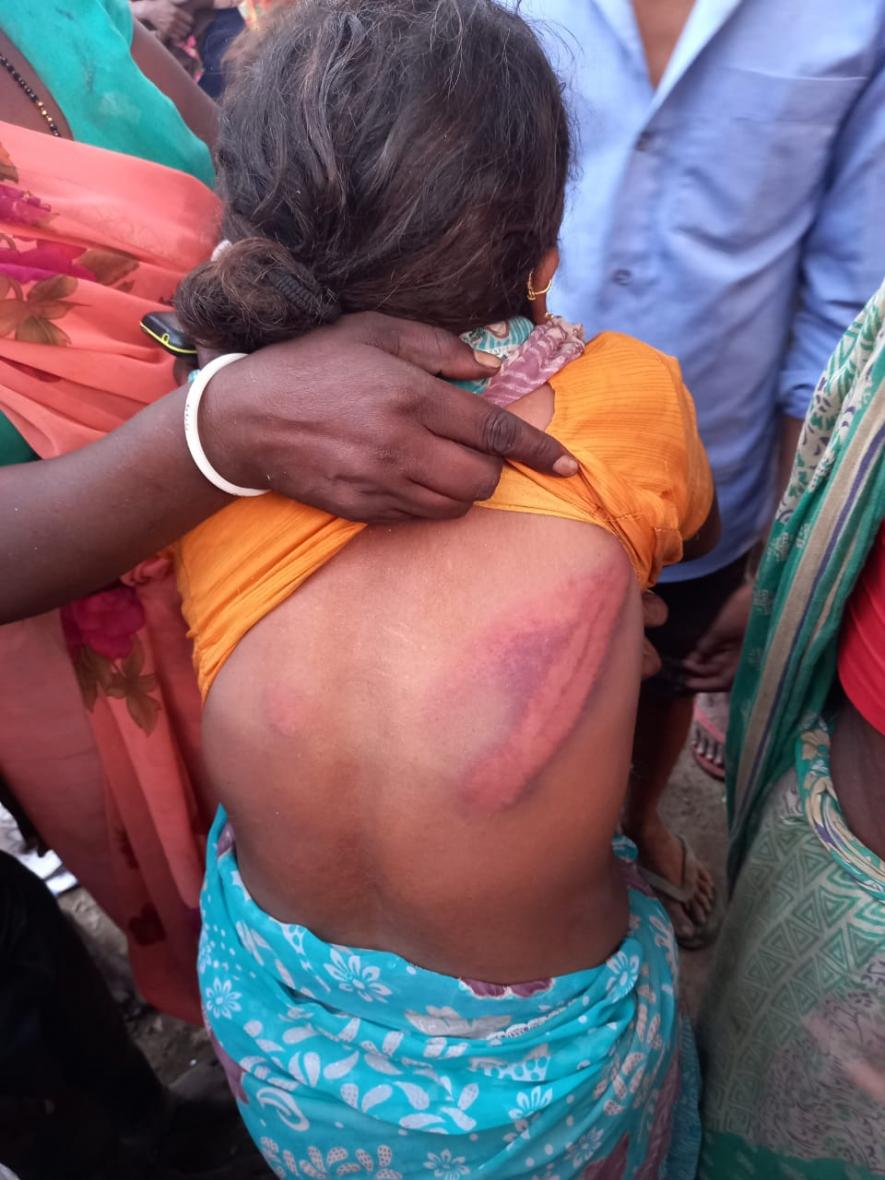 "My brother was only trying to collect our belongings when the police hit his head. Later that night, he suddenly started screaming in severe pain around 11.30 pm. We tried taking him to the hospital but he died," Uday Thakur said narrating how his brother Rajesh died.
Several slumdwellers, including an 11-year-old, were left with bleeding heads. Rajesh, who jointly owned a tea stall with Uday, is survived by three children with the eldest one aged 17. According to the post-mortem report, his death was caused by a heavy object hitting his head.
Another resident Shashikant Kumar was "left with nothing but the clothes" he was wearing. The locals alleged that this was not the first incident of police brutality. While the police claimed that the residents prevented them from doing their job, the locals said that they only asked for a few hours to collect their belongings. 
"I was born here and have been staying here for more than 50 years. Things were fine till Lalu Yadav's regime; the problems started after Nitish Kumar became the chief minister. Now, we are homeless. Either the residents are returning to their native places or shifting to rented accommodation. We never had such a horrible experience," said Shyam Sundar Shah.
Most of the residents lost their belongings when their makeshift houses were demolished. Several families who own small shops cannot afford rented accommodation. "We do not like staying here. Who would like to stay atop a sewer line? We are compelled to stay here because of our financial status," Thakur said.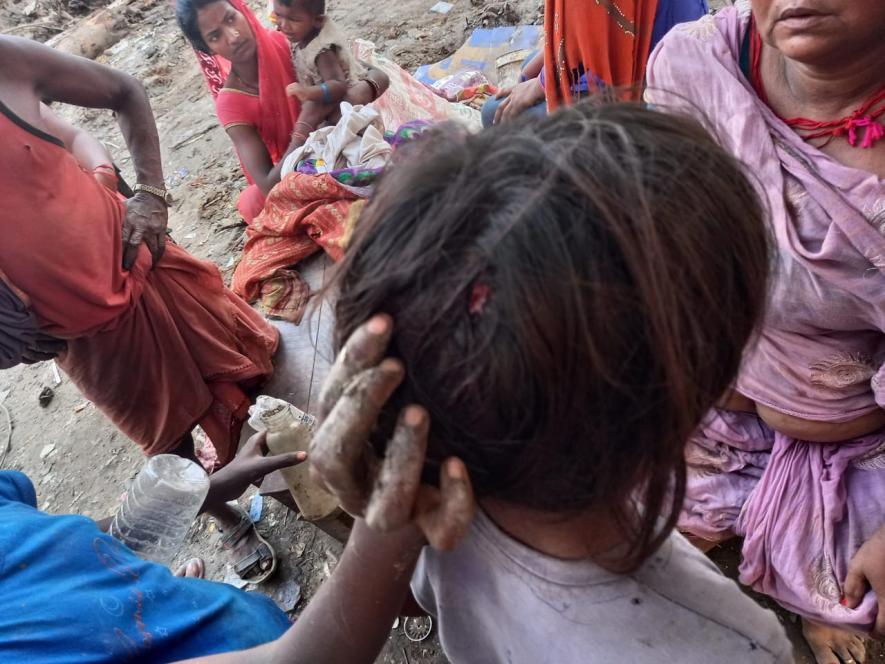 The National Urban Housing and Habitat Policy, 2007, aims to provide "affordable housing for all with special emphasis on vulnerable sections of society such as scheduled castes/scheduled tribes, backward classes, minorities and the urban poor". The policy seeks to ensure equitable supply of land, shelter and services at affordable prices. It gives preference to the provision of shelter to the urban poor at their present location or near their workplace and also adopts an approach of in situ (onsite) rehabilitation.
The state government wants to dispose of all the eviction cases by February 2022 with the aim of completing the Metro work by 2025, resulting in increasing anti-encroachment drives.
Ranjan, who is also an activist, said, "We were made to fill up ownership forms several times, including the regimes of Lalu Yadav. But our forms were rejected without providing the reason." A frustrated Ranjan and his family ultimately shifted to a rented place two years ago.
Evicting people is not illegal, as per the August 2019 apex court ruling: "In cases of land reserved for public utility, it is desirable that rights should not accrue. The law of adverse possession may cause harsh consequences; hence, we are constrained to observe that it would be advisable that concerning such properties dedicated to public cause, it is made clear in statute of limitation that no rights can accrue by adverse possession."
What about resettlement? The authorities violate people's entitlement to security of tenure and freedom from forced evictions; access to and benefit from public goods and services; information, capacity and capacity-building; participation and self-expression; rights to resettlement and adequate compensation for violations and losses; and physical security and privacy. All are elements of the right to adequate housing, according to international law. 
The eviction of Malahi Pakdi dwellers also violates the basic principles under the United Nation's Basic Principles and Guidelines on Development-based Evictions and Displacement. In paragraphs 16 and 52-56, the UN clearly directs the State to establish a "right to resettle" consistent with the human right to adequate housing for displaced communities living in adverse conditions.
The UN also calls for provision of compensation, restitution, and adequate rehabilitation consistent with human rights standards in paragraphs 42, 62-63, 69 and 70. Detailed steps to be taken by states to protect human rights prior to, during, and after evictions are mentioned in paragraphs 37-58.
Absence of legal aid
Since most of the residents are illiterate and not aware of a legal recourse, they rely on NGOs who offer legal aid only to fleece them. Sixty-five-year-old Saraswati Devi mentioned how NGOs hoodwinked the residents in the name of providing legal assistance.
"Several NGOs took advantage of our illiteracy. Local NGOs take our details and charge us money with the promise of providing us ownership of land. Two years ago, my name even came in the list for Pradhan Mantri Awas Yojana but nothing happened. The NGOs collect Rs 20-Rs 250 per head in the name of providing us ownership but not a single lawyer has even visited the area. We have always been a victim of false hopes," rued Devi, whose dream to get her son married this year was dashed after her house was demolished.
On October 29, the police tried to evict the remaining residents living under tents. "Without any announcement, they barged in and started evicting the residents. We had spoken to the SDO and were told that the locals could shift to Patliputra Khel Parishad area for now," Ranjan said. Around 30-40 families have shifted to rented houses in Patna. At least, 50 families have no choice but to reside at the same place post the anti-encroachment drive because their shops are located there.
Thakur has been in talks with SDM regarding compensation for his deceased brother. A compensation of Rs 4 lakh is supposed to be given to people whose houses were demolished, Thakur said, adding that the administration has also promised a job to Rajesh's 17-year-old son. However, the residents still await the promised compensation.
(Hrishi Raj Anand is a freelance journalist from Jharkhand working on the country's rural, tribal and policy issues.)
Get the latest reports & analysis with people's perspective on Protests, movements & deep analytical videos, discussions of the current affairs in your Telegram app. Subscribe to NewsClick's Telegram channel & get Real-Time updates on stories, as they get published on our website.
Subscribe Newsclick On Telegram