Mewat Kisan Mahapanchayat: 'If Shobha Yatra is Taken out, we Will Take out Tractor Rally'
Large-scale violence in the previous Shobha Yatra disturbed communal peace in the region. Farmer leaders are opposing another such Yatra.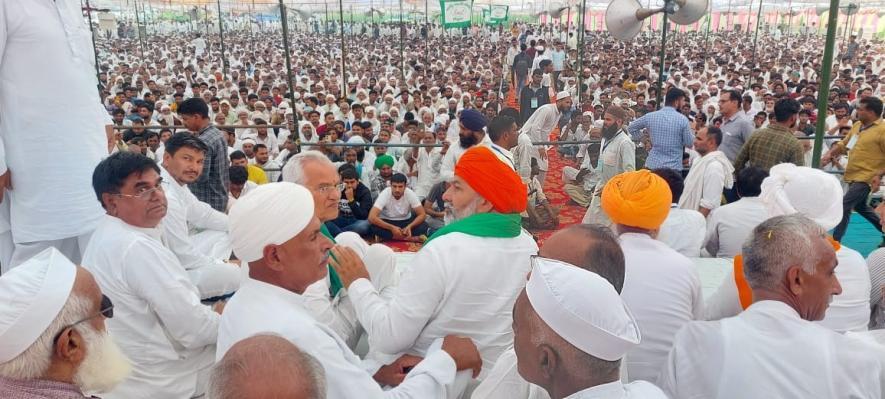 Image Courtesy: Twitter/@RakeshTikaitBKU
On Saturday, August 26, a huge 'Kisan Mahapanchayat' was held in Rajasthan's Alwar. Some days ago, the Mewat region was wracked with widespread violence as communal harmony was disturbed. In this Mahapanchayat, attended by important kisan leaders from across the country and thousands of people, a message for Hindu-Muslim unity and brotherhood was given. Bharatiya Kisan Union's National Spokesperson Rakesh Tikait made a big announcement saying, "If Shobha Yatra is taken out then the farmers will also take out a rally with four lakh tractors and hold a big panchayat there too." 
In the Alwar Mahapanchayat, the farmer leaders spoke about brotherhood and accused the Haryana government and Right-wing organisations like Vishwa Hindu Parishad (VHP) of promoting  communal enmity in Nuh. 
A large part of Mewat comes under Haryana, and some parts of the region also fall under neighbouring states of Rajasthan and Uttar Pradesh. The entire region where Meo Muslims reside is called Mewat. This Mahapanchayat was held to oppose the attempts to sow seeds of communal discord between Hindus and Muslims, and was attended by farmer leaders and common people from Haryana, Punjab, Rajasthan and Uttar Pradesh. 
The Mahapanchayat was also attended by Jammu & Kashmir's former Governor Satyapal Malik, farmer leaders Rakesh Tikait, Bharatiya Kisan Union's (Charuni) leader Gurnam Singh Charuni, Samyukta Kisan Morcha's leader Darshanpal, Bharatiya Kisan Union's (Bhagat Singh) Chief Amarjeet Singh Mohri, Bharatiya Kisan Mazdoor Union's Suresh Koth and Maulana Arshad, including many other important people. 
Gurnam Singh Charuni said, "BJP has no other issue. They just want people to fight among themselves but we have to not fight, we have to maintain our brotherhood. There are no Hindus or Muslims here, only brothers." 
Charuni criticised the present government saying, "During 60 years of Independence, these people did not hoist the tricolour at their headquarters and now they are taking out tiranga yatra."
Speaking to the media, Charuni said, "This panchayat has been held to preserve our social fabric of brotherhood. The Mahapanchayat has only one purpose, that brotherhood can be ensured in our society." 
Bharatiya Kisan Union (Bhagat Singh) chief Amarjeet Singh Mohri said." Thousands of people sacrificed their lives to save the country hundreds of years ago. Today, people are faced with a big responsibility as these people (the BJP) want to change the country's Constitution. But we will not let brotherhood break, we will not let them change the flag, or the Constitution. The biggest responsibility for this lies with you, as Mewati people have sacrificed a lot for the country's Independence, and those who are calling themselves nationalists now, were supporting the British then." 
Mohri added, "Break the shackles of religion and caste, join hands with your farmer brothers, work to defeat the communal and divisive powers with your unity." 
Jammu & Kashmir's former Governor Satyapal Malik said, "The Central government wants to end agriculture. This is why different laws are being introduced. Following communal clashes in Nuh, Haryana Police has been arresting innocent people, their homes and businesses are being demolished due to vengeance." 
Malik also raised many questions about the Pulwama attack when 40 jawans lost their lives. He appealed to both communities to live in communal harmony. 
Farmer leader Rakesh Tikait launched an attack on Haryana's BJP government and said, "If the Haryana government gives permission for the Brijmandal Yatra in Nuh on August 28, then we too will take out a tractor rally. These BJP people ask, where are the four Lakh tractors? They should hear loud and clear that four Lakh tractors and 25 lakh people are all here." 
Tikait said, "This is a country of communal harmony, unity and brotherhood. If they talk about breaking this brotherhood, we talk about strengthening it. It is important to open schools, colleges and hospitals and give employment to the youth to ensure the country's progress." 
Tikait said, "No political party can save the country. Only a movement can save the country. The government will be forced to bend when farmers, workers, the unemployed masses, the oppressed and the exploited sections all participate in it. The country's ruler is following the policy of divide and rule." 
Tikait made an appeal in the Mahapanchayat and said, "Educate your children, encourage them to find employment, don't send them to participate in riots. We are all Hindus. There are two types of Hindus, the first types are those who operate from Nagpur, and the second type are us Indian Hindus who never fight and live in brotherhood." 
It should be noted that this Mahapanchayat was organised under the banner of Samyukta Kisan Morcha (SKM) at a time when RSS-affiliated VHP and Bajrang Dal are talking about organising a Shobha Yatra in Nuh again, when another similar rally held on July 31 led to communal violence and riots in many areas of the region. At least six people lost their lives in this violence and many were grievously injured. This created communal tension in the region. The Haryana police has not given permission to anyone for holding a rally on August 28. Section 144 has been imposed in the entire district. Despite this, VHP is adamant to organise this rally." 
The way communal poison spread in the region during and after the rally and led to uncontrolled violence, raises concerns among people as another such rally has been announced. Following the previous violence, hateful speeches were made, and a section even talked about economically boycotting Muslims. In such a situation, not just the administration, but also common people are aware about the yatra's implications.
Get the latest reports & analysis with people's perspective on Protests, movements & deep analytical videos, discussions of the current affairs in your Telegram app. Subscribe to NewsClick's Telegram channel & get Real-Time updates on stories, as they get published on our website.
Subscribe Newsclick On Telegram