MGNREGA Fund Impasse Big Worry for CM Mamata, Offers to Follow Norms
The brake on the release of funds by the Centre, which has found blatant and persistent violation of norms by Nabanna, has queered Mamata Banerjee's pitch.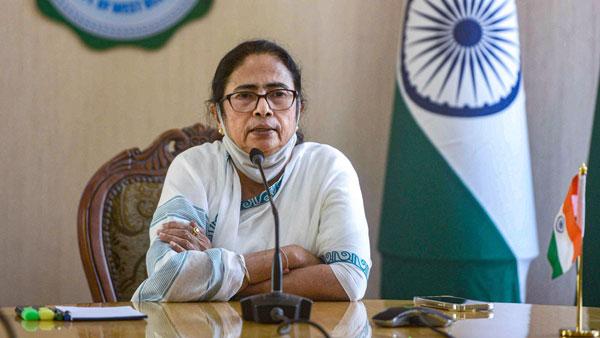 Kolkata: It's a tough call suddenly for Trinamool Congress chief and West Bengal's chief minister Mamata Banerjee; TMC's very comfortable majority in the Assembly notwithstanding. Mamata finds herself in an awkward situation after the arrest of two of her trusted aides – Partha Chatterjee and  Anubrata Mondol – and the seizure of crores in cash and costly jewellery from several premises linked to Chatterjee and his aide – a lady. These incidents have provided space for the Opposition to regroup and hold well-attended protests to fortify their persistent charge that the TMC regime has become a byword for corruption and Mamata has chosen to remain a spectator.
In her confrontation with the Centre over the brake applied by it on the release of funds for schemes crucial for her rural vote bank, she has already staged a retreat. A mellowed chief minister is now assuring the Centre that all its guidelines will be followed. 
The fast-paced developments over the past three weeks have happened when she was seriously considering advancing the panchayat elections, normally due in mid-2023, by some three months to February. After getting signals from Nabanna, the State Election Commission (SEC) has begun work on the delimitation of constituencies – the exercise that for rural polls has to be undertaken every 10 years. Compliance with all prescribed procedures will enable SEC to go through the exercise in February.
Banerjee's calculation seems to be to see that she has enough time at her disposal to plan and campaign for the 2024 Lok Sabha elections, in which she wants TMC to emerge as a significant factor. Although the February schedule for panchayat polls gives her six months, the intervening, rather longish festive season, shortens the duration for political activity in West Bengal.
The brake on the release of funds by the Centre, which has found blatant and persistent violation of norms by Nabanna, has queered Mamata Banerjee's pitch. In her meeting with Prime Minister Narendra Modi in New Delhi on August 5, she detailed the dues from the Centre thus: Rs 6,561.56 crore under the Mahatma Gandhi National Rural Employment Guarantee Act (MGNREGA) 2005, Rs 9,329.76 crore under the Pradhan  Mantri Awas Yojana – Grameen, Rs 2,105 crore under the Pradhan Mantri Gram Sadak Yojana and Rs 15,864.84 crore under the Samagra Shiksha Mission – all at the end of July. In addition, funds are due under the tax devolution arrangement in vogue and on account of disaster relief, making it a total of Rs 1,00,968.44 crore as of July 31.
Amount due under the devolution arrangement is really not a bone of contention because it is always as per the formula devised by the Finance Commission; at times, there are delays on the Centre's part. But, dues under the rural job scheme, Awas yojana and disaster relief provision do matter for states, particularly when panchayat polls have to be kept in view by a state government. As matters have evolved, quite clearly New Delhi has taken umbrage at the West Bengal government surreptitiously changing the scheme name from Pradhan Mantri Awas Yojana to Bangla Awas Yojana and stopped providing funds. Now, signboards are being changed, indicating the official name in what is a clear instance of a climb-down by the chief minister. 
Of much greater political relevance in the context of the next panchayat election is the 100-day rural job scheme under which New Delhi has held back funds from December last. The Union Ministry of Rural Development (MoRD) has been repeatedly pointing out to the West Bengal government to abide by laid-down norms, prevent corruption, and conduct social audits regularly. Its contention is that its appeals and directives have been ignored by the state administration. In a drastic step, the Central team which visited West Bengal some time back to inspect MNREGA works slapped the  administrations of four districts – Hooghly, Purba Bardhaman, Malda and Darjeeling – with fines for serious anomalies and irregularities. The notices served put the penalty at Rs two crore for Hooghly, Rs one crore plus for Purba Bardhaman, Rs 26 lakh for Malda and Rs 17 lakh for Darjeeling. This is embarrassing for the state.
The Central teams, according to informed sources, pinpointed the malpractices – some works were shown only on paper, the size of the ponds dug up did not bear out the official claim, villages roads claimed to have been built were non-existent and in some cases, inferior materials were used. Official sources have indicated that as provided in the rules, money is being recovered from panchayat functionaries found to have indulged in malpractices. Under Section 27 (2) of MNREGA 2005, the Centre, on receipt of a complaint regarding improper utilisation of funds .... "in respect of any scheme, if prima facie is satisfied that there is a case, cause investigation into the complaint  ... by any designated agency and, if necessary, order stoppage of release of funds to the scheme and institute appropriate remedial measures for its proper implementation within a reasonable period of time". 
Fact-finding investigating teams, which comprised activists of Narega Sangharsh Morcha and other outfits working on rural livelihood programmes, visited Purulia, South 24 Parganas and Nadia districts in the last week of July. The teams found that a lack of job opportunities  had created distress among job seekers and those who are not getting paid even for the very limited number of days they worked. Single women at times are forced to skip meals, many people dependent on the job scheme are forced to seek loans from private lenders and the incidence of migration in search of livelihood has increased. Some people are accepting tougher jobs at lower than MNREGA rates. There is fear in official circles that the suffering may give rise to a law and order issue. 
The study has veered around to the view that complications in Centre-West Bengal relations are adversely impacting the state's rural economy. MoRD should immediately release the pending wages along with 0.05% per day delay compensation as per para 29 of Schedule II of the Act. All active job card holders should be paid unemployment allowance as per Section 7 (1) of the Act. The report urges the state government to set up a revolving fund of at least Rs 1,000 crore for timely payment of wages when there is a disruption in disbursal by the Centre. 
In this case, too, Mamata finds herself on a weak wicket. It is a sensitive issue, which, if not resolved early, rural discontent and suffering are bound to prove politically costly – particularly because Banerjee wants to hold panchayat elections before the due date. Here too, she has already climbed down, telling New Delhi all its directives and guidelines will be acted upon; the unstated part being: "You please start releasing funds and clearing dues from December 2021 onwards".
It is against this backdrop that NewsClick sought the views of two senior politicians:  Shamik Lahiri of  CPI (M) state committee and secretary of South 24 Parganas district unit and Ashok Ghosh, UTUC general secretary and RSP central committee member.
Lahiri said West Bengal's political deterioration has gathered more pace with fresh instances of corruption coming to the fore. "We have been saying for a long time that TMC is institutionalising corruption at every level of administration. The police are giving protection to corrupt TMC leaders, instead of acting against them. BJP seems to think that politically it suits them if TMC stays in power." Asked whether the CPI (M) leadership is applying its mind on how to prepare workers for the panchayat polls, he said, "We have started  work, educating voters on TMC's misrule and economic mismanagement, and focusing on how TMC leaders have grown rich by the day while common people continue to suffer". 
Ghosh said Mamata's reliance on populism has proved damaging to the state's politics and economics. The state is already in a debt trap. Her efforts to industrialise the state have shown no visible results. Her support base has considerably weakened. "She has not condemned the corrupt activity of her party leaders she seems to be more interested in suggesting to the people that she is not corrupt. But she is not realising that people are not buying that argument anymore." Ghosh sees mass protests gathering momentum as people realise sustained agitation is their only way out.
The writer is a Kolkata-based senior freelance journalist. Views are personal.
Get the latest reports & analysis with people's perspective on Protests, movements & deep analytical videos, discussions of the current affairs in your Telegram app. Subscribe to NewsClick's Telegram channel & get Real-Time updates on stories, as they get published on our website.
Subscribe Newsclick On Telegram