Mid-Day Meals: Activists Slam National Institute of Nutrition For 'Unscientific' Report On Akshaya Patra
Run by religious organisation ISKCON, the Akshaya Patra Foundation has been refusing to supply eggs and even onion and garlic in the food supplied for government school children in Karnataka.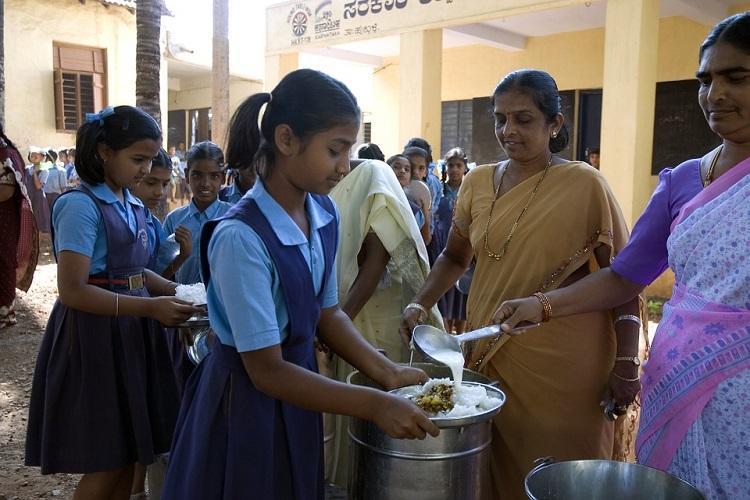 Image Courtesy: The News Minute
New Delhi: Activists and civil society groups have written an open letter to the scientists at the National Institute of Nutrition (NIN) — asking the institute to withdraw its report submitted to the Karnataka government regarding the quality of food supplied by the Akshaya Patra Foundation (APF) as part of the mid-day meal (MDM) scheme.
The letter, signed by 10 organisations, such as Centre for Sustainable Agriculture, Fedina, Right to Food Campaign, People's Union of Civil Liberties among others and  and 94 individuals, questions how the scientists at the Hyderabad-based institute — in the absence of any empirical data and scientific field assessment — could make "sweeping statements praising APF" in its report.
 The signatories have expressed dismay at "the unscientific, biased and irresponsible" report sent by NIN through its Director — in response to a request by the Karnataka government to assess the nutritional value and quality of the food supplied to government school children.
APF — an NGO run by the International Society for Krishna Consciousness (ISKCON), a religious organisation — has been contracted to supply food to 2,814 schools in Karnataka.
But the NGO has been imposing religious diktats in the meals it supplies, paying scant attention to the nutritional needs of the children.
APF has been refusing to include eggs (an excellent source of protein and other nutrients) as well as onion and garlic in the meals supplied to schools because it considers these ingredients to be 'tamasik' (attributed with dark, dull or demonic qualities in yogic and ayurvedic literature).
The aim of the mid-day meal scheme — fully funded by Government of India and Government of Karnataka — is to provide children in government schools "a nutritious meal containing locally and culturally relevant food, which children will find tasty enough to eat in adequate quantity".
It is important to note that the vast majority of children in government schools hail from economically underprivileged families — and the purpose of the MDM is to both ensure nutrition to children and provide an added incentive for these kids to attend school.
However, there have been enough ground reports of children wasting the food and not eating because it is bland and tasteless.
As the letter states, "onions and garlic are part of the traditional foods like sambhar in Karnataka, and hence has been included as part of the menu prescribed by the State government."
Also Read: Mid-Day Meals: ISKCON Agency Flouts Govt Guidelines, Refuses Onion-Garlic After Refusing Eggs
APF has thus violated not only the menu prescribed by Government of Karnataka but also the terms of Memorandum of Understanding (MoU) signed by APF itself.
The MHRD guidelines also prohibit propagation of private beliefs through MDM scheme — which APF has violated through its imposition of religious diktats.
The government did not object to the non-provisioning of eggs. (Ironically, the NIN itself recommends that children consume at least three eggs per week due to their high nutritional advantages.)
However, the Karnataka State Food Commission and civil society groups had raised this issue of APF's failure to include onion and garlic.
Following this, the Women and Child Development department of the Government of Karnataka had asked the Central Food Technical Research Institute (CFTRI) and the NIN for their "technical inputs on nutritional adequacy, bioavailability, diet diversity, taste and food safety and hygiene".
But while the CFTRI refused to comment on the nutritional quality, taste, diversity and safety of the food, asking for "sufficient time and resources to do a proper assessment",  the NIN gave a highly positive response favouring APF "without carrying out any systematic scientific study".
"No empirical data was collected on the quantity and quality of ingredients used or amount consumed and amount wasted by children to certify food supplied by APF as nutritionally adequate," says the letter.
"Instead, a paper menu submitted by APF, was considered evidence enough to comment on an aspect of the scheme which have nutritional impact on lakhs of children!"
"Even more shockingly, without visiting a single school or speaking to children consuming the food, NIN has taken the unwarranted liberty of commenting on the taste and safety of the food even which fly in the face of observations by State Food Commission of monotony of the food supplied by APF or media reports of children vomiting after consuming the food on some occasions."
Also Read: India Has Failed Its Children, Tops in Stunting and Wasting
Pointing out that such an unscientific report undermines not only the scientific research rigour of NIN — which provides technical inputs for nutritional policy making — but also the "nutritional future of the lakhs of children studying in government schools", the letter says:
"The eagerness exhibited by NIN to offer opinions in this case, in absence of any scientific field evaluation, raises serious questions regarding NIN's credibility and independence."
The activists have urge NIN to "withdraw the report immediately pending a systematic field evaluation of the food being supplied by APF."
Earlier, too, Akshaya Patra had violated a NIN order that made eggs mandatory in mid-day meals in Andhra Pradesh by sticking to its refusal to provide eggs.
Get the latest reports & analysis with people's perspective on Protests, movements & deep analytical videos, discussions of the current affairs in your Telegram app. Subscribe to NewsClick's Telegram channel & get Real-Time updates on stories, as they get published on our website.
Subscribe Newsclick On Telegram