Migrant Distress This Year: 'No Work, No Money, No Food…More Anxiety'
Unlike last year, no direct relief measure, apart from 5 kg foodgrain, has been announced as yet by the Centre for these workers, who have been left to fend for themselves amid COVID-19 resurgence.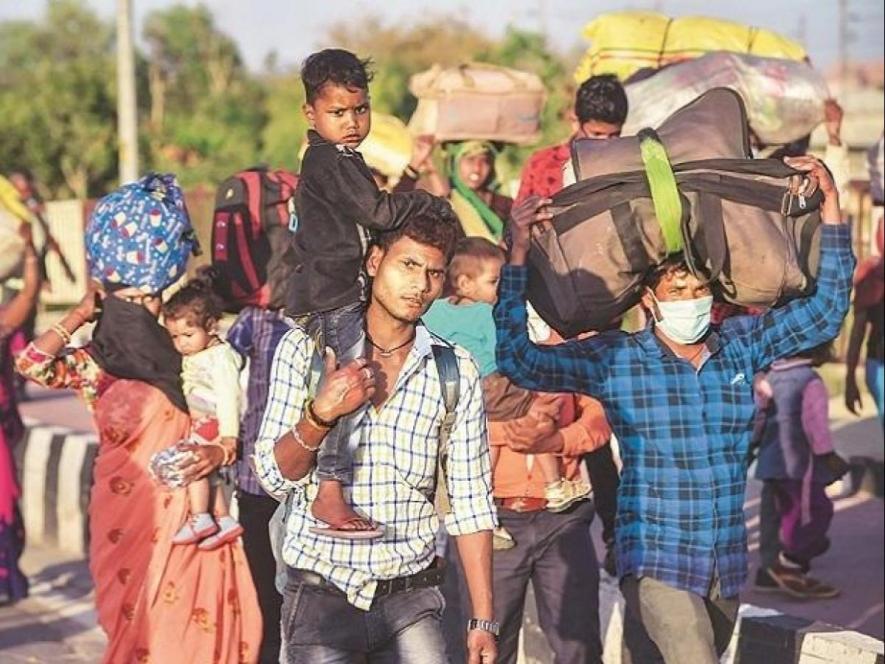 Image Courtesy: Business Standard
"These days, I am scared. Always scared."
This was Mithun Kumar, speaking over phone in a tense voice from Bihar's Khagaria. Spooked by another lockdown amid the resurgence in COVID-19 cases, the 26-year old had left Haryana's Manesar, an automotive hub, in mid-April.
This month, when the Haryana government imposed a week-long lockdown in the entire state, bringing most of the industrial activities to a grinding halt, Kumar's fears came true, but he was somewhat relieved to find himself having escaped last year's ordeal, when lakhs of migrant workers were stranded without money, jobs and food.
But, Kumar's of being "secure" and "with the family", as he would describe it, didn't last long. For, the sole bread-earner in the family of four – his wife, two children, and mother – is now without any work and with meagre savings that would not last "too many days".
"I do not know whether I will receive the April salary – at least for the days when I reported for duty. The company hasn't paid me yet and there's no hope of receiving any amount for the subsequent months," said Kumar, who was employed as a contract worker in an automotive part manufacturing unit in Manesar, whose name he withheld.
This is more like a repeat of last year's situation when the sudden nationwide lockdown was imposed on March 25 in the wake of a surge in COVID-19 cases then. Having gone through that trauma, no wonder Kumar and many others like him, more so migrants, are "scared" amidst the second wave of the infection. So far, there have only been "localised" shutdown measures.
Shyam of the Automobile Industry Contract Workers Union (AICWU), a Haryana-based trade union, confirms the same, adding that railway stations and inter-bus terminals in cities like Gurugram are crowded with home-bound migrants since the beginning of April.
This was primarily because most of the migrant workers, said Shyam. He maintained that it was "difficult" for him to ascertain whether full wages for the previous month will be paid or not. Shyam was himself down with COVID-like symptoms when NewsClick spoke to him on Friday.
The Stranded Workers Action Network (SWAN), a volunteers group that became active last year in a response to the lockdown-triggered migrant crisis, said in a release on Wednesday that in their relaunching of assistance to wandering labouring population this year, they found that 68% of the workers received either full or partial wages for April. Only 18% said they had received any money from their employer since the "work had stopped", SWAN said.
As much as 81% of the workers that the group's volunteers spoke to, reported that their daily work "has stopped" due to "locally declared lockdown", on an average "for 19 days," according to the release, based on conversations with about 150 migrant families over the past two weeks.
A majority of these workers were in states like Delhi, Maharashtra and Uttar Pradesh. Lockdown measures are currently imposed in all the above mentioned states.
Zil Gala, 21, one of SWAN's volunteers who had been receiving the distress calls since April 21 told NewsClick that unlike last year, there's more "anxiety" among migrant workers this time.
"Last year, everything happened suddenly – at a short notice, restrictions on movement was imposed, factory units were shut and workers found themselves stranded without any support. This time the distress has taken a more chronic character," she said.
A similar opinion was shared by Sourya Mazumdar of Migrants Worker Solidarity Network (MWSN), a Delhi-NCR based countrywide network of trade union activists, students, and workers. Recently, the group restarted their helpline for migrant workers, just like last year when it was engaged in documenting "migrant workers resistance" across the country.
"Migrant workers have been completely left to fend for themselves in this second wave of virus. There are no pro-active initiatives taken by the governments this time," Mazumdar said. Thought the government has announced 5 kg additional foodgrains like last year, Mazumdar says such interventions, are not of "any major help" in the long run.
The Narendra Modi-led central government, arguably after much delay, had made several announcements last year that were aimed at alleviating the migrant's distress. These included a free foodgrain scheme (announced this year too) for limited period, Shramik special trains, among others. Additionally, the Central government had also issued an "advisory" against retrenchment and wage cuts along with launching the One Nation, One Ration Card (ONORC) scheme.
No major measures have been announced as yet this year, apart from allocation of 5 kg of foodgrains despite growing demand for some cash assistance. The ONORC, too, reportedly remains a "mirage".
"It is well documented how such announcements were not enough, given the scale of crisis. But at least the Centre was held accountable last year in some or the other instances over not fulfilling its promises," Mazumdar said.
Both Mazumdar and Gala said SOS calls from migrant workers this time, similar to last year, are marked with demands for more dry rations, income relief, and travel arrangements. "This year, we are also receiving a relatively higher demand for medical supplies which worryingly translates into a wider spread of infection among the migrants now," Mazumdar said.
Getting infected, however, is not Hari Kumar Singh's major fear  as he, unlike others, has been lucky enough to secure "regular duty". The 32-year old from Bihar's Nalanda district is employed as a security guard with a private security services in Manesar.
Most of the fellow workers in his residential building in Shikohpur village in Manesar have left for their home, Singh told NewsClick on Friday. "Why wouldn't they," he asked, adding "cooking gas prices have increased here in the past one month and vegetables are costlier now."
The lockdown-induced inflation in prices of daily essentials has only compounded Singh's woes, whose life is marked with hand-to-mouth existence. Such is his misery that he considering going back "permanently" to his village, with his family of three.
"There are no savings at all. My family and I managed somehow last time, but then one shouldn't be tested every year. It will be tougher to survive, if things stay like this," he added.
Get the latest reports & analysis with people's perspective on Protests, movements & deep analytical videos, discussions of the current affairs in your Telegram app. Subscribe to NewsClick's Telegram channel & get Real-Time updates on stories, as they get published on our website.
Subscribe Newsclick On Telegram