Milk at Largest Private Dairy Company Turns Sour for Workers
Hatsun Agro Products doesn't pay minimum wages despite a turnover of Rs 5,500 crore and forces employees to resign.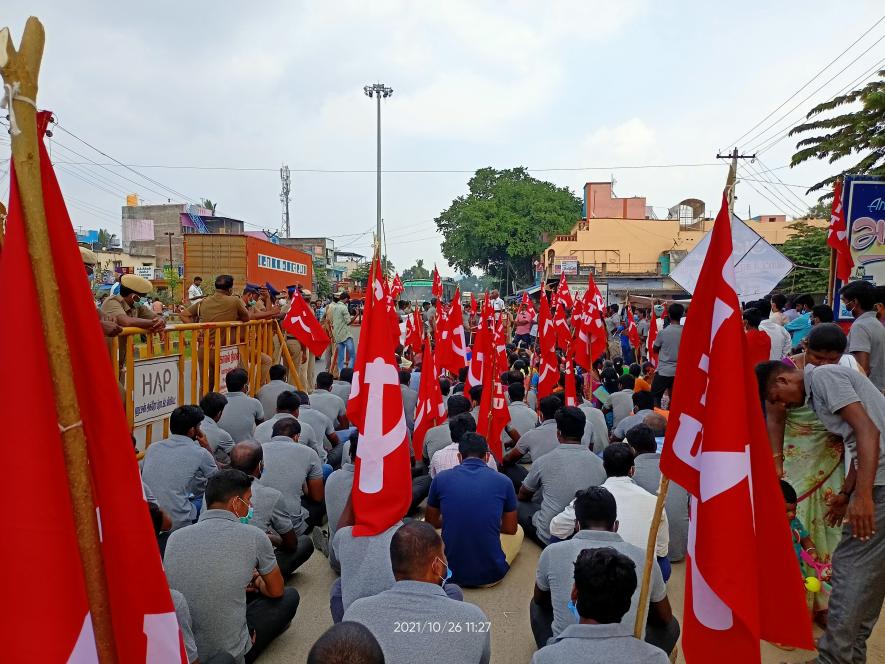 From the October 26 protest. Image courtesy: Karthik Raja
With a massive turnover of Rs 5,500 crore at the end of the 2021 fiscal, Hatsun Agro Products (HAP), the country's largest private dairy products company, reported a massive 25% increase in net profit for the second quarter as against the same period in the previous year.
Around the time the company planned an additional Rs 450 crore investment to expand its manufacturer and distribution, a business biography titled Broke to Breakthrough was published in September, documenting HAP founder RG Chandramogan's success story. He started off as a small-time ice cream seller and went on to build a business empire spanning five decades.
Amid the celebration of the founder's success story and the massive investment, HAP's 10,000 permanent and 22,000 contractual employees in Tamil Nadu alone have little to celebrate. They complain of forced resignations and transfers, underpayment and overwork, and inhuman treatment by superiors. Frustrated and angry, the employees of the Kolasanahalli plant, in Dharmapuri city, formed a trade union a few months ago to protest the 'inhuman treatment' and other problems.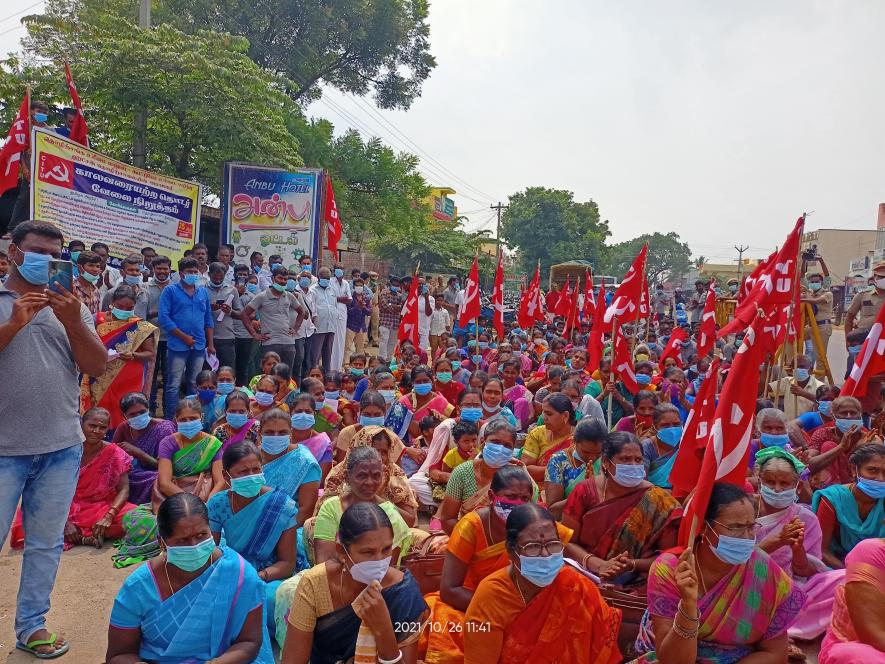 Solidarity protest by other Hatsun plant workers. PIC courtesy: Karthik Raja
SOURCE OF PROFIT
Hatsun's products, like Arun Icecreams, Arokya Milk, Hatsun Curd and Ibaco Ice creams, are household names in the southern states and Maharashtra, making Chandramogan one of the top five richest men in Tamil Nadu.
Nagaraj, leader, Centre for Indian Trade Union (CITU), Tamil Nadu, gave four reasons for the massive profits. "The company procures milk from farmers for Rs 23 per litre but sells it at Rs 63." Hatsun procures milk from 45 lakh farmers in 500 filling centres in the state. "Second, Hatsun pays less than Rs 12,000 minimum wage to a worker as against his due of Rs 19,000," he told Newsclick.
Third, the company is "flouting environmental norms and polluting the neighbourhood", Nagaraj alleged. Lastly, "the company gets a subsidy for establishing plants in remote regions, thereby providing employment to people. But the subsidy goes into its profits. The locals don't gain much from the company", he added.
FORCED RESIGNATIONS
Kolasanahalli, in north Tamil Nadu, houses the largest Hatsun dairy plant in the country with a daily capacity of holding 15 lakh litres of milk and processing more than 8 lakh litres.
"It has been 12 years since the factory was set up in Dharmapuri, but not even one worker has remained with the company during this period. Workers are recruited in the 20-22 age group and are forced to resign by the time they turn 30. If they don't resign, they are transferred to other states," Nagaraj alleged.
Though there are laws to safeguard the workers, the company has found ways to bypass the law. Karthik Raja, a union leader in the plant, told Newsclick, "The company ensures that no employee works for more than six to seven years. If they want us to leave, they turn off the biometric punching attendance system, making us wait at the entrance and beg for the gate to be opened. Most workers bear with it for two to three days but ultimately resign unable to bear the humiliation. They resign in the hope of, at least, getting a gratuity of around Rs 8,000, collected from the monthly salary deduction of Rs 200."
POOR PAY, EXPLOITATION, HUMILIATION
According to Raja, "The company ensures that we aren't paid more than Rs 12,000. If we are kicked out, it can hire two people for the same salary." On record, the company pays Rs 19,000 to every employee, "but what we get in hand is only Rs 11,500. If we question them, they say they will pay the remaining amount as Diwali bonus", he alleged.
This condition of contractual workers is worse. "On paper, every worker receives Rs 15,000 per month but the actual amount is only Rs 6,000. Around 200-250 women work for this amount." They are not dismissed like the permanent employees, but their contracts are changed to ensure that their salaries remain below Rs 8,000.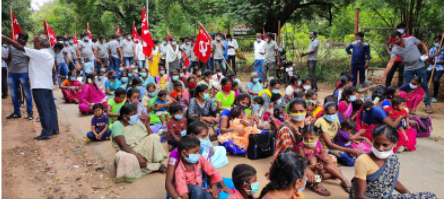 Women contractual labourers protest at HAP's Kolasanahalli unit. Image courtesy: Karthik Raja
Hatsun workers at the plant alleged that they don't get sufficient time to have lunch and are also asked to report on off-days. "We get half-an-hour for lunch. It takes 15 minutes to reach the canteen, which is 300 metres away. You can imagine the time we get to eat," Raja said. "We are like schoolchildren, worried that the supervisor is watching us. We are living in a vulnerable situation."
FORMATION OF TRADE UNION
Within a week of the formation of the CITU trade union, four workers instrumental in forming the union were transferred to plants in Andhra Pradesh and Maharashtra on September 1. When the trade union approached the labour department, the company transferred another five workers on October 21 though the status quo should have been maintained after the dispute was raised.
Angered by the flouting of government norms by the company, 96 permanent and 48 contract labourers announced a spontaneous strike. "The police arrested them saying they cannot protest because of being engaged in essential services. But they have the right to protest. Therefore, we staged a protest condemning the police," said Nagaraj. All the contractual workers on strike were sacked and the permanent ones were transferred.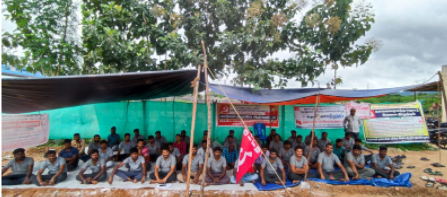 The worker on the 41st day of the protest. Image courtesy: Karthik Raja
It has been 41 days since the protest started with the workers continuing their struggle and waiting to get back to work. "We are all educated but work with the Hatsun plant so that we can stay with our families. The other closest industrial area is Hosur, which is 1.5 hours away," said Raja.
"We don't know why 100 policemen arrive even for a small issue. Even the labour officer does not speak to us properly. It appears that the officials are under pressure from the top. The collector is trying to convince us to accept the transfers. Except extending token solidarity, no DMK or AIADMK leader has directly supported us," Raja added.
NewsClick contacted the Hatsun management to get a comment, but there hasn't been any response. The report will be updated as and when Hatsun's response is received.
Get the latest reports & analysis with people's perspective on Protests, movements & deep analytical videos, discussions of the current affairs in your Telegram app. Subscribe to NewsClick's Telegram channel & get Real-Time updates on stories, as they get published on our website.
Subscribe Newsclick On Telegram