Modi After 100 Days: Scripted, Yet Spontaneous!
Despite bankruptcy of ideas, economic slump and a sense of fear pervading society, Modi is playing on the optics of 'something more important' taking place.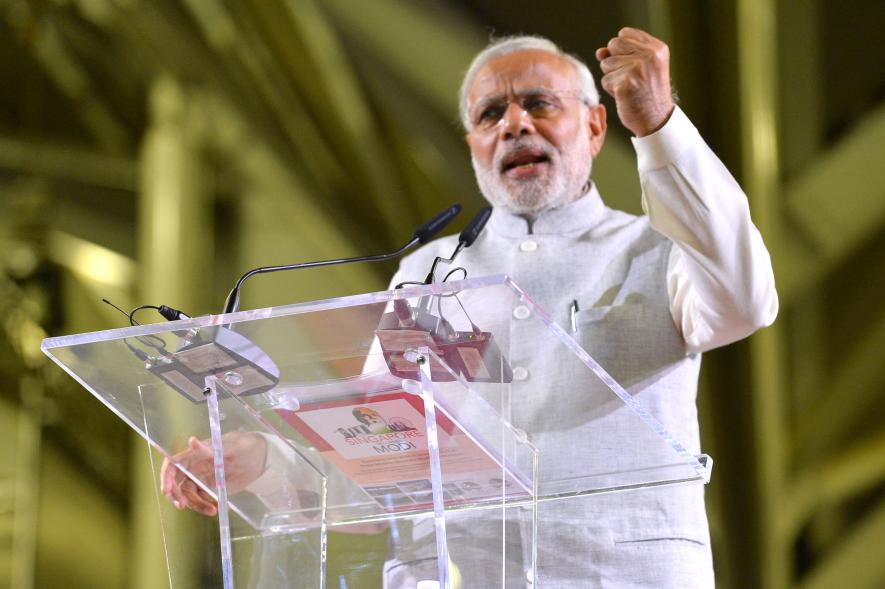 Image Courtesy: Wikimedia Commons
Watching the model of governance offered by Prime Minister Narendra Modi and his team raises many issues about the internal thinking and what is in store in times to come during the rest of his tenure. It is intriguing that in spite of the unprecedented popularity and uncanny majority that Modi seems to enjoy, he continues to live by the cliff. The government and his cabinet do not look settled and in a comfort zone. The Modi government is governing by the week by bombarding its citizens with one mega issue after another where they seem to shoot first and think of the consequences leisurely. There is already a sense of jarring repetitiveness and a complete bankruptcy of ideas.
The earlier promise of 'good economics will make for good politics' is not working anymore. The economy is slowing down, but Modi is trying to compensate it with muscular alternatives. What is intriguing in all of this is that the people do not as yet look angry, and disillusioned, and Modi seems to remain upbeat about the ensuing Assembly elections in Maharashtra, Haryana and Jharkhand. This is rather new to the way electoral politics are playing out in post-Independent India. There could be some possible explanations.
First, economics and economic policy are not directly determining the electoral outcomes. Modi managed to compensate slow growth and joblessness with controlling inflation. People in popular terms evaluate the condition of economy directly through inflation. Though most are facing the pinch with reduced incomes and failing business ventures, they are not able to arrive at a definitive conclusion and are still unwilling to blame Modi for it.
Second, fear is silently playing its role. It is difficult to figure out if people are unwilling to discuss, do not have clarity, or in fact are indulging in self-censorship. Fear can lead to a degree of self-censorship where even the obvious begins to create a doubt if one is reading the situation correctly or missing the point. In everyday conversation, people generally were confident, bordering self-righteous but today they sound tenuous, unsure, and, therefore, not prepared to critique the government.
Third, personality cult has its path of dependency. Having completely banked on Modi, it is now suddenly difficult for people to withdraw their support. Having debunked institutions and procedures, trusting Modi remains the only viable option. Trust is being generated and reinforced in Modi, who is resorting to comments on Hindu symbols, cow, and things that most common people are familiar with and attribute their everyday morality to. In fact, politics itself is sieved through culture and religious practices.
Fourth, whatever defeatism and disappointment is felt, it is being offset by muscular triumphalism, and retributive cynicism; Bulldozing Kashmir, occupying people and creating a fantasy of Kashmiri women, reminding of medieval kings occupying new territories, and laying claim to their land and women. Medieval triumphalism and fatalism of one's own economic condition is creating new social dynamics where people are compelled to see meaning and an imagination of the nation beyond their own selves. The optics generated is of 'something more important' happening and, therefore, `petty` personal things, such as falling incomes and small economic difficulties should be ignored. Demonetisation had already by stealth taken this promise out of the people and it is again morally difficult for them to retract what they have committed.
This is a deeply bio-political mode of governance. There is a complete hold, at least for now, in understanding how public morality works. Morality is not only experiential but also evaluative. People make sense of life through these morals. Modi and his mentor, Rashtriya Swayamsevak Sangh (RSS), though in a convoluted way understand the nuts and bolts of this structure. Of course, fake news, propaganda, and misinformation are being used as fillers wherever the narrative structure needs to be reinforced. From alleged attempts on Modi`s life in the Elgar Parishad case, to a global conspiracy that Modi might take on in the future.
The script is now bounded, and I doubt if Modi can deviate from it, both because of the economy's compulsion as well as lack of imagination. Modi would continue to do more of the same for his remaining tenure, and 2024 seems set to be fought on PoK (Pakistan Occupied Kashmir) and a possible war with Pakistan. What is intriguing is that people have an inkling of this, know it is linked to electoral dividends but feel a compulsion to see this as something that was left incomplete in history and Modi is accomplishing the task. Even if there are pragmatic considerations, it does not make this illegitimate. It is orchestrated but it does not disturb the symphony and orchestra of political machinations. This is why the Opposition is struggling to find a foothold to spark a new beginning.
Congress has been too long in power to be in a hurry to get back and become desperate. The party has been for some time now been winning elections by default and not due to anything spectacular that they did in power. Congress knows why it loses elections but has little clue about why it wins, as it did in Rajasthan and Madhya Pradesh. Congress leader Rahul Gandhi`s attempts to defeat Hindutva with Hinduism made an earnest beginning but the mood has become too vituperative for people to find comfort in soft pedaling. People are also seeing Modi`s pragmatism and Union Home Minister Amit Shah`s machinations, even if not authentic, as a way of punishing the entitled lot. Therefore, Congress leader P Chidambaram`s arrest, even if premeditated, is not detested.
There are important clues to understand how people are making sense of the current impasse. The brazenness with which Modi and Shah are running amuck is seen as a necessary redemption for past sins. Once the pot is full, people will hopefully move out of this retributive mood looking for more concrete benefits. This is when the Opposition should get their timing right.
The writer is Associate Professor, Centre for Political Studies, Jawaharlal Nehru University, Delhi. The views are personal.
Get the latest reports & analysis with people's perspective on Protests, movements & deep analytical videos, discussions of the current affairs in your Telegram app. Subscribe to NewsClick's Telegram channel & get Real-Time updates on stories, as they get published on our website.
Subscribe Newsclick On Telegram