Modi is the Boss! That's Why Women Wrestlers are on the Streets and Manipur is Burning
Did anyone doubt it? I don't think so. The only problem is that the corporate media-run TV channels had to wait for the Prime Minister of Australia, Anthony Albanese, to do his prime-time show on it.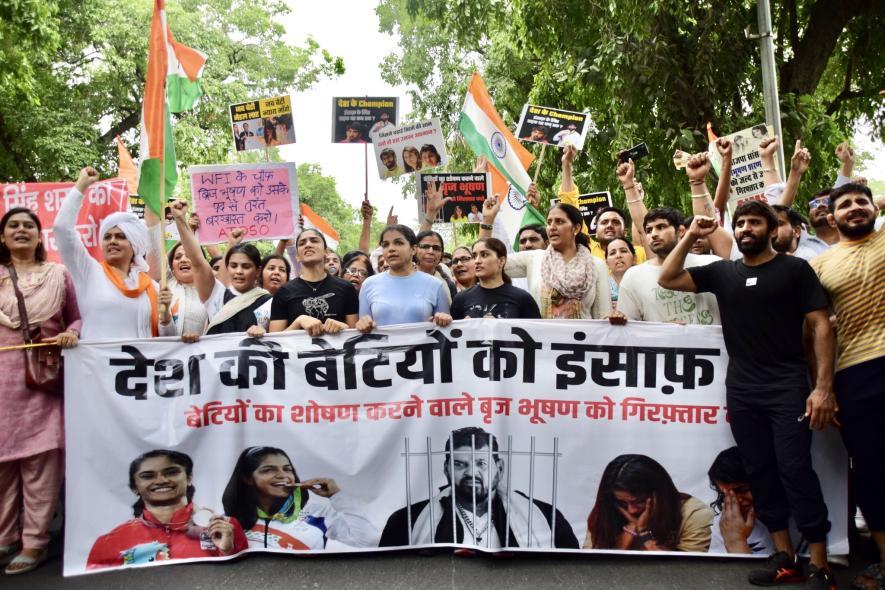 We have been saying this for a long time in India as well; Modi is the boss! Did anyone doubt it? I don't think so. The only problem is that the corporate media-TV channels had to wait for the Prime Minister of Australia, Anthony Albanese, to do their prime-time show on it.
When the Australian Prime Minister praised Prime Minister Narendra Modi at the grand-divine event of the Indian Diaspora in Sydney, the hearts of TV anchors were full. The PM started batting by beating even the head of the IT cell of the Bharatiya Janata Party (BJP). From 'Dangal' to the 'Nation Wants to Know', TV media's trumpet started blowing.
We are looking at this praise of Modi in the Indian context-
शाम 5 बजे #दंगल - https://t.co/BJZmQ5bL86

— Chitra Tripathi (@chitraaum) May 23, 2023
Modi is the boss: That's why women wrestlers, who have won the country many medals, including in the Olympics, have been gathering day and night on the streets for more than a month. After these women wrestlers won medals, Prime Minister Narendra Modi had photographs taken with them like all the photo shoots happening now. But since Modi ji is the boss, he has not taken any action against his party's MP Brij Bhushan Sharan Singh, whom these athletes have accused of sexual harassment.
On completion of one month of the protest, a crowd of citizens, along with these sportspersons, reached Delhi's India Gate, raising slogans – "Give justice to the daughters of the country, arrest Brij Bhushan Sharan Singh". Yet, the Modi government and its ministers did not break their silence. The main reason for this is Modi is the boss, and the boss does not like that justice should be given to the country's daughters. Otherwise, the country's constitution and laws are very clear in this matter -- someone accused of sexual abuse, and that too of a minor athlete, should be immediately put behind bars. But here, the scene is something else.
इंसाफ़ के लिए आज पूरा देश सड़क पर उतर आया है। बृज भूषण को गिरफ्तार करो !! बेटियों को न्याय दो !! #पहलवान_इंडियागेट_पर pic.twitter.com/ybpS30ZhIL

— Sakshee Malikkh (@SakshiMalik) May 23, 2023
BJP MP, Brijbhushan Sharan Singh, chief of Indian Wrestling Federation, is demonstrating his power in the city of Ram. By giving interviews to all the media, he is announcing that he is ready for the narco test, provided Vinesh Phogat and Bajrang Punia also get the narco test done. Such shots are not seen even in Bollywood-Tollywood cinema, where the accused of sexual violence puts his conditions in front of the system, roams around like an unbridled bull and gives interviews to the media. It is true - this scene in a democracy confirms that if Modi is there, then it is possible.
And to think all this is happening in the capital of the country! In the same capital where the country's parliament and apex court are situated, but there is no hearing for the plea of justice.
It is not even that these women are fighting alone like the brave girl from Uttar Pradesh who accused BJP MLA Kuldeep Sengar of sexual exploitation, and her whole family was destroyed. Here, these women wrestlers are well known; with them, farmers, khap panchayats, civil society, and a large section of youth have joined—still, the Modi government is protecting the accused in this way. But everything is going as per the routine.
At the same time, the narrative of being a Vishwaguru is being propelled in full force. The way the team of Indian PM Narendra Modi used the G-7 meeting is terrific. If you try to tell any general reader or viewer that India is not a part of G-7 countries, Modi ji went there as a guest along with nine other countries to expand this business conference, hardly anyone will listen to you. Even then, if you tell them that these nine invited countries included Brazil, Australia, Korea, India, Comoros, Cook Islands, Indonesia and Vietnam, people will start making fun of you. This is the power of publicity, the era of PR (public relations).
How can justice for the country's daughters become the most significant question in such a situation? The answer is Modi is the Boss!
The tool kit being circulated in the media regarding Modi ji's image and his respect for women is also excellent. When a woman touched Modi's feet on a foreign land (Papua New Guinea), how Modi ji bowed down in response, it was evidently captured in a video that was played a lot. In the clip, a young girl standing beside him is seen not bowing down, but Modi ji keeps his hand on her head and forces her to bow before him.
Did you notice the same thing? pic.twitter.com/8AxLlpgypG

— Anshuman Sail Nehru (@AnshumanSail) May 23, 2023
Running a program on this video proved so difficult for senior NDTV journalist Sarah Jacob that she resigned from the Adani-owned NDTV. There is a discussion on social media about this. However, the journalist has not mentioned this in her resignation.
Senior anchor @sjacobtalk resigns from NDTV after she was forced to copy Rubika Liyaquat on air. She was visibly upset during the show. https://t.co/ueQv0gDFVj pic.twitter.com/qrk2EsNEP1

— Rofl Gandhi 2.0 🏹 (@RoflGandhi_) May 23, 2023
Two visuals:

1. From Australia
2. From an Indian state of Manipur!!!

PRIORTIES!!!!

Got reminded of the Pulwama Day, attack!!! 😞#Manipur_is_burning #ManipurBurning #ManipurOnFire #PulwamaAttack pic.twitter.com/cOU879dzOm

— 𝐒𝐢𝐝𝐝 (@sidd_sharma01) May 23, 2023
Manipur has a double-engine government in the country – it is a BJP government. Manipur is burning, and churches are being torched, but the complete silence on it tells that Modi is the boss. Because at this very time, the media is abuzz with news about the G-20 meeting in Kashmir.
Really, all these scenes in a democracy, where they are shouting about where the real crisis is coming from and who is the real boss of the corporate media, has turned the country into an opinion-making company.
(The author is a senior journalist.)
Get the latest reports & analysis with people's perspective on Protests, movements & deep analytical videos, discussions of the current affairs in your Telegram app. Subscribe to NewsClick's Telegram channel & get Real-Time updates on stories, as they get published on our website.
Subscribe Newsclick On Telegram