Modi Government Introduces Amendment Bill to Help Corporates Profit from Coal Mining
The union government has formulated a bill wherein corporates will be exempted from LARR Act, 2013 in acquiring land for commercial coal mining.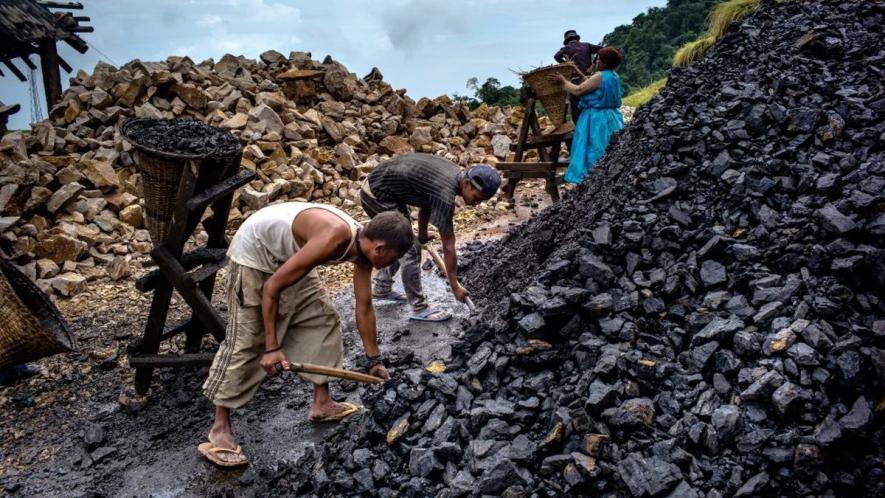 Representational Image. Image Courtesy: Bloomberg
Is the Modi government trying to help private corporations grab land at the cost of people's rights through a set of coal mining reforms that are cloaked in ambiguity? The Union government is ready with an amendment bill, as per which corporate giants who had successfully bid for coal blocks after the sector was opened up for commercial mining by private players last year, can bypass rules that assure a fair deal to the local population whenever land is acquired for mining or industrialisation.
The bill—the Coal Bearing Areas (Acquisition & Development) Amendment Bill, 2021—which is set to be introduced in the Lok Sabha during the ongoing monsoon session of Parliament, when passed, will exempt private companies from conducting social impact assessments, from obtaining consent of the majority of population and from paying adequate compensation to affected people before land is acquired for coal mining. Provisions of the watershed land acquisition bill enacted in the year 2013—popularly known as LARR Act, 2013—will no longer apply to these corporate bigwigs when they take over land for extracting coal from the blocks they have won through bids.
Earlier, exemption from the 2013 Land Acquisition Act for the purpose of coal mining was only available to public sector companies. But the latest bill, apart from extending this exemption to private companies, also seeks to use the acquired land for other activities even after it is eviscerated of all minerals.
"To make provisions specifically that the land acquired under the Act shall be utilized for coal mining operations and allied or ancillary activities as may be prescribed by Central Government and to provide for utilization of the acquired land, where coal is mined out/decoaled or lands which are not economically viable or practically unsuitable, for coal development related activities and other public purposes," reads one of the provisions in the set of three amendments.
According to experts, "allied or ancillary activities" in this set of amendments could mean coal transportation and storage networks, but the Coal Bearing Act, 1957 does not allow acquisition of land for the purpose of constructing roads, railways or even coal storage facilities. The amendments do not contain any clarity over the grounds on which land acquired for coal mining will be deemed as "not economically viable" or "practically unsuitable" for coal development activities. Again, the concept of "public purpose", for which land will be used after extraction of coal, has remained ambiguous in India since a long time, with numerous court cases alleging governments of sticking to narrow interpretations of the term in order to help the vested interests instead of the populace as a whole.
Notably, the concepts of various categories of coal-bearing land—including those that are "not economically viable" or "unsuitable" for coal developing activities as has been sought to be differentiated by the government through this amendment bill—do not figure in the Coal Bearing Act, 1957. The concept of "public purpose" also does not figure in the earlier Act.
"Land that is deemed to be unsuitable for coal development activities, might belong to the category of forests or some other category. There is the issue of displacement of people living over these lands. Tribal communities might lose their right of access to forests for their source of livelihood as has been assured under the Forest Rights Act," said senior Supreme Court lawyer Sanjay Parikh.
The Coal Bearing Act, as per legal experts, is based on the principle of eminent domain, whereby the government has the power to take over private land and convert it for public use. The Act was formulated on the premise that coal is needed for the energy security of the country on the whole. It was also on the basis of this premise that coal had been nationalised in the country by the Coal Mines (Nationalisation) Act, 1973. However, in contrast, coal blocks allotted to the corporate sector are without end-use restrictions, which implies that successful bidders are free to sell the extracted mineral resources to whosoever offers them the best price. Though the corporate sector will be assured of profits through commercial sale of coal, circumvention of the provisions of the LARR Act is likely to deny landowners the financial compensation that is assured to them at the rate of at least four times the market value of lands that are acquired.
Nevertheless, the Central government is seeking to extend the scope of land-related exemptions to more areas by including lignite bearing areas under Coal Bearing Act, 1957, through this set of proposed amendments that will be taken up for discussion in the ongoing Parliament session.
"The Central government used to have control over coal. Even if land for coal mining was leased out to a public sector company, the leasehold rights remained with the state government. The central government used to become the lessee of the state government. But this process, which has been initiated, will lead to a situation ultimately in which there shall remain no government control at all. Naturally, therefore, as is evident from past experience, the vulnerable sections of the society will suffer the most," added Parikh.
In fact, the central government had initiated the process, which Parikh has referred to, when the Coal Bearing Act was used to notify the acquisition of 700 hectares of land in Korba district of Chhattisgarh late last year, much to the ire of local people and activists. There had been no clarity whatsoever from the government on whether consent of Gram Sabhas would be obtained before this acquisition since the area is designated as Schedule V owing to the preponderance of tribal population. Chhattisgarh-based lawyer and activist Sudiep Shrivastava told NewsClick that locals in Korba continue to remain agitated till date over the issue that consent of Gram Sabhas were never obtained.
"In this set of amendments to the Coal Bearing Act, there is no reference either to the PESA Act (Panchayat Extension to Scheduled Areas Act, 1996) or the Forest Rights Act, 2006 which require primacy for Gram Sabhas in Scheduled V areas in decision making," said former bureaucrat EAS Sarma, adding, "Coal mining may in fact no longer be viable since capacity utilisation of thermal power plants has come down because of an imbalanced generation mix."
In India, most coal blocks are located in areas that are inhabited by the most marginalised and disadvantaged sections of the population, including Adivasis (Scheduled Tribes) and other traditional forest dwelling communities. Most of the coal bearing areas are also covered with contiguous ranges of forests, like the Hasdeo Arand in Chhattisgarh where Korba district is located.
"One of the criteria for a people to acquire Scheduled Tribe status is the requirement that they should hold a continuous territory. Depopulation of land given away in this manner will result in communities losing their territories and consequently their Scheduled Tribe status. It might also lead to a situation where areas will lose their Schedule V status and the Constitutional protection accorded to land in those areas. The LARR Act, 2013 protects Scheduled Tribe communities from this kind of loss. In this situation, Tribes Advisory Councils, which have been formed in various states under provisions of the Constitution of India, have a duty to advise Scheduled Tribe communities on matters that pertain to their welfare and advancement," said Ranchi-based lawyer Rashmi Katyayan.
The writer is an independent journalist.
Get the latest reports & analysis with people's perspective on Protests, movements & deep analytical videos, discussions of the current affairs in your Telegram app. Subscribe to NewsClick's Telegram channel & get Real-Time updates on stories, as they get published on our website.
Subscribe Newsclick On Telegram