Modi Govt Giving Precedence to Tyre Companies Over Us, Say Rubber Farmers
Hundreds of rubber farmers held a protest in Jantar Mantar to express their discontent over continuing turmoil after the free trade agreement with ASEAN countries and dwindling support from the Central government.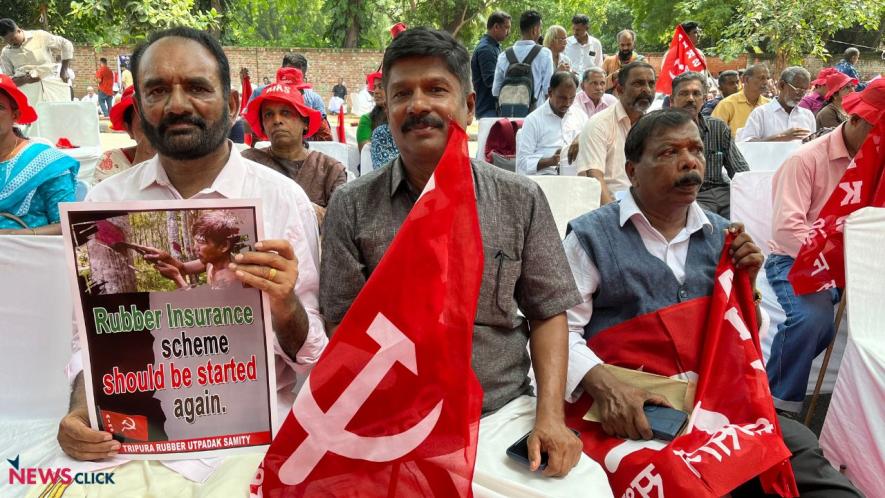 New Delhi: Ahmed K begins his day at 4:30 a.m to collect raw rubber from his plantation in Kasargod district of Kerala. After eight hours of back-breaking work, he gets rubber sheets that can be sold to merchants. However, despite this backbreaking work, he is burdened with a debt of Rs 7 lakh from a nationalised bank. He maintains that the crashing of rubber prices has wreaked havoc in the lives of rubber farmers of Kerala.
"I get nightmares over the loan, worrying over if I will ever be able to pay it back. I am a rubber farmer, and it takes about Rs 200 to produce one kilo of rubber. However, I am only getting Rs 120 per kg. We did some calculations and found that farmers in my village who grow rubber in a 700-acre plantation lost Rs 300 crore in last 12 years," he said. 
Ahmed is one among hundreds of rubber-cultivating farmers who came to Jantar Mantar in the national capital on Thursday to express their discontent over the continuing turmoil in their lives after the free trade agreement among the Association of Southeast Asian Nations (ASEAN) countries and dwindling support from the Union government.
Away from Kerala, Lincoln Debnath, who came to Delhi for the protest from Agartala in Tripura, said the cultivation of rubber contributed hugely to the state's industrial development, and people, too, benefitted from it. 
"We could educate our children, build houses and could even buy cars. However, the future looks bleak with current prices. The government must understand that it is backbreaking work, and rubber is perishable due to natural disasters. Sometimes, you may lose all your plantation in a storm. When the Left Front government under former Chief Minister Manik Sarkar was in power, we could appeal for help. The scenario changed after the BJP (Bharatiya Janata Party) was elected. They wanted our votes, but nobody came when our trees perished," Debnath told NewsClick. 
Prakasham, who is leading the struggle in Kerala, told NewsClick that the Free Trade Agreement (FTA) with the ASEAN countries was initiated by the BJP government and finally signed by the Congress government in 2009. This FTA has resulted in a tremendous increase in duty-free imports of rubber from Thailand, Malaysia, Vietnam and other countries. Imports of natural rubber into India increased from 45 tonnes in 2005-06 to 5.28 lakh tonnes in 2022-23. 
He said the Centre also works for a new board with no farmers and workers representatives. "Kerala produces 90% of the total rubber produced in the country. However, no member from Kerala will be on the board. Only representatives of tyre companies and the Union government will decide the price of rubber. It is sheer injustice!" he said.  
Talking to NewsClick, Vijoo Krishnan, general secretary of All India Kisan Sabha (AIKS), told NewsClick that the government was contemplating repealing Acts for plantation products like coffee, rubber, tobacco, spices and tea, which provided for the establishment of different boards to protect interests of the farmers and workers. It introduced The Rubber (Promotion and Development Bill) 2023, which necessitates the corporatisation of these boards.
"Rubber farmers are already facing huge losses after India entered into an FTA with ASEAN countries. In 2011, Kerala farmers were selling rubber at Rs 230 per kilo, which crashed to Rs 120 per kilo in 2023. It means a farmer's income has reduced from Rs 3.5 lakh per hectare to Rs 1.8 lakh per hectare," he said. 
Krishnan maintained that the country saw widespread dumping of rubber from ASEAN countries because their governments produce huge subsidies to their farmers. Their cultivation areas are too large in comparison with Indian farmers. "ASEAN governments provide Rs 2.5-3 lakh subsidy per hectare whereas our farmers used to receive Rs 25,000 subsidy which has vanished," he added.
Commenting on the tyre companies' role in manipulating rubber prices, Krishnan said, "The Competition Commission of India (CCI) imposed a fine of Rs 1,788 crore as it found that the companies were behaving like a cartel. We want this money to be used for the welfare of rubber farmers."
Krishnan said the Union government has also abandoned its duty to maintain a price stabilisation fund, which would act as a protector when prices crash dramatically. "In Kerala, the Left government contributes money so that rubber is sold at Rs 170 per kg. We demand a fair remunerative price of at least Rs 300/kg be declared immediately. Pro-corporate policies unleashed by the Modi regime are significantly increasing the cost of production. It is humanly impossible to survive with the present dismal price," the AIKS leader said.
Get the latest reports & analysis with people's perspective on Protests, movements & deep analytical videos, discussions of the current affairs in your Telegram app. Subscribe to NewsClick's Telegram channel & get Real-Time updates on stories, as they get published on our website.
Subscribe Newsclick On Telegram