Modi's Namami Gange Programme Falters
Pollution levels higher than in 2014, funds unutilised, projects incomplete.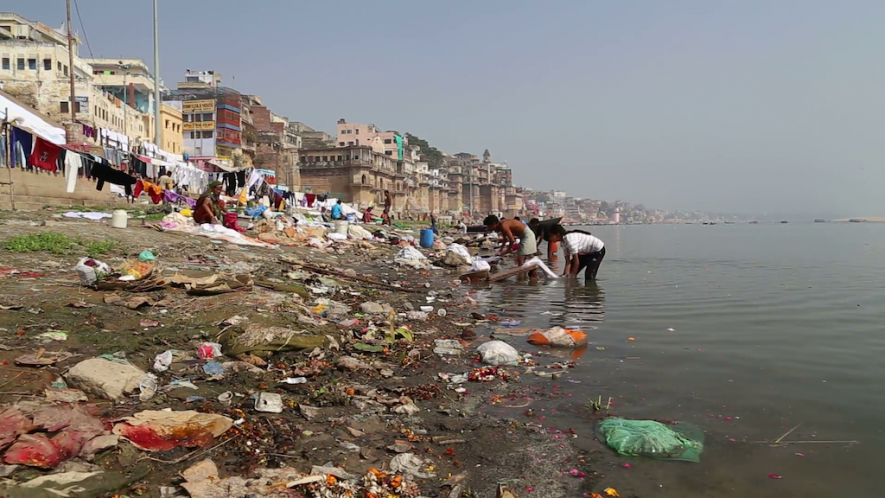 Cleaning the Ganga was one of the major poll promises of the BJP ahead of the 2014 Lok Sabha elections and the subsequent assembly elections. Ironically, Ganga may become a poll plank for the Opposition in the upcoming 2019 General Elections. This is because the lofty promises that Modi made for cleaning up 'Ma Ganga' have failed.
For a large population of Indians, Ganga is the source of economic as well as spiritual sustenance. This was why the saffron party promised so much for the river. And, the BJP was expected to show more efficiency in cleaning up a river so integral to the faith of its most loyal voter base.
First, a Comptroller and Auditor General (CAG) report revealed that during 2016-17, the level of pollutants in the river across Uttar Pradesh, Bihar and Bengal was six to 334 times higher than the prescribed levels.
A fresh RTI has reportedly revealed that the pollution levels in the river Ganga are higher than the levels recorded back in 2014 when the Modi government launched its most ambitious 'Namami Gange' initiative. Particularly in Modi's constituency, Varanasi, lab tests have found that bacterial contamination is now higher than the levels recorded back in 2014.
It is worthwhile recalling what Modi had repeatedly asserted in those heady days of 2014, just before and after the elections that swept him to power:
On April 24, 2014, while filing his nomination, Narendra Modi had said, "First I thought the BJP sent me here, then I thought I am going to Kashi, but after I came here, I feel Maa Ganga has called me. I feel like a child who has returned to his mother's lap."
On May 3, 2014, Modi had said "Ganga's condition is worrisome. Contaminated water is a threat to children. We want to change it. It's not about politics but about humanity."
On May 18, 2014, Modi had said "I was stopped from talking to you during campaigning, but even then, you made me victorious… There is a huge potential for development in Varanasi. I vow to make the city and Ganga clean."
"I did not come to Varanasi of my own volition, but Ma Ganga called me. Now, it is time to do my bit for Ma Ganga," Modi said. 
He further repeated, "Ma Ganga is waiting for her son to free her from pollution,"
On May 24, 2014, Modi had said "I will represent Varanasi in Lok Sabha and I look forward to this wonderful opportunity to serve Ganga Maa and work for Varanasi's development."
Citing an RTI reply and the CAG report for 2016-17, senior Congress leader Abhishek Singhvi said, "A fresh RTI has revealed that the pollution levels in river Ganga are higher than the levels recorded back in 2014, when the Modi government launched its most ambitious 'Namami Gange' initiative particularly in PM Modi's constituency, Varanasi lab tests have found that the bacterial contamination is now higher than the levels recorded back in 2014."
Till date, under Namami Gange programme, a total of 221 projects have been sanctioned for various activities such as the treatment of municipal sewage, treatment of industrial effluent, river surface cleaning, etc. at a total cost of Rs 22,238.73 crore. Only 58 projects have been completed. 
Gurgling, dark black sewage flowing into the Ganga, littered with plastic, carcasses, trash, and human and animal excrement with an indescribable stink kicking up from this toxic cocktail – this is how the Ganga looks in Varanasi, a living testimony of utter neglect by the Modi Government.
Meanwhile, the Kumbh Mela is slated to be held on the banks of the river Ganga in Allahabad in January 2019, and Modi government is planning to showcase the holy event to the delegates of the upcoming Pravasi Bharatiya Divas in the election year. Varanasi, the PM's constituency, is going to host the Pravasi Bharatiya Divas this year.
"In May 2018, Union Water Resources Minister Nitin Gadkari had set March 2019 as the new deadline to clean river Ganga and ensure a 70 to 80 per cent improvement in its water quality. With only one-fourth of the sanctioned projects being completed till August 2018, how can the government achieve this miracle in the next six to seven months?" Singhvi asked.
In December 2017, the CAG found that even the allotted funds had not been utilised. A report tabled in the Parliament said: "Funds amounting to Rs 2,133.76 crore, Rs 422.13 crore and Rs 59.28 crore were lying unutilised with the National Mission for Clean Ganga, various state programme management groups and executing agencies/central public sector undertakings (as on 31 March, 2017)."
While presenting the Union Budget 2018, Finance Minister Arun Jaitely had said, "A total of 187 projects have been sanctioned under the Namami Gange programme for infrastructure development, river surface cleaning, rural sanitation and other interventions at a cost of Rs 16,713 crore. Forty-seven projects have been completed and remaining projects are at various stages of execution."
Governments, over the years, have not been able to come up with a robust solution for treating the effluents discharged into the river. For example, in Kanpur, a major centre of the leather industry, up to 50 MLD of toxic tannery wastewater is generated daily, but the city has the infrastructure to treat only 9 MLD.
Till date, Namami Gange had created only 329.3 million litres per day of the 2,278.08 mild sewage treatment capacities it aimed for. Total of only 26 projects has been completed so far.
In 2016, the National Green Tribunal came down heavily on the BJP-led Uttar Pradesh government for allowing dead bodies to be dumped in the Ganga.
An anguished Supreme Court had also echoed the same when it said, "Will Ganga be cleaned in this century?"
(Arun Kumar Das is Delhi-based journalist and can be contacted at [email protected])
Get the latest reports & analysis with people's perspective on Protests, movements & deep analytical videos, discussions of the current affairs in your Telegram app. Subscribe to NewsClick's Telegram channel & get Real-Time updates on stories, as they get published on our website.
Subscribe Newsclick On Telegram