MP: Congress' bid to Grapple Home Minister Narottam Mishra in 2023 Polls
Avdhesh Nayak, a BJP leader and Mishra's rival from his Assembly constituency, joined Congress earlier this month.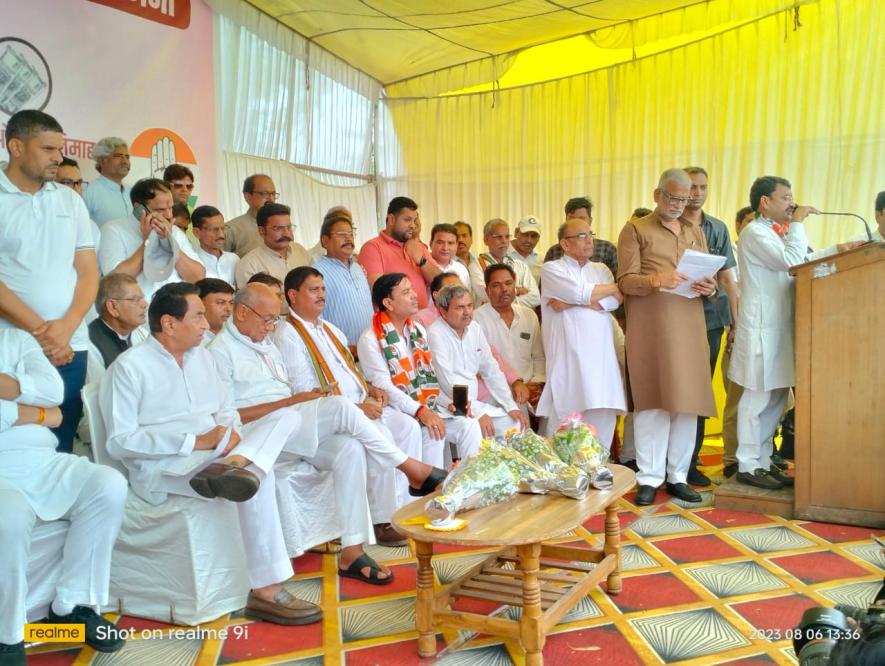 Bhopal: After winning the Datia Assembly seat with a close shave in 2018, Madhya Pradesh's BJP (Bharatiya Janata Party) leader Narottam Mishra, with folded hands, was thanking the flurry of workers. It was a long and exhausting day for Mishra as a five-time MLA. In a breathtaking contest, he won with a meagre 2600 votes against Congress' Rajendra Bharti.
Amid pomp and show, a senior BJP leader and RSS (Rashtriya Swayamsevak Sangh) functionary, Avdhesh Nayak, approached Mishra in the crowd and garlanded him. But Mishra, on the contrary, humiliated Nayak, pulled the garland apart and moved away. Later, he accused Nayak of backstabbing and betrayal through a poem at the end of his victory rally.
Four and half years later, on August 6, 2023, the torchbearer of RSS ideology set aside his ideological differences and joined the Congress in the presence of senior party leaders Digvijay Singh and Kamal Nath in Bhopal. Mishra's humiliation and alleged harassment of his men since April 2020 (when he became Home Minister) turned Nayak into a bitter foe. 
Similarly, Rajkumar Dhanura, a senior BJP leader from Sagar district, joined the Congress with Nayak on August 6. Dhanura alleged that he and his workers were harassed by Jyotiraditya Scindia's loyalist BJP minister from Surkhi Assembly seat (Sagar), Govind Singh Rajput. 
Rajput defected to the BJP in March 2020 with Scindia and became Revenue Minister. 
Getting Nayak and Dhanura on board is Congress' newly formulated strategy to corner BJP stalwarts and 26 defectors ahead of the Assembly polls. According to PCC chief Kamal Nath, the party will not leave any stone unturned to ensure the defeat of defectors. Thus, taking advantage of BJP's factionalism, the party inducted a dozen saffron party leaders in the last three months to strengthen its positions on weak seats, pitting BJP against the BJP.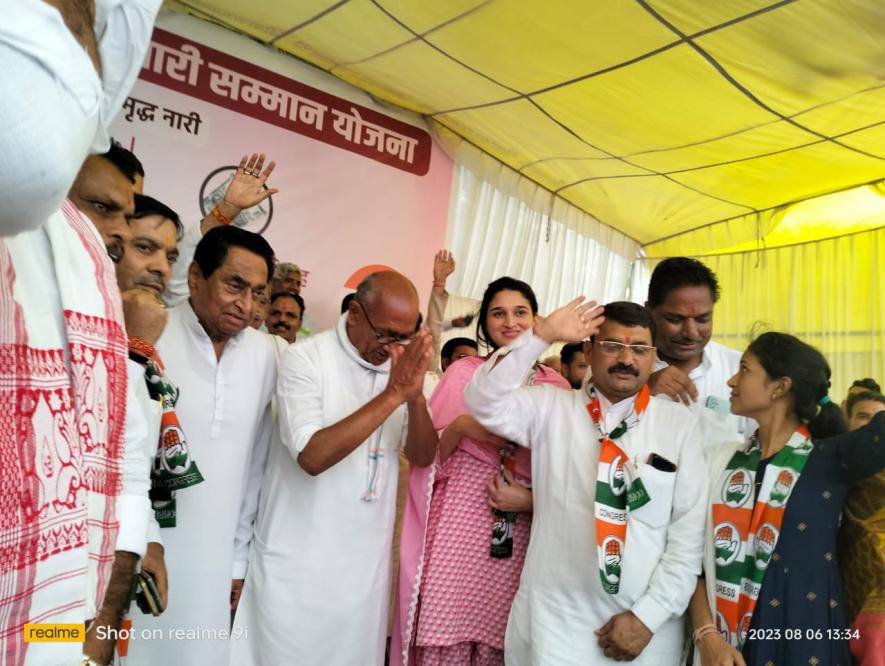 This strategy worked in the 2020 by-poll, and the party succeeded in retaining the Gwalior East seat.
When Congress' Gwalior East MLA Munnalal Goyal defected to the BJP with Scindia, Congress poached sitting BJP MLA from that seat Satish Sikarwar and pitted him against Goyal. Sikarwar emerged victorious with flying colours. Two years later, Sikarwar's wife was elected as Gwalior's mayor, a seat that came to Congress' kitty after a wait of 57 years.
To corner Mishra in Datia, Congress inducted Nayak – a Brahman face with an RSS background. 
An AICC functionary overseeing the Madhya Pradesh poll is confident of Mishra's defeat. 
"No one from the BJP or the Congress except Bharti and Digvijay Singh speak against the powerful minister. To defeat such a minister, we have chalked out a strategy which will unfold with time." 
Datia is among the 66 seats the Congress party has not won in the previous three elections. To strengthen the party's position on those weak seats, Nath entrusted to his friend and longest-serving Congress chief minister of MP, Digvijay Singh. In a four-month tour, Singh met with various grassroots workers on all the seats and submitted the report to Nath last month.
Nayak contested the 2003 Assembly election from Datia on BJP's ticket but lost to Congress' Ghanshyam Singh by 2904 votes. The former RSS leader was also accused of fanning communal tension before the 2003 Assembly polls to consolidate majority votes. But the trick did not pay off.
The rift between the two budding BJP leaders did not start in 2018 when Mishra publicly humiliated Nayak. It started in 2008 when Mishra moved to Datia from Gwalior's Dabra.
In 2008's delimitation, when Gwalior's Dabra was declared a scheduled caste reserved Assembly seat, Mishra moved to Datia - the upper caste-dominated seat of the neighbouring district. 
It was an upheaval task for Mishra to contest from a new constituency, sidelining many BJP leaders like Nayak and registering victory with over 11,000 votes. Mishra's victory in Datia jeopardised Nayak's political career, who was projecting himself as a future BJP leader. But he did not submit to the party or Mishra and contested in 2008. He ended up securing the fourth position.
"It was a bold move to leave my parental party and 'unconditionally' join Congress," said Nayak. 
"But I was left with no options as we were being harassed within the party, and neither the RSS nor the party functionary tried to end the feud or ongoing harassment of BJP workers." 
He recalled, "A day before joining the Congress, on August 5, 2023, CM called us at his bungalow and urged not to make a decision without his consultation, to which I replied that enough is enough. I tolerated the harassment for four years, and they stayed silent."
This was the third time in the last two months that CM called him to Bhopal to pacify his anger, convincing him not to crossover, claimed Nayak.
Surrounded by lush greenery, temples and ponds, the agrarian Datia was a part of the Bundelkhand region before the independence. In 1956, when Madhya Pradesh came into existence, Datia was merged with the Gwalior-Chambal region. 
Upper caste-dominated Datia assembly seat has a total of 1,90,905 votes, with 1,02,632 male and 88,261 female voters, according to the election commission's 2018 data. Brahmans and Thakur accounted for 22% of the total voters, while OBCs voters are estimated to be 50%. Minority, SC and ST voters accounted for the remaining 28%.
In the 2018 Madhya Pradesh elections, Datia recorded a voter turnout of 76.77%. In 2013, the turnout was 75.31%, and in 2008, it was 75.39%.
"With Nayak's induction, the Congress got strong in the urban areas," said Congress' Datia leader Raghvendra Singh Yadav, adding that after Mishra became home minister, hundreds of Congress as well as BJP workers, who didn't toe his line, were framed in false cases and sent to jail.
Yadav is one of the Congress leaders who was allegedly paraded in undergarments inside the police stations, and their photos were leaked to tarnish their public image, he claimed.
One can understand the horror of fake cases when in 2022, Priyanka Gandhi came to Datia to pray at the well-known Hindu shrine Pitambara Peeth Temple; she held a brief meeting with the Congress workers in which they put forth the issue of fake cases against the Congress leaders and workers. 
"I belong to a well-off family and topped my MBA from a Bhopal's private college. But, I spent 32 days in jail for allegedly stealing a mobile worth Rs 2000," said Yadav.
In a bid to defeat Mishra in Datia and put an end to the tyranny, the Congress envisaged an aggressive campaign highlighting the rampant corruption, abuse of power and 18 years of misrule of the BJP government against Congress' promises of farm loans and power bill waiver, LPG at Rs 500, Rs 1500 under Nari Samman and others.
On August 9, the party launched the 'Quit Datia movement' targeting Mishra on the anniversary of MK Gandhi's Quit India movement launched against British rule in 1942. Congress also intensified campaigns in areas they had trailed in the previous polls.
"In 2018, the Congress trailed from Basai panchayat, which has over 22,000 voters in 24 villages. We have intensified our campaign in the region to overturn the previous results," said Bharti, a senior Congress leader who became the youngest Congress MLA at 26 years in 1985.
"Rural voters have been inclined toward the Congress and the urban to the BJP. We are pushing campaigns in rural and urban areas to strengthen the party," said Bharti, alleging that the minister has become vindictive against his opponents.
"Since Mishra became Home Minister, as many as 13 cases have been levelled against my family members. They arrested me, my elder brother (Retired ADM) and a nephew. He tried to break my will by targeting family business," he alleged.
"I have suffered a great loss for my loyalty to the Congress, and I believe the party will consider my sacrifice in the ticket distribution."
Bharti, who won the 1998 Assembly seat on Samajwadi Party's ticket after Congress leadership refused him a ticket, claimed that he was targeted because, on his complaint, the Election Commission barred Mishra from contesting elections for three years in 2017 over paid news. He, however, got relief from the Delhi High Court. 
The EC filed an appeal in the Supreme Court against Mishra, but the court did not stay the high court order, and Mishra went on to contest and win the 2018 state elections. 
Now, the matter is pending in the Supreme Court.
Mishra and Amit Shah came close in 2010 when Shah was facing a bad time in the Sohrabuddin (Sheikh fake encounter) case. He came to Peetambara Peeth to pray, and Mishra hosted him. Since then, they have gotten close. 
"Today in Madhya Pradesh, the closest person to Shah is Mishra," said a BJP leader.
Mishra has also been accused of corruption. As urban development minister, he allegedly received kickbacks to grant tenders worth Rs 267 crore to a construction firm in Hyderabad. The money was allegedly transferred through shell companies to his confidant Mukesh Sharma and 14 farmers﹘from his constituency Dabra at the time. An amount of nearly Rs 9.5 crore was allegedly routed through the firms, of which Rs 5 crore was allegedly used to purchase land. But he refutes the allegations.
Many political observers speculate that Congress may give the ticket to Nayak instead of Bharti to fight against Mishra. Nayak has, however, claimed that he joined the party unconditionally.
The local Congress leaders claimed that giving a ticket to Nayak may be an invitation to rebellion within Datia Congress, assuring of Mishra's victory. 
"He will win if party votes were divided," said a Congress leader.
When Congress is confident of defeating Mishra, the local BJP leaders claim that he will emerge strongest in the upcoming Assembly polls and would be victorious with over 20,000-25,000 votes. 
Speaking over the call, Mishra's close aid from Datia, Mukesh Yadav, said that the Congress' farm loan waiver, April 2, 2018, Bharat Bandh clash between dalits and Thakur in Gwalior-Chambal region, and Scindia's influence played a key role in shrinking the victory margin.  
"Because of Mishra, Datia is on the path of development. The small city has a medical, veterinary college and ring road. The Pitambar Shakti Peeth is being developed on the lines of the Mahakal Lok Corridor. On August 22, Scindia will lay the foundation stone of an airport here." 
"Riding on development issues, the Ladli Behna Scheme and with Scindia's backing, we are expecting a victory with a margin of over 20,000," he said.
Speaking on Congress and Nayak's induction into the grand old party, BJP spokesperson and Mishra's aid from Bhopal, Durgesh Keshwani, said, "Congress has multiple groups in Datia, each trying to pull others' legs. With Nayak's induction, the party created another group. Nayak, who was working for the Congress, as a BJP leader, in previous polls, will now openly work for the party this time.  
Mishra, who was known for his liberal views in politics, emerged as a hardliner Hindu leader after becoming Home Minister in April 2020. Even though, on many occasions, he took the anti-Muslim stand and defended Bajrang Dal and VHP leaders to prove his loyalty to the Hindu hardliners, he held an iftar Party during Ramazan (April 2023) in Datia like every year to keep his Muslim voters intact.
In closely contested Assembly elections, the 12,000 Muslim voters play a crucial role in Daita.
Although the BJP leaders are overconfident in Mishra's victory in the 2023 Assembly polls, the constant drop in winning margin in the last three Assembly elections, from 11.11% in 2008 to 9.29 % in 2013, which further reduced to 3% in 2018, is a major concern.
Get the latest reports & analysis with people's perspective on Protests, movements & deep analytical videos, discussions of the current affairs in your Telegram app. Subscribe to NewsClick's Telegram channel & get Real-Time updates on stories, as they get published on our website.
Subscribe Newsclick On Telegram