MP: Congress Walking Tightrope Between Hindutva and Secular Politics Amid Poll Fervour
In a marked shift from the party's stand in the Karnataka election, Congress in MP says no plan to ban Bajrang Dal if voted to power.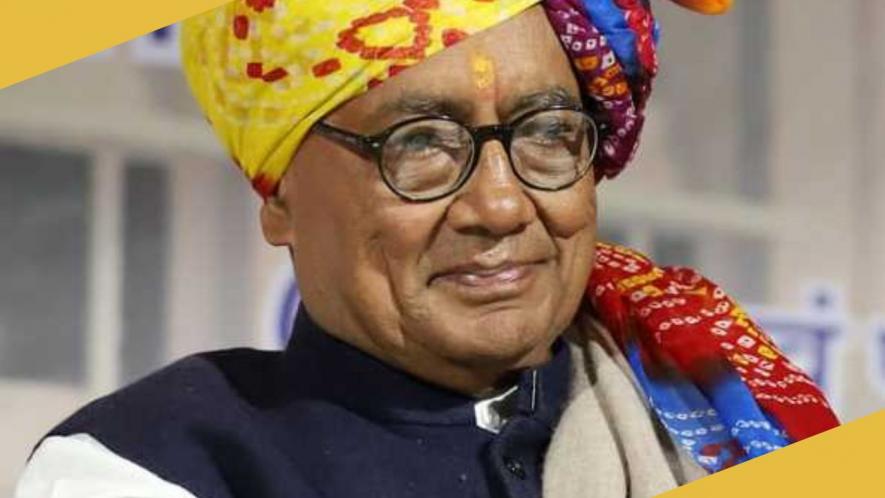 Bhopal: Making a decided shift from the party's stand in the Karnataka election, the Congress in Madhya Pradesh said that the party has no plan to ban Bajrang Dal if voted to power.
"We will not ban the Bajrang Dal because the organisation may also have some good people. However, the goonda elements who create riots will not be spared," said Congress leader and former Madhya Pradesh Chief Minister Digvijaya Singh to reporters in Bhopal on Wednesday.
Singh's statement triggered a row in poll-bound MP, which is currently ruled by the Bharatiya Janata Party (BJP), and where Assembly polls are due in November this year.
Bajrang Dal is the youth wing of the Vishwa Hindu Parishad (VHP), which is affiliated to Rashtriya Swamsevak Sangh (RSS), the parent organisation of BJP. The organisation has a strong structural presence in the state and has been often accused of promulgating or supporting violence against the minorities.
In the recent incidents of atrocities against Muslims, Christians and tribals, the names of Bajrang Dal leaders have often surfaced, but police failed to establish connections.
Backing his statement, Singh further said, "Bajrang Dal is a group of goons and anti-social elements… This country belongs to all, so Modi ji (PM Narendra Modi) and Shivraj ji (MP CM Shivraj Singh Chouhan) stop dividing the country. Establish peace in the country, which will lead to development."
The Congress leader continued. "This country belongs to everyone. Along with Hindus in our country, there are Muslims, Christians, Sikhs, Jains and Buddhists. People from all religions fought for the freedom of the nation. Wasn't Ashfaqullah hanged along with Shaheed Bhagat Singh? This country belongs to all."  
This stance is a marked departure from the Congress's stand during the Karnataka polls when it had equated Bajrang Dal with PFI (Popular Front of India) and had promised to ban the ultra-Right-wing organisation if voted to power. It has been months since Congress returned to power in the southern state, but there is no news yet of banning Bajrang Dal.
To gain mileage in the Karnataka polls over Congress' 'Bajrang Dal ban' stance, the BJP-VHP combine had called it an attack on Lord Hanuman, since Hampi in Karnataka is believed to be his birthplace. Prime Minister Narendra Modi also used this in every election rally, equating it as 'Bajrang Bali Ka Apman' (Dishonour of Bajrangbali) and raised the slogan of "Jai Bajrang Bali" in almost all his rallies.
When cornered over the Karnataka poll announcement, Singh shared a 2018 video of Jyotiraditya Scindia (ex-Congressman who switched over to BJP), on May 3, 2023, in the midst of Karnataka elections. Digvijaya Singh tweeted, "Bajrang Dal is not a religious organisation but a group of criminals. If you don't believe it, listen to the words of Scindia Ji." 
After BJP's extensive campaign, Congress did not back off in Karnataka but went on the defensive in other states, and it appears now that it has had to rethink its strategy in Madhya Pradesh.
Bajrang Dal, which was created in 1985, was banned in 1992 by the Congress' Narasimha Rao government following the demolition of the Babri Masjid in Uttar Pradesh's Ayodhya. The ban was revoked one year later. There are numerous reports that suggest the involvement of Bajrang Dal in instigating riots.
Miffed with the anti-social activities of Bajrang Dal when he was Chief Minister of the state in 2001-02, Digvijaya Singh wrote to the Atal Bihari Vajpayee-led National Democratic Alliance government at the Centre recommending a ban on Bajrang Dal along with Muslim student outfit SIMI. However, the NDA government only imposed a ban on SIMI.
Not just that, according to news reports, in September 2008, the Congress had demanded a ban on Bajrang Dal and VHP which, it said, were involved in anti-national activities. Congress spokesperson Manish Tewari had said, "A white paper should be brought out not only against SIMI but all organisations involved in anti-national activities like Bajrang Dal and VHP". Congress spokesman Shakeel Ahmed said, "Those outfits involved in terrorist activity should be investigated, the question is why Bajrang Dal should not be banned."
Responding to Digvijaya Singh's statement, Madhya Pradesh's Home Minister and senior BJP leader Narottam Mishra said, "One can't think of banning Bajrang Dal in Madhya Pradesh, forget about the promise. Kisika eyeflu dur ho raha hai, unhe acche log nazar aa rahe hai rashtravadi Sanghathan me. Soon he will realise that the Bajrang Dal is a group of nationalist people."
Singh also defended Madhya Pradesh Congress chief Kamal Nath over the latter's comments on "Hindu Rashtra".
A week ago, Congress president Kamal Nath who was in Jhabua, when asked if he backs Dhirendra Shastri's call for Hindu Rashtra, had said: "What is there to debate? We are already a nation with 82% Hindus. If a country has such a large Hindu population, then it is. What is there to claim that we are a Hindu Rashtra? Statistics say it all."
When reporters questioned Singh over Kamal Nath's statement on Hindu Rashtra, he said, "He did not say what the media and the BJP are propagating. Is there any mention of Hindutva in the Constitution? It is no sin to speak on the numbers of the Hindu population. But the country will run according to the Constitution."  
He further said, "Those sitting in constitutional posts, like the Prime Minister, Union home minister, chief minister and ministers of the BJP government, must resign. I want to ask the Prime Minister, Union home minister, chief minister and all BJP ministers if they have taken an oath of the Indian Constitution or Hindu Rashtra?"
Singh made the same remark after the flag hoisting ceremony in Karnataka's Hubli on Tuesday -- Independence Day, which was seen as a complete contradiction to the statement of state Congress president Kamal Nath's remark. But he defended Nath when asked the same in Bhopal. He also said, "There is no hard or soft Hindutva. Savarkar created the word 'Hindutva', and he claimed there is no connection between Hindutva and Hindu and Sanatan Dharma. Any person sitting in a Constitutional position, who has taken the oath on the Indian Constitution, should resign if he talks of Hindu Rashtra. Later, he can talk about Hindu Rashtra."
Hitting out at the Congress over Singh's remark, CM Shivraj Singh Chouhan said, "Neither Digvijaya nor Kamal Nath has anything to do with Hindutva or nation or society. To harvest votes, they keep giving statements which they think appropriate from time to time."
With inputs from PTI 
Get the latest reports & analysis with people's perspective on Protests, movements & deep analytical videos, discussions of the current affairs in your Telegram app. Subscribe to NewsClick's Telegram channel & get Real-Time updates on stories, as they get published on our website.
Subscribe Newsclick On Telegram