MP: Desperate to Counter 'Anti-Hindu' Image, Cong's Kamal Nath Shifts to Hardline Hindutva
Nath organised a three-day-long 'Hanuman Katha Vachana' by controversial seer Dhirendra Shastri in Chhindwara, and said "With 82% population, India is already Hindu Rashtra".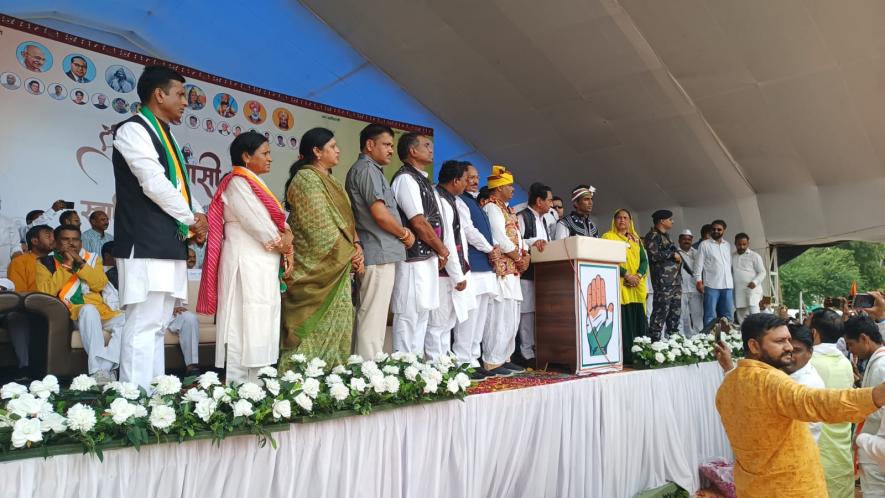 Kamal Nath in Jhabua on August 7.
Bhopal: "Agar desh ki 82% abadi Hindu hai, to yeh koun sa Rasthra hua?" [If 82 % of India's population is Hindu then what this country is called...?]" said Congress leader and former Chief Minister Kamal Nath while responding to a question at a press conference in Jhabua on Monday. Nath gave the controversial statement when asked if he supported Dhirendra 'godman' Shastri's demand for a Hindu Rashtra.
MP | Hindu Rashtra |

"अगर देश की 82% आबादी हिंदू है तो यह कौन सा राष्ट्र है?" ["If India's 82% population is Hindu. Then what is it?"]

कांग्रेस द्वारा छिंदवाड़ा में आयोजित धीरेंद्र शास्त्री गर्ग के "भारत हिंदू राष्ट्र" के बयान पर झाबुआ में बोले प्रदेश के भावी CM कमलनाथ। @INCMP pic.twitter.com/ZRkDGRUmyQ

— काश/if Kakvi (@KashifKakvi) August 7, 2023
Between August 5 to 7, Nath organised a three-day-long 'Hanuman Katha Vachana' by controversial seer Dhirendra Shastri in Chhindwara -- his fortress since 1980. On the second day of the religious congregation, when Nath was seating his son Nakul Nath, who is member of Parliament from Chhindwara, Shastri once again shouted the slogan 'Jai Hindu Rashtra ki' which received a resounding 'Jai' from the audience.
Madhya Pradesh Congress, which is eyeing 150 Assembly seats in the 230-member House, is trying to surpass the ruling Bharatiya Janata Party (BJP) on the Hindutva agenda in the run-up to the Assembly elections due in a few months.
From keeping his Twitter (now X) profile photo, taken at Ujjain's Mahakal temple, showing him draped in a yellow silk cloth to project his commitment to the idea of Hindu Rashtra, the Congress' soft saffron turn toward hardline Hindutva is being seen by many as a desperate but 'pragmatic' approach to wash away its 'pro-minority' image and 'practitioner of appeasement politics' being painted by BJP.
This was evident on Monday, when Nath replied to the question on Hindu Rashtra during controversial seer Dhirendra Shastri's Katha Vachana in Chhindwara while doing his aarti. He defended his move saying, "Why only Dhirendra Shastri, Pandit Pradeep Mishra will also hold a katha vachana in September in Chhindwara."
Shastri and Mishra have often reiterated that India should be declared a Hindu Rashtra in their religious gatherings and have found support from BJP stalwarts like Narottam Mishra -- the state home minister. Apart from Narottam Mishra, Chief Minister Shivraj Singh Chouhan and state BJP president VD Sharma have also expressed support for their rhetoric.
Incidentally, Shastri courted controversy when he termed unmarried girls as 'open plots' in one of his religious congregations.
Apart from Shastri, Pandit Pradeep Mishra in his religious gathering in the first week of May 2022 advocated, "Ab desh ka samvidhan badal kar bharat ko Hindu rashtra kar dena chaiye." (Now, the Constitution should be scrapped and India should be declared Hindu Rashtra). 
Mishra also advised the devotees to dedicate one of their sons to the RSS (Rashtriya Swayamsevak Sangh) and another to Bajrang Dal, both Hindu Right-wing outfits.
While Nath has been inviting controversial seers like Shastri and Mishra, senior Congress leader and former chief minister of the state Digvijaya Singh has staunchly opposed Shastri's views and has sharply criticised Mishra on his demand to scrap the Constitution and promoting Prime Minister Narendra Modi in the gathering. "Talking politics while sitting on Ved Peeth is against the virtue of religion (Hinduism)," he remarked.
The party, however, was left red-faced when a senior Congress leader and a seer criticised Kamal Nath for performing aarti of Shastri terming him the 'star campaigner 'of BJP.  Senior Congress leader Acharya Pramod Krishnam tweeted, "It does not suit the senior Congress leaders to perform the aarti of BJP's star campaigner who ran bulldozers on the property of Muslims and flouted the Constitution by advocating the RSS agenda 'Hindu Rashtra'."
Nath desperate to wash away 'anti-Hindu' image
One could have easily mistaken the Congress' Bhopal office as a Vishwa Hindu Parishad office on April 2, 2023, as it was plastered with innumerable saffron flags and buntings. The grand old party draped its office with saffron robes ahead of 'Dharma Samvad' with priests and religious figures unhappy with the BJP government.
This happened two years after Nath set up the Madhya Pradesh Congress Dharma Evam Utsav Prakoshth in 2021, headed by 'preacher' Richa Goswami to reach out to priests and religious figures. 
The cell has already held several religious events like Sunderkand and Rudrabhishek on the occasion of Mahashivratri, and Bhagavad Katha and Hanuman Chalisa readings projecting Kamal Nath as a devotee of Lord Hanuman, has organised 30 religious programmes across the state in the last two years.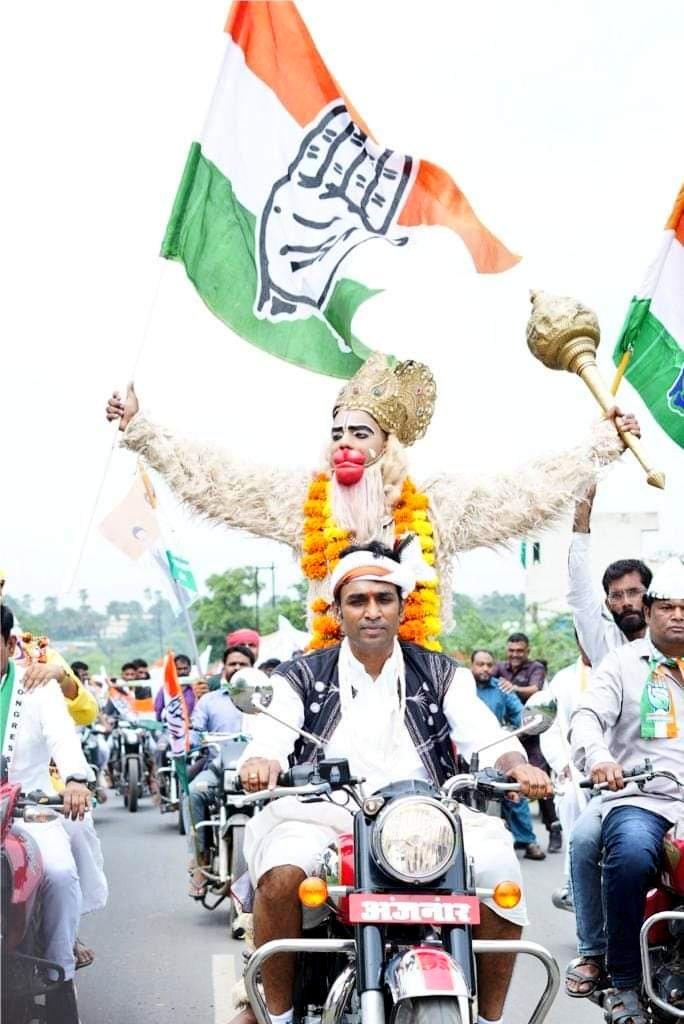 The man driving a bike with Hanuman's copycat at his back is MP Youth Congress president Vikrant Bhuria.
The party also formed a 'Mandir Pujari Prakoshth' and held a meeting with the priests. In the meeting at Congress office, the priests voiced their grievances, which include ownership of the temple's land and that they should be given the status of farmers. The plan is ostensibly an attempt to dent BJP's brahmin votes.
To resonate his religious beliefs, Nath never fails to stress two things in public meetings; "I built a 101-foot statue of Hanuman in Semariya village in Chhindwara district which was showered with flower petals from a helicopter. And Mai Hindu hoon. Mai garv se kehta hu ki mai Hindu hoon. Par mai moorkh nahi hoon" — I am a Hindu. I say with pride that I am a Hindu. But not a fool."
"Kya BJP ne Hindu Dharm ka theka le rakaha hai," Nath thunders in his speeches, insisting that he practices the religion unlike the ruling BJP which uses religion as a divisive tool.
The Congress leader's attempt to counter the 'anti-Hindu' image of the party painted by BJP was also evident in the party's 2018 Assembly manifesto and short-lived government between December 17, 2018 to March 20, 2020.
The manifesto promised gaushalas (cow shelters) in every panchayat and the development of the Narmada Parikrama (circumambulation) route and the Ram Van Gaman Path (the route undertaken by Lord Rama on his way to exile). 
Nath also allocated over Rs 450 crore for construction of 1,000 cowsheds across the state, hiked daily fodder given to a cow to Rs 20 from Rs 5 a day and promised to amend the anti-cow slaughter legislation without elaborating on the changes. In 15-month-government, Nath laid the foundation stone of the 900-crore Mahakal Lok Corridor, hiked the priest's salary and gave cabinet positions to Hindu seers like Computer Baba and Mirchi Baba.
"The religious programmes organised across the state to counter the portrayal of the BJP and its ideological mentor, the RSS of the Congress as anti-Hindu. Local party leaders will be organising the programmes at their expense by involving the local people," said a senior party leader.
These moves of the Congress party seem to be paying dividends three months before the polls. In a recently conducted C Voter Opinion Polls in Madhya Pradesh, 44% of the surveyed people from across 230 constituencies showed trust in Kamal Nath's Hindutva as opposed to 41% against Chief Minister Shivraj Singh Chouhan's.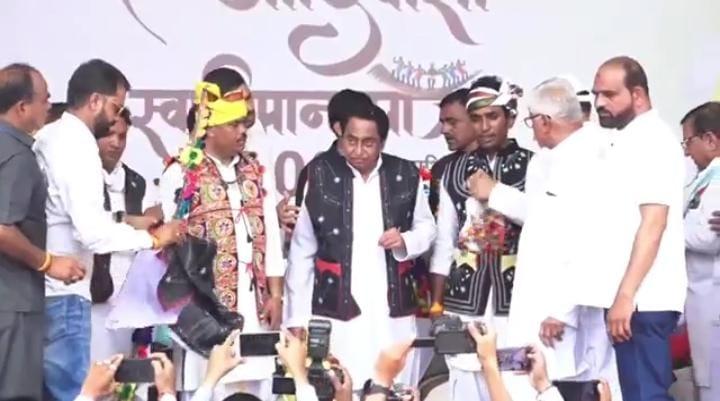 Bhopal-based political commentator Arun Dixit, however, said that Congress' hardline approach may backfire. He said, "Dhirendra Shastri's has been raising pro-BJP issues whether it was the call for Hindu Rashtra or ghar wapsi. Shastri is not some respectable seer but a man who calls girl 'empty plots'."
"Seers as Shankaracharya Swami Swaroopanand Saraswati was a staunch Hindutva leader but spoke justly and was held in high esteem among political corridors but never spoke like Dhirendra Shastri. It may backfire rather than getting support," he added.
While Nath is seen pandering to the majority community, distancing from the minority and their issues, former CM Digvijaya Singh appears balanced, shying from the religious show-off, say political observers.
Singh who carried out the 1,000-km long Narmada Parikrama Yatra in 2017, was spotted with saffron robes on July 18, 2023 offering prayers at the Pitambara Peeth in Datia. A day earlier, he participated in the 35-km long 'kanwar yatra', starting at Gwarighat and culminating at Kailash Dham in Jabalpur. Over one lakh people took part in the yatra, and Singh was seen walking barefoot and briefly shouldering a kanwar. 
"From 2003 to 2023, the BJP has been targeting Digivijaya Singh calling him 'Bantadhar' and trying to paint him 'anti-Hindu' but didn't succeed. He is a staunch Hindu, who visits temples but never used his religion for political benefits," said Dixit.
Political analyst, Rasheed Kidwai pointed out that in a bid to wash away its 'anti-Hindu' image, the Congress ignored the 7% minority population who have been dedicated voters of the party for decades.
"The BJP government has been seizing every opportunity to single out the minority community since the past three years over trivial or over mere allegations. Yet, the Opposition Congress or its leaders never took a stand on it or opposed the move. The minority voters are feeling suffocated and slowly shifting toward Asaduddin Owaisi's AIMIM or Aam Aadmi Party which became evident in 2022 urban body polls in which Congress lost Muslim-dominated Burhanpur and Ujjain's mayoral seats with a close shave because of AIMIM," said Kidwai.
Nonetheless, Nath's love for Hindutva is not new. Almost three years ago, on August 6, 2020, when Prime Minister Narendra Modi laid the foundation stone of Ram Mandir in Ayodhya, Nath in Bhopal held a closed event at his bungalow and said, "Today is a historic day. The construction of Ram temple started today which was being aspired to by every Indian for a long time. Back in 1985, the then prime minister Rajiv Gandhi had opened the doors of Ramjanambhoomi."
He had said that Ram temple (at Ayodhya) should be constructed... and a feeling (for the construction of Ram temple) emerged from that time. It will be wrong if someone tries to take credit for it."
Get the latest reports & analysis with people's perspective on Protests, movements & deep analytical videos, discussions of the current affairs in your Telegram app. Subscribe to NewsClick's Telegram channel & get Real-Time updates on stories, as they get published on our website.
Subscribe Newsclick On Telegram