MP: Extreme Weather, Perpetual Migration, the Disquieting Lives of Gulab Bhaiyas we all Know
Climate-induced crop loss makes Gulab Bhaiya, a farmer from Mandla in Madhya Pradesh, to move to cities in search of employment, and he is not the only one.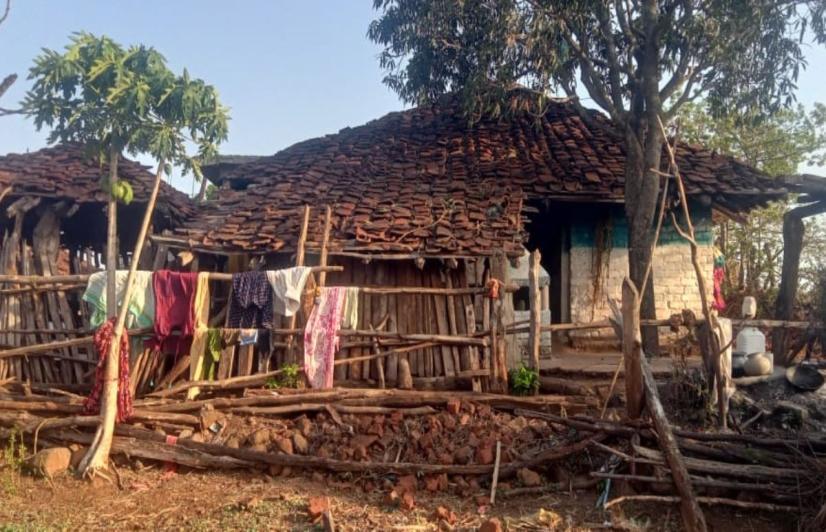 Old house of Gulab Bhaiya (Photo - Pooja Yadav, 101Reporters)
Mandla, Madhya Pradesh: Gulab Singh Kurveti (42) alias Gulab Bhaiya is always worried. His daughters are of marriageable age, but he needs money to invest in their future. To make money, he needs a job, which does not exist in his hometown, Rampuri. This leaves him with only one option — to migrate to a nearby city and live away from his family so that he can earn enough to save for a rainy day.
Ironically, rainy days make it difficult for Gulab Bhaiya to stay in his village in Mohgaon block of tribal-dominated Mandla district. A Scheduled Tribe (ST) member, he has five acres of land at his disposal. "But what is the use? When it should rain, it does not. And when it should not, it pours," he says.
Even otherwise, Gulab Bhaiya manages to produce very little as most of his land is rocky and unsuitable for cultivation. His five-member family consumes the wheat he harvests.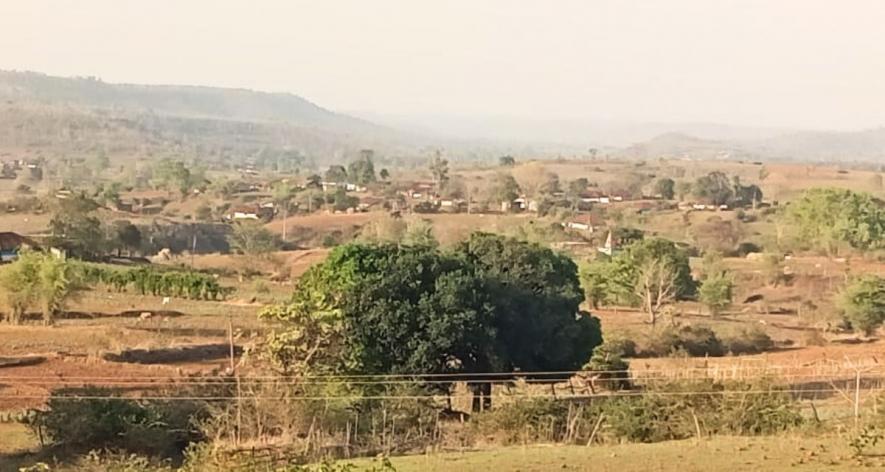 View of village Rampuri_ It is a village in Gram Panchayat Dhangaon of Mohgaon district in Mandla district with 161 houses and a population of about 700 people. This is where Gulab Bhaiya lives.
His wheat crop was ready when hailstorms destroyed it in April. Farmers with small plots were particularly affected as they took fertilisers and seeds on loan. With unseasonal rains washing away all the hard work, they were unable to pay back the loan amount.
Earlier, Gulab Bhaiya's family considered mahua as its main source of income. Every year, they would go together to gather mahua flowers from the forest floor. Last year, they managed to collect 500 kg of flowers. But this year, they got only 150 kg, all thanks to the climate vagaries.
Gulab Bhaiya remembers mahua was priced at Rs 5 per kg in 1995-2000. Now, he can earn Rs 30 per kg, provided the weather cooperates. "Back then, inflation was low and the family small. I could work for a while outside and then come home by the time kharif crops ripened. We used to extract oil from mahua gulli (seed) for our cooking needs and sell the rest in the market… In summer, we would pick tendu pattas and medicinal herbs. We harvested harr (inknut) in May and June. From forest produce alone, we could make anywhere between Rs 35,000 and 50,000," he says.
All that has changed. "We do not bank on mahua gulli or tendu patta anymore. Unseasonal rains have spoiled everything. Mahua trees do not bloom in erratic weather. If flowers do not come out well, then gulli is also not good. This year, mahua trees did not bloom well. In April, hail spoiled tendu patta also," he adds.
Mahua season begins in April and ends by mid-May. If the collection is not good during this limited window, people lose a source of income. 
Leaving hearth and home  
Gulab Bhaiya's problems are compounded by the fact that even farm labour is not available in the village, which has 161 households. "There is no work here… We have to leave the village again and again," he laments.
So, he heads out every year to Nagpur, Narsinghpur and Jabalpur, leaving behind his two daughters. His wife Hirondi Bai and son Govind also work in different cities over the course of the year.  
"If I had an option, I would never leave. Who does not like his home? I also want to live in my village, be a part of the culture and traditions, family events, and marriages or other celebrations in the houses of friends. But it seems that life is not for me," he exclaims.
Right now, Gulab Bhaiya is in Pipariya village of Jabalpur, located 125 km from Rampuri. His wife and daughter Jamna have accompanied him this time. "We are harvesting mung (green gram). The sun is so harsh here… If we had a choice, we would not have worked in these conditions," he rues.
"We are never in our village. It is difficult to travel back and forth as there is no proper connectivity. That apart, we do not earn enough to afford frequent visits. If we take a bus, we will reach Rampuri in four to five hours. The day we travel we lose the earnings too."  
One of his daughters quit school after class 8 and the other after class 10. They both find work in and around the village. "If we had more money, I would have made my daughters study further. Now, they only have the option of becoming labourers… So if they wish, I take them along. This time, Jamna has accompanied me. Ganga is at home with her grandparents and they will look after our home," Gulab Bhaiya says.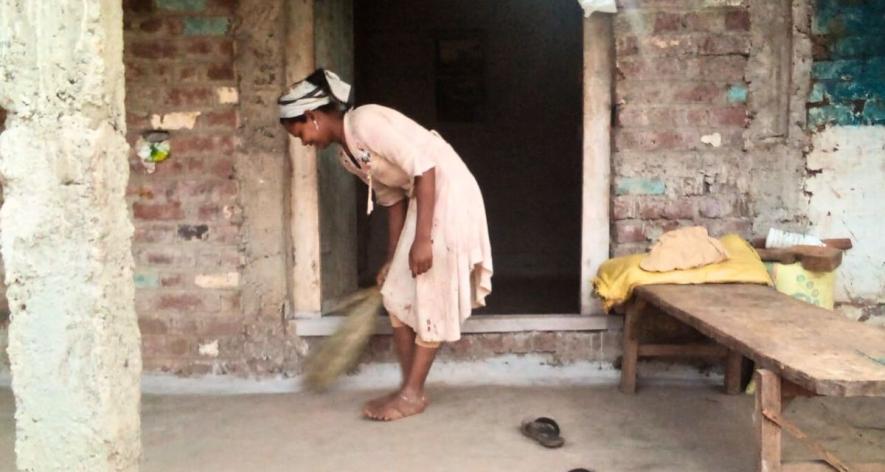 Gulab's daughter Ganga cleaning the house (Photo - Pooja Yadav, 101Reporters).
Govind, who is about to turn 20, has been home since last month as he is in the process of switching jobs. "I worked in a factory manufacturing electric poles in Nanded, Maharashtra. The contractor used to provide food and accommodation. I was paid Rs 10,000 a month, but it was hard to survive on that income. I am looking for a job elsewhere. As soon as I get it, I will leave the village," says Govind.
Gulab Bhaiya also sees work in cities or towns as an opportunity to make extra cash. His eyes are always set on that extra savings, which could help fund his daughters' marriages.
"In cities, you can find work day and night. Working extra means extra money. The rate is Rs 400 to Rs 500 a day and you will get it on time. In villages, the maximum is Rs 300 a day. Despite being familiar with the people, there is no option of getting money in advance too. All these things make one opt for a city or town," he explains.
Future impact
Mandla district has 1,203 villages. The ST households with income below the poverty line is a whopping 93.5%. The work participation rate of women among STs is 54.7%. 
Like in Mandla, most families in other tribal dominated districts such as Chhindwara, Betul, Seoni and Dindori migrate for work. It was prevalent earlier also due to lack of proper resources and opportunities in villages. "However, climate change has accelerated it, forcing more family members to leave," Dr Subhash C Pandey, an environmentalist and former executive vice-chairperson of the Haryana Pond and Waste Water Management Authority, tells 101Reporters.
"This has an adverse impact on other social indicators as well. For example, many people take their children to cities, where they mostly live in shanties and construction sites. The children are at risk of getting involved in anti-social activities there. The situation is similar if they are left behind in villages as there is nobody to keep a check on their emotional, nutritional and educational requirements," explains Rajkumar Sinha, the convenor of the struggle committee on the proposed Chutka nuclear power plant project and activist working for the tribals of Mandla, Jabalpur and Dindori districts.
The children neither go to school regularly nor study at home. Taking note of the issue, the state education department issued an order in April, directing teachers to enrol dropouts by conducting house visits, among other measures.
"Climate change is disrupting the traditional monsoon patterns in India, leading to irregular and unpredictable rainfall. This affects the timing of planting and harvesting. Water availability for irrigation has reduced, while risk of droughts and floods has increased. Farmers also face issues in deciding when to sow, and often experience crop failures due to inadequate or excessive rainfall," explains Pandey.
He says rising temperatures associated with climate change have adverse effects on crop growth and productivity. High temperatures during the growing season can lead to heat stress in plants, reduce photosynthesis and impair crop development. This can lower crop yields and quality, affecting the income and food security of farming communities. Higher temperatures also lead to increased evaporation rates, drying up of water sources and reduced availability of water for irrigation.  
Gulab Bhaiya has faced all these and more, but does not know what to do other than going all out in search of employment. "If someone wishes to go outside for work, it is their choice. But for us, there is no choice over when to leave, where to go or when to come back. By the way, no one wants to leave the village. I do not want to go either."
(Pooja Yadav is a Madhya Pradesh-based freelance journalist and a member of 101Reporters, a pan India network of grassroots reporters) Regards.
Get the latest reports & analysis with people's perspective on Protests, movements & deep analytical videos, discussions of the current affairs in your Telegram app. Subscribe to NewsClick's Telegram channel & get Real-Time updates on stories, as they get published on our website.
Subscribe Newsclick On Telegram