MP: Once a Worker, now an Intruder: How Tribals Lost the 'Plot' in Burhanpur
Brought here generations ago by the British to clear forests, local tribals are looked at with suspicion and accused of abetting encroachments in recent years.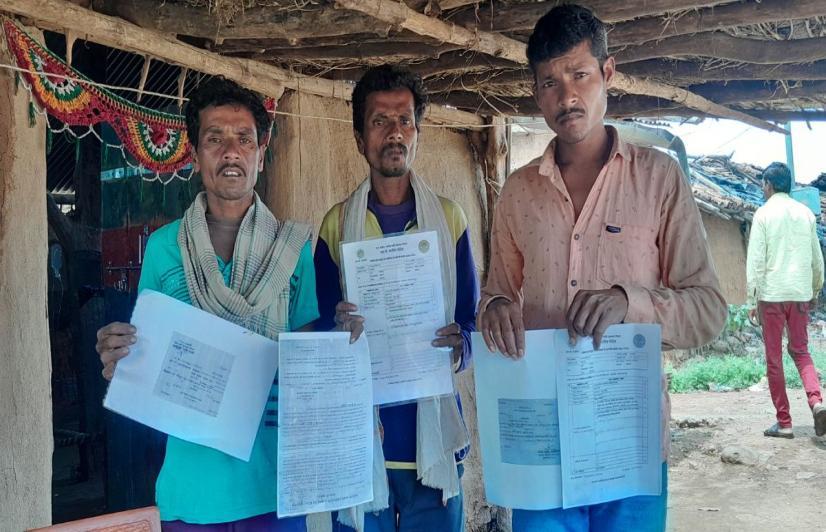 Bannu Vaskale, Dhansingh Richhu and another resident with their applications for land pattas under the Forest Rights Act (Photos - Mohammad Asif Siddiqui, 101Reporters)
Burhanpur, Madhya Pradesh: Khandwa forest circle encompassing the districts of Khandwa, Khargone, Barwani and Burhanpur has always been a hotspot of encroachment. According to May 2005 data from the forest circle, 58,000 hectares were totally encroached upon in these four districts. However, the volume of encroachment in Burhanpur alone soared to 55,000 hectares by 2017. Originally, the district had an expansive forest cover of 1,90,100 hectares.
Burhanpur forest division has seven ranges, of which maximum destruction happened in Nepanagar, Navra and Asirgarh. The forests in Ghagharla, Siwal, Bakdi, Pankheda, which fall under Nepanagar and Navra ranges, took the most beating. According to state forest department, 1,623 hectares coming under Navra range went to encroachers since 2018. Of the total 21,716 hectares in Nepanagar range, 6,806 hectares were occupied. 
Notably, encroachment has intensified in the past few years, which set the context for disputes between the old settlers and the new encroachers. In the process, Jagrit Adivasi Dalit Sangathan (JADS), which works for tribal welfare, threw its weight behind the old settlers and nudged the district administration and forest department to take action against the new encroachers.
However, the administration got its act together only after the Nepanagar Police Station attack in April. But when it did, it acted against all the parties concerned. On May 1, the JADS also faced the heat when a case under Section 66A of the Indian Forest Act, 1927, was registered against eight activists, including its leader Madhuri Ben.
The history of tribals in Nimar (now Khandwa) circle dates back to the time of the British rule. In 1878, the British passed a forest Act, which was designed not to nurture the green cover but to chop it down. Nimar Gazetteer has details of how Bhil tribals from Barwani district were brought to Mandwa (now it falls in Nepanagar tehsil) to cut the forest. There was no human presence here until the tribals made it their home, which showed tribals were not the original inhabitants of the place. Nepanagar town was also established on the forest land, and so was a newsprint paper mill in 1956.  
Divided they stand
Right now, those occupying the forests are divided into two groups — the local tribals who have been living here for many years and those who have been here since a few years ago. The second group allegedly cut down several acres of forests in a single night, thus fostering a hostile environment in the region.
Local tribal Umakant Patil said the new settlers entered the forest in groups, fell trees and set them afire. "Sometimes, this fire reaches our fields . We want to save our forest, but the department staff do not cooperate."
Chhayabai, another local tribal, said the encroachers were often seen on the forest edge. "They cut trees standing next to our fields, which essentially prevents us from nurturing our crops. My gram crop on five acres got damaged and could not be harvested in time," she lamented.
Ram Jamra of Bakdi was not ready to speak at first. When prodded, he narrated how hundreds of people swarmed the forest in the dark of the night and how the locals immediately passed on the information to the department, but no action followed. "Forest department staff are scared of these attacks. They do not have the right to use weapons. Police and Army personnel are seen accompanying them during anti-encroachment drives," he said. 
Gendalal Sisodia (70) settled in Chainpura village under Badnapur panchayat in 1977. Until 1980, the forest department registered eight cases against him. Though the court acquitted him in all cases, the department did not consider his application for the grant of patta. He claimed his name was dragged into last year's Mandwa incident, which threw him in jail for seven months straight.
"All this because I have been fighting not only for my rights, but also for my fellow tribals in my capacity as a JADS worker… I have not lost my courage; as long as there is life in this body, I am not going to leave this forest," he stated, adding that only one out of the 130 people who applied for lease got approval. Ranchhad Richu's application was okayed eight months ago, and he had submitted only the same documents that others did. 
Bannu Vaskale of the same village applied online in 2020 as his earlier claim got rejected. "I have not heard about it till date," he exclaimed. Showing his lease application, Dhansingh Richhu added, "We have been living here for generations, but the department staff look at us with suspicion."
In the absence of Badnapur panchayat sarpanch Rukmabai Vaskale, her representative Bishan Vaskale told 101Reporters that the claims were rejected citing errors. "The revenue and forest officials do not cooperate for the proposal and verification of claims. The panchayat will continue to support the tribals fully. We are with them in this fight."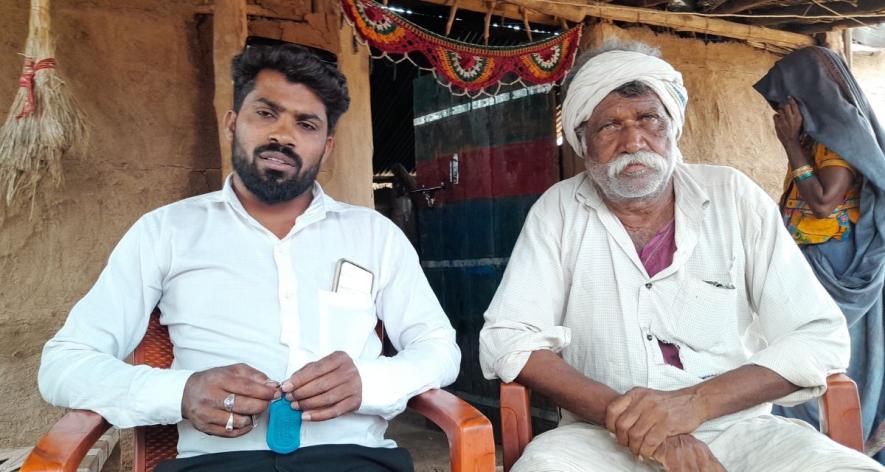 Bishan Vaskale and Gendalal Sisodia (Photos - Mohammad Asif Siddiqui, 101Reporters)
The panchayat has a population of over 1,200, including 823 voters. People have settled here before 2000, and are eligible for pattas promised by Chief Minister Shivraj Singh Chouhan in the run-up to the 2016 Nepanagar bypoll and 2018 state Assembly elections. With the next Assembly elections set for this year-end, villagers expect more hollow assurances sans necessary action.
On the boil
Over the last three years, the forest department and villagers have been at the receiving end of attacks, allegedly perpetrated by the encroachers. On July 5, 2020, an incident of stone pelting was reported in Ghagharla, followed by unruly incidents on July 19 and August 7. Subsequently, an anti-encroachment campaign involving 350 administrative staff was launched in Ghagharla on November 7. Seventeen of them suffered injuries in the violence that ensued, which included snatching of weapons.
On July 2, 2021, forest staff in Dahinala north under Asirgarh zone faced the wrath of encroachers. A few months later, on November 21, a police team that went to arrest an accused in the dead of the night was attacked at Chidiyapani, an encroachment site in Nepanagar. In the most recent incident on April 7, over 60 tribals attacked the Nepanagar Police Station and freed three arrested men from detention.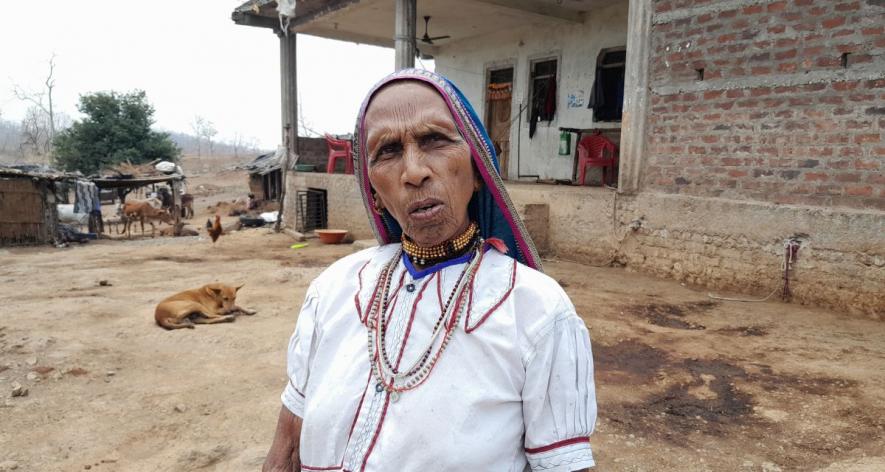 (Photo - Mohammad Asif Siddiqui, 101Reporters)
"This (police station attack) is a well-planned conspiracy. Even after the incident, the administration did not act swiftly. First, they said the accused have ventured deep into the jungle, so we cannot reach them. Then they launched action against the villagers, arguing that they colluded with the encroachers," JADS leader Madhuri Ben told 101Reporters.
Reiterating that all tribal settlers in the forests have been staying here for many generations, she claimed indiscriminate felling has intensified in the recent years. "According to a survey we did to draw attention of the administration, about 15,000 hectares of forest were found to have been destroyed since October 2022, which cannot be termed practical at all. The forest department has a role to play in this," she alleged.
Refuting the allegations, Anupam Sharma, who was the divisional forest officer when the police station attack happened, told 101Reporters he had asked the JADS members to name those they believed were part of the conspiracy and also provide evidence. "However, they provided us neither any name nor proof. It is clear that the allegations are baseless." 
On the alleged loss of 15,000 hectares, he said "the forest has not been cut as much as they are telling, but there is no denying that it has been cut." 
Elaborating on the JADS stand on the matter, Ben said, "We oppose the new encroachers who not only destroy the forest but also trouble local tribals and unleash attacks on forest staff. Our organisation is taking along those who have settled here before 2000. I would say they have strong evidence to show, as even the cases filed against them by the department in the earlier days can prove the timeline of their stay here." 
Madan Vaskale, a member of the Bhil Samaj, is among those claiming the right to land. "The forest is our temple, our means of livelihood. Mahua, charoli and tendu patta from the forest earn us a living. Our cattle feed on forest resources. Thousands of acres of forest would have been thriving with life, had the department acted on our complaints. There are people who clear the green cover and attack forest staff. But, we protect it by staying within the ambit of the law. In return, we are demanding our rightful land from the government," Vaskale appealed. 
(Mohammad Asif Siddiqui is a Madhya Pradesh-based freelance journalist and a member of 101Reporters, a pan-India network of grassroots reporters)
Get the latest reports & analysis with people's perspective on Protests, movements & deep analytical videos, discussions of the current affairs in your Telegram app. Subscribe to NewsClick's Telegram channel & get Real-Time updates on stories, as they get published on our website.
Subscribe Newsclick On Telegram