Mr.Modi, How are you Going to Handle Wheat?
With wheat stocks at a 14-year low and procurement at a 20-year low, how is the ration system going to deliver this staple to crores of people?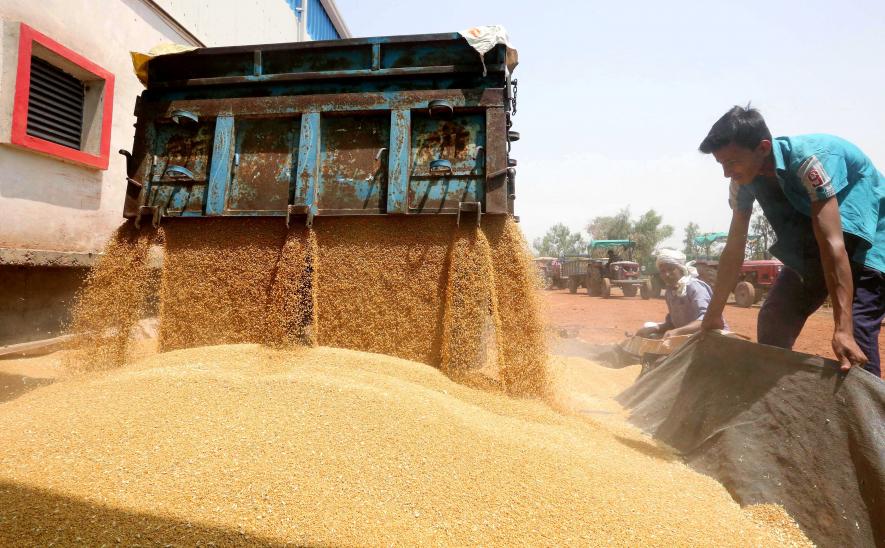 Workers unload the wheat grain from a truck. Image Courtesy: ANI
At the end of June this year, government procurement of wheat was about 188 lakh tonnes, dramatically down by 57% from last year's 433 lakh tonnes, as per official figures. This is the lowest procurement amount in the last two decades. It was back in 2002 that wheat procurement had been lower at 164 lakh tonnes. But two decades ago population would have been much lower.
Linked to this is another disturbing fact: government wheat stocks are at a 14-year low of 311 lakh tonnes. The last time stocks were lower than this was in 2008, when only 241 lakh tonnes were left in the government warehouses in June. That, of course, was a bad monsoon year, so production had been severely affected.
The low procurement and stock position, shown in the chart below, should have set alarm bells ringing in New Delhi by now. As per the latest data, on July 1, 2022, the wheat stock had dipped to 285 lakh tonnes, just 10 lakh tonnes more than the statutory stocking norm of 275.8 lakh tonnes for July. This has grave implications for the coming months; should there be a natural calamity or sudden need for wheat to be distributed, stocks would be perilously low. Then, there is the question of distribution through the ration system (PDS). How is that going to be fulfilled?
However, aside from last-minute wheat export ban in May, followed by wheat flour (atta) and other products limitation in June, the only action taken by the government was to start distributing rice instead of wheat in the public distribution system, causing discontent among wheat consuming states.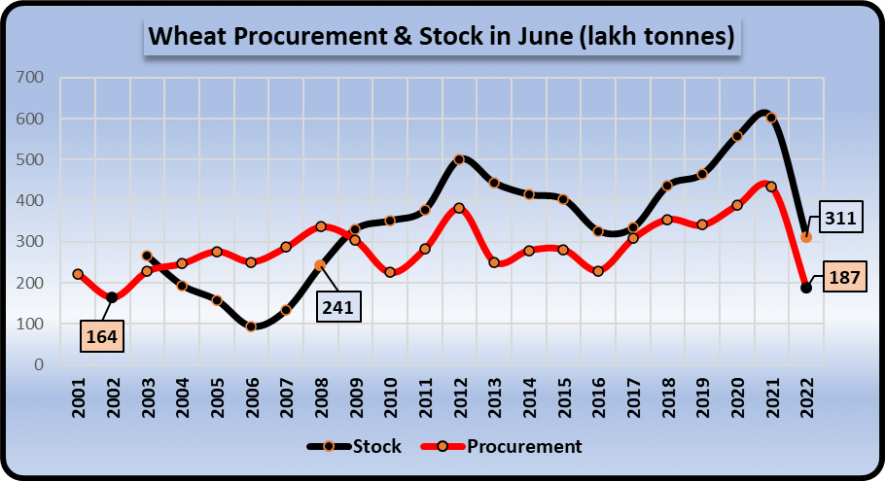 This year, production has dipped to 1060.41 lakh tonnes from about 1090.59 lakh tonnes last year, mainly because of the extreme and unusual heat in late March and April. However, what is even more worrying is that out of 187 lakh tonnes wheat procured, about 75 lakh tonnes is reported to be shrivelled grains.
Reduced Allocation for Many States
The Modi government's cavalier attitude towards the impending wheat crisis was visible earlier when it first encouraged wheat exports and then suddenly realised the danger and banned exports. By that time, the damage had been done with procurement drastically falling as traders picked up wheat from farmers instead of it being procured by the government.
On May 4, the government started applying a band-aid to save the situation. It announced that wheat allocation under the Pradhan Mantri Garib Kalyan Anna Yojana (PMGKAY) will be cut by 55 lakh tonnes for the remaining five months (until September) and replaced by rice.
Then, on May 14, Food Secretary Sudhanshu Pandey announced that wheat to rice ratio in state-wise allocation for distribution through the Public Distribution System (PDS) was being changed. States getting wheat and rice in 60:40 ratio would get it in 40:60 ratio, while those getting in 75:25 would get it in 60:40 ratio. These changes would save about 61 lakh tonnes of wheat over the remaining ten months (June-March) of the current financial year, the food ministry claimed.
Wheat allocation was reduced for ten states: Bihar, Jharkhand, Odisha, West Bengal, Delhi, Uttar Pradesh, Gujarat, Maharashtra, Madhya Pradesh and Tamil Nadu. These states make up about 55 crores (67%) of the approximately 81 crores beneficiaries covered under the PDS. With these changes, the wheat allocation for these states would come down to 9.39 lakh tonnes from the earlier 15.36 lakh tonnes. The difference (nearly 6 lakh tonnes) would be compensated with rice.
Although the central government claimed that all this was being done in consultation with the state governments, two BJP ruled states, Gujarat and Uttar Pradesh, demanded restoration of their original allocations. UP was getting 3 kg wheat and 2 kg rice per person per month in PDS, which was changed to 2 kg wheat and 3 kg rice. Gujarat was getting 3.5 kg wheat and 1.5 kg rice per person per month, which was changed to 2 kg wheat and 3 kg rice.
The central government has also cut the "tide over" wheat allocation by 1.13 lakh tonnes for Uttarakhand, Kerala and Tamil Nadu. This allocation is made to protect the average level of allocation during the earlier Targeted PDS (TPDS) scheme that was replaced by the NFSA.
What About Future?
Going by the past record, it is likely that the PMGKAY will be finished off after September. This was something that the government wanted to do but electoral considerations forced it to continue it. This is likely to cause much discontent as earnings are still low, unemployment is still high, and the so called revival of the economy is still a distant dream.
But more serious will be the consequences of distributing poor quality, shrivelled wheat through the PDS, and that too in reduced amounts, replacing a part with rice. According to the last full Consumption Expenditure Survey done by the National Statistical Organisation (NSO) in 2011-12, Uttar Pradesh, Madhya Pradesh, Bihar, Delhi and Maharashtra had a higher per capita wheat consumption than the all-India average of 4.288 kg (rural) and 4.011 kg (urban) per month, while in Gujarat and Jharkhand, wheat consumption was lower than this average in rural areas but higher in urban areas. In Odisha, West Bengal and Tamil Nadu, average wheat consumption per capita per month was lower than the all-India average.
So, there is bound to be discontent in states where wheat is replaced by rice. This is already reflected in objections raised by UP and Gujarat. However, these state governments would likely not have many choices in the face of the over-weening central government.
The situation implies that the families either consume bad quality wheat, shift to rice willy-nilly, or perhaps try to buy wheat in the open market. Wholesale atta prices have risen by over 10% in the past year, and with the grain piled up with exporters coming back into the open market, prices are unlikely to fall. In conditions of already blazing inflation, open market purchase of wheat by poor people will be another blow to their faltering economic condition.
And, remember, rice being used to replace wheat will mean that rice stocks too will go down. One can only hope that the ongoing kharif season will not show any significant dip in rice production, although paddy sowing is reported to be about 17% less than last year due to the delayed onset of monsoon.
What this whole chain of events demonstrates is the complete inability of the Modi government to anticipate and handle an impending crisis, even if it involves food supply for millions of families. Starting from the ill-conceived export encouragement, to bureaucratic cuts in allocations, and tinkering around with replacement with rice, right down to not preparing for poor quality wheat and possible reduction in kharif rice harvest, it is a sorry tale of mismanagement.
Get the latest reports & analysis with people's perspective on Protests, movements & deep analytical videos, discussions of the current affairs in your Telegram app. Subscribe to NewsClick's Telegram channel & get Real-Time updates on stories, as they get published on our website.
Subscribe Newsclick On Telegram