Mr Prime Minister, Manual Scavenging Work is Neither Spiritual Nor Glorious
Prime Minister Narendra Modi while visiting the Kumbh Mela at Allahabad, washed the feet of five manual scavengers, which included two women workers.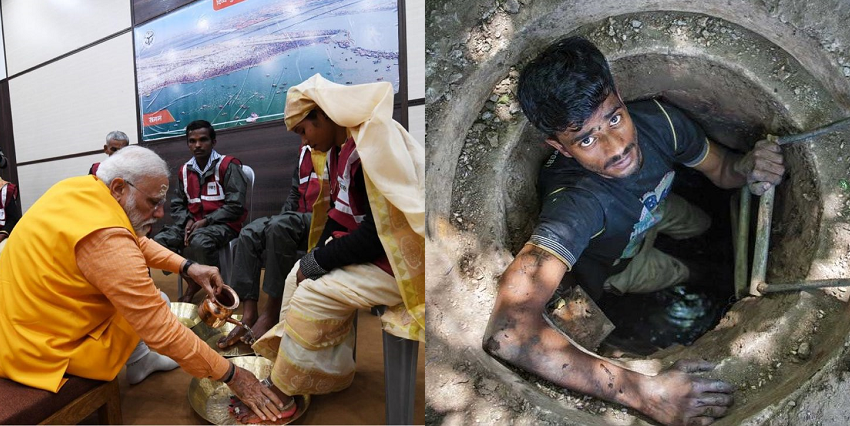 Prime Minister Narendra Modi while visiting the Kumbh Mela at Allahabad, washed the feet of five manual scavengers, which included two women workers. He thanked them for their karma yog and their role in keeping the Kumbh clean. Even when he was the Chief Minister of Gujarat, Modi had called the work of sanitation workers a "spiritual experience," in his book, Karmyogi. Bezwada Wilson of the Safai Karamchari Andolan has called this an insult to the manual scavengers. In a tweet, Wilson said, "What a pity! As a CM, he spiritualized shit cleaning, now as PM glorifying injustice..this act is against Baba Saheb Ambedkar's mission – झाडू छोड़ो कलम पकडो."
According to Wilson, 11 sewer deaths were reported in India in 2019 alone. In 2018, the number went up to 105. Not even a word of condolence has ever been expressed by the Prime Minister or the Prime Ministers Office. No necessary steps to eradicate manual scavenging have been taken by the government, even though mechanised sewer cleaning technologies have been in existence for long now. At a protest at Jantar Mantar, women santiation workers burned their baskets which they use to carry human excreta on their heads, in protest against manual scavenging and demanding alternate livelihood. The Prime Minister doesn't seem to realise that the sanitation workers don't want his admiration of the work they do, they want freedom from manual scavenging without exception.
In light of the statement made by the PM, which only adds insult to injury, the Indian Cultural Forum takes a look at the injustice that is manual scavenging and brings to you, from the archives, the numerous struggles to eradicate manual scavenging.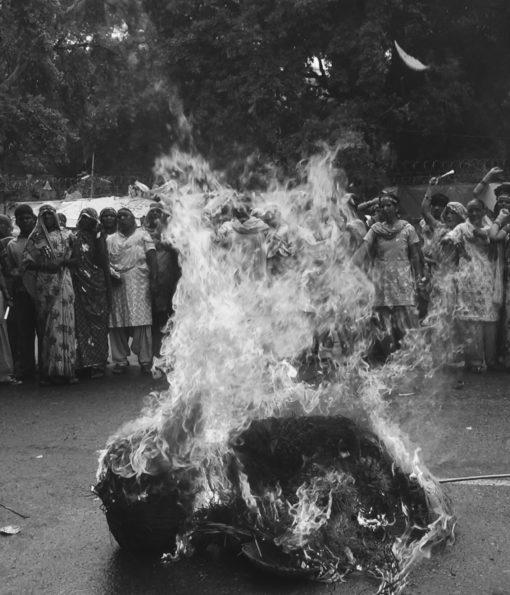 Basket Burning by safai karmacharis at Jantar Mantar, New Delhi – a symbolic act of defiance to push the demand for elimination of manual scavenging. Photo Credit: Safai Karmachari Andolan
12 Crore New Toilets, but Who Will Clean Them?
Bezwada Wilson talks about manual scavenging, the inhumane practice that it is and how it is forced upon the lower castes. With the Swachh Bharat Abhiyan's new aims of building more toilets across the country, the already burdened scavengers will be made to take on the additional job of cleaning the new toilets. Wilson remarks on the failure of the government to tackle this problem and the lack of technology advancements in this area, and how it continues to normalise the oppression of this particular class of people.
"On how many fronts can I fight?"/p>
"If these machines had been brought in before, my children's papa would not have left them. Now they are not of any use to me, but they will at least be useful for other women. Their men will not die in the sewers. No one should have to suffer the way I do." So saying, a visibly distressed Rani Kumari became silent.
We must understand that 'Caste' is linked with 'Scavenging':
"I have been going into this hell for decades"
Mani is a Dalit, from the Chakkliar caste. He left school because his teachers and fellow students would call him thoti, a derogatory term for the scavenging caste in south India, and ask him to sit separately. "They would abuse me because I used to clean dead bodies and shit. Teachers would ask me to sit outside the classroom," says Mani.
Bezwada Wilson on Eradicating Manual Scavenging
Bezwada Wilson talks about the lack of political will when it comes to eradicating untouchability and manual scavenging.
Women break the walls of toilets in protest of Manual Scavenging:
The Long March to Eliminate Manual Scavenging
Why are the Indian government and even the media and civil society quiet about the death of more than a thousand of its citizens (Thomas, 2016)? People are being killed in sewer and septic tanks every day and yet, so far there has been no relevant discussion by policymakers, in state assemblies or the Parliament. By the time you are reading this essay, this number would have increased multifold. What could be the reason for this apathy and indifference? Is this because all who die in sewers and septic tanks are Dalits? Why is it that even amidst the rhetoric of development and progress in 2017, 1.3 million (FirstPost, 2016) Dalits in India, and mostly women, are forced to manually clean human excreta? Why does the country allocate a budget of INR 16,248 crore 1 for the Swachh Bharat Abhiyan while it has only INR 5 crore to spare for rehabilitation of manual scavengers, as per the Union Budget for the fiscal year 2017–18? Why is India unable to invest in finding a technology to clean sewer septic tanks without endangering human life? These are serious questions that Indian democracy must answer.
"Minimum protective gear, maximum risk, no holidays, no pay, and ever-lurking disease and death"
Tens of thousands of Dalits still work as manual scavengers in India – unclogging sewers, emptying septic tanks, and more. They work with no protective gear, no holidays, irregular wages, and the constant threat of disease and death. All this along with deep social stigma – while the government speaks of a Swachh Bharat and of 'open defecation free' villages.
Bezwada Wilson: "We cannot address manual scavenging without addressing untouchability, without taking on inequality":
"You do not want us to occupy your space because we smell?"
The sanitation workers are employed by the university on a contractual basis and receive no benefits from their employers. Narrating a personal experience, the spokesperson said that some time ago when he was hurt, he had incurred an expense of four lakh rupees from the hospital where he was being treated. Forget receiving monetary support from the university, "no one," he remarked "from the university staff or administration had cared to even pay him a visit during his stay at the hospital. In spite of this, I am still here being the good worker that I am and I will be here tomorrow as well."
Get the latest reports & analysis with people's perspective on Protests, movements & deep analytical videos, discussions of the current affairs in your Telegram app. Subscribe to NewsClick's Telegram channel & get Real-Time updates on stories, as they get published on our website.
Subscribe Newsclick On Telegram