MSP Without Procurement? Unlikely to Work
Past record shows that farmers are facing bankruptcy because there is hardly any procurement for produce other than wheat and rice.
Latest data on procurement shows that during the Modi years, there has been hardly any increase in the procurement of food grains. While wheat and rice procurement by the government has increased marginally from about 32-33% to 36-37% of the production of these two staples, coarse grains, pulses and oilseeds remain out of the ambit of any serious procurement. This directly means that the announcement of MSPs for these categories of food grains remains a paper exercise and farmers are forced to sell the produce at unremunerative prices.
Let us start with wheat and rice, the two main cereals grown and consumed in the country. Production data from the ministry of agriculture when compared to the procurement data as revealed by the department of food and public distribution shows that in 2020-21, about 37% of rice and 36% of wheat was procured by the government. [See graph below] This was a small increase from 33% rice and 32% wheat procurement in 2015-16. As is well known, the bulk of this procurement happens in Punjab and Haryana, and in recent years, from Madhya Pradesh too.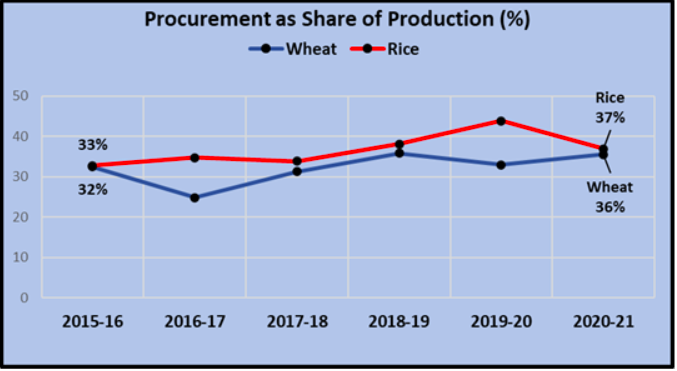 Most farmers in Uttar Pradesh, Bihar and elsewhere thus do not get their wheat or rice procured by the government. Hence, they do not get minimum support prices too.
The picture is even more dire in the case of other food grains. In 2020-21, an abysmal 9% of pulses were produced, and just 1.4% of coarse grains were procured by the government. Procurement of oilseeds too was of similar order – just 3.2% of total production. [See graph below]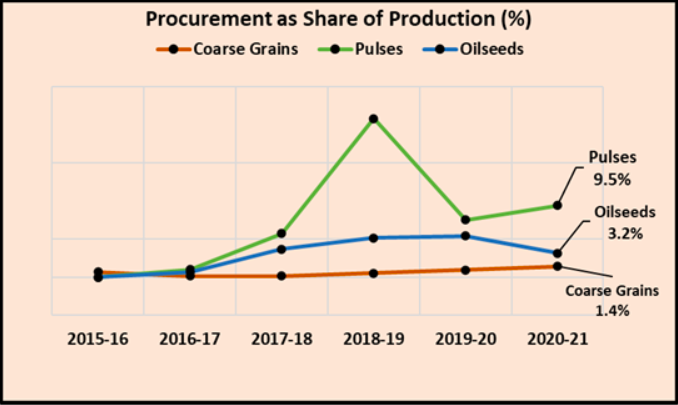 Data on procurement of oilseeds and pulses are not even regularly put out by concerned departments and the above-quoted figures became available only through a Parliamentary question (No.1953) raised and answered in the Rajya Sabha on March 12, 2021.
The main feature of procurement of these produce is its continued low level. In 2015-16, just 0.7% of the total production of coarse grains was procured. From there, it has become 1.4% in 2020-21. Of the 491 lakh metric tonnes coarse grains produced, a measly 7 LMT was procured.
A similar story can be seen for pulses and oilseeds. Pulses procurement was zero in 2015-16 but increased to about 1% of total production in 2016-17. From there it hit a high of nearly 21% in the pre-election year 2018-19. Now in 2020-21, it has come down to 9.5%. Oilseeds procurement has moved from 0.02% in 2015-16 to about 3.2% in 2020-21.
Coarse grains included in the above analysis include jowar, bajra, maize and ragi; pulses include gram, masoor, moong, arhar/toor and urad; oilseeds include groundnut, mustard, niger seed, sesamum, soyabean and sunflower.
ONLY PROCUREMENT ENSURES PROFIT
It is clear from the above that the vast majority of produce is being sold to private traders, not to government agencies. Naturally, the prices that farmers get from traders are less than the MSP. Since the MSP itself is deficiently computed by the government – not covering the full cost of production known as C2 – the farmers end up with a very thin profit or often, losses.
Note that cultivation of wheat and rice requires considerable irrigation whereas over half of the agriculture in the country is still rain-fed, and major parts are semi-arid. Farmers cannot afford to sow wheat or rice since they are not in a position to irrigate these crops optimally. Hence they settle for these other crops like coarse grains, pulses and oilseeds.
Small and marginal farmers too favour these food grains rather than wheat and rice even in otherwise conducive conditions because they do not have the money to pay for chemical inputs or water.
So, non-procurement ends up harming the most vulnerable sections of farmers most. A vast number of farmers in far-flung areas are thus directly being victimised by the neglect of procurement. This policy is also pushing farmers into unsustainable use of water because crops like wheat, rice and sugarcane need enormous quantities of water.
MSP GUARANTEE?
The government has recently repealed the three farm laws that it brought in last year. This happened because of a valiant struggle by lakhs of farmers. However, the defeat of the Modi government does not mean that the farmers' woes have ended. They have foiled an attempt to turn them into wage slaves, but their precarious economic condition continues as it did earlier. Rising input costs have robbed them of any reasonable returns on their produce. They could have benefitted from MSPs but, as we saw above, most farmers do not get the MSP declared by the government. Over the years, this has led to a cascade of repercussions – more indebtedness, suicides, degenerating soil conditions, increasing migration of labour, etc.
The only way this crisis can be mitigated is by strengthening the procurement system and removing uncertainties related to it. This can be done only if MSP is guaranteed. This will help farmers get better returns – not ideal but an improvement over the present condition
Get the latest reports & analysis with people's perspective on Protests, movements & deep analytical videos, discussions of the current affairs in your Telegram app. Subscribe to NewsClick's Telegram channel & get Real-Time updates on stories, as they get published on our website.
Subscribe Newsclick On Telegram