Mundka Fire: Scenes of Despair at Hospital as Panic Grips Kin of Deceased, Missing Persons
Several people were left critically injured after a three-storey commercial building in West Delhi's Mundka caught fire on Friday evening; 27 dead, 29 are missing till now, as per officials.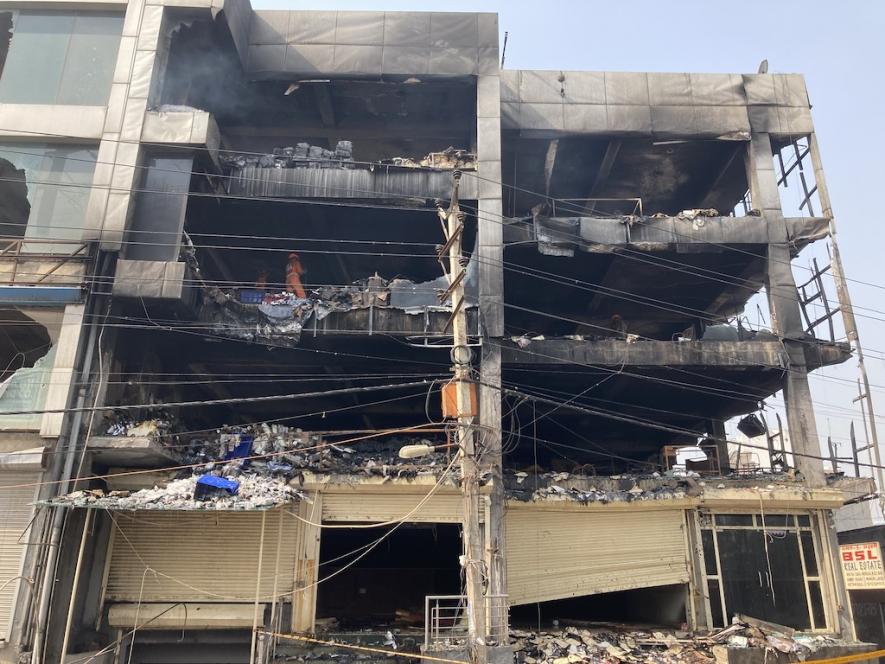 A three storey building was engulfed in fire on Friday evening. Image by Ronak Chhabra 
New Delhi: A day after the national capital witnessed one of the worst fires in recent months, in which at least 27 lost their lives, panic gripped the kin of those who remained missing till Saturday afternoon.
Several people were left critically injured after a three-storey commerical building in West Delhi's Mundka caught fire on Friday evening. The blaze reportedly broke out on the first floor of the building, which housed the offices of one manufacturer of CCTV cameras and Wi-Fi routers, according to officials.
However, survivors and the relatives of those who remained missing, who spoke on Saturday afternoon, confirmed to NewsClick that the building also housed manufacturing and packaging units.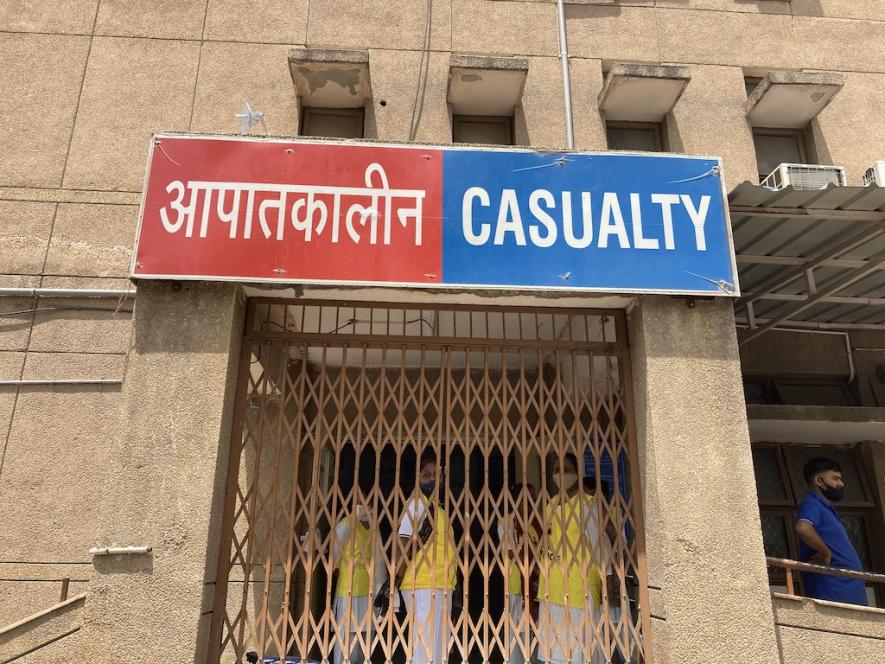 Delhi Civil Defence officers were present at the Sanjay Gandhi Memorial Hospital on Saturday afternoon. Image by Ronak Chhabra 
The fire broke out at around 4.30 p.m when a meeting was being held on the second floor of the building, said Priyanka Gupta, 35, one of the survivors, on Saturday. She spoke to NewsClick at the Sanjay Gandhi Memorial Hospital, where she received medical assistance.
"As the fire engulfed the building, we all were caught inside with nowhere to go. Around seven to eight men broke the window glasses, and only then we jumped out with the help of a rope," Gupta, who incurred injuries on both of her hands, told NewsClick.
"Around 300 workers used to work in the whole building - everything from manufacturing to packaging was done in the building," Gupta, who was engaged in the packaging unit, told NewsClick.
On Friday evening, as per media reports, the building in question was identified as a commercial property. 
At least 27 have lost their lives, and we are in the process of identifying the bodies and providing assistance to the family members, DCP Sameer Sharma (Outer District) said on Saturday afternoon while speaking to the media persons. "There 29 who are missing till now - 25 among whom are male, and four are females," he said, adding that 12 were injured, who have now been discharged after receiving medical support.
An FIR has been registered against the company owners and the building owners under "appropriate sections", Sharma further added. The police have arrested the owners of that company, identified as Harish Goel and Varun Goel, he said.
According to him, the licenses and other documents regarding the operations in the building "are being verified".
Meanwhile, the owner of the building, identified as Manish Lakra, who resided on the top floor, has gone absconding.
'No NOC… Only One Exit Gate'
On Saturday morning, a team of NDRF officials continued with their rescue operations after the fire in the building was doused around 11 pm.
Meanwhile, at the Sanjay Gandhi Memorial Hospital, where the dead bodies or the survivors were brought in for medical assistance, scenes of despair emerged as family members awaited some information regarding their kin.
"I have been worried since last night when I got the news of the fire at the building in Mundka. My sister - Soni - used to work in the packaging unit," said Kundan Mishra, 40, with grief visible on her face.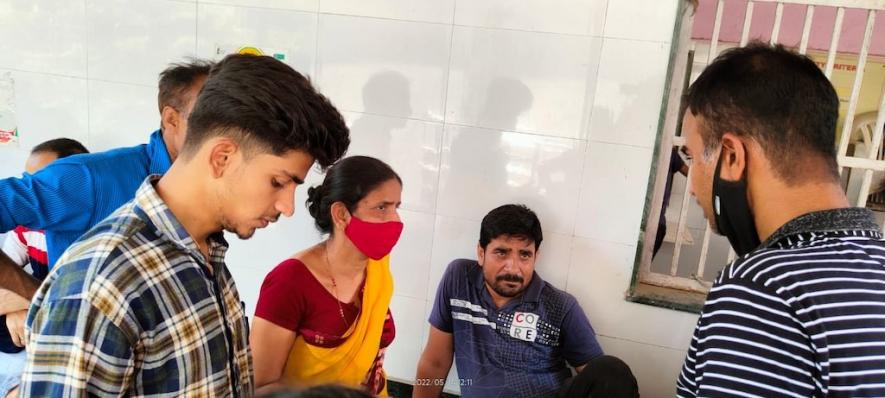 Kundan Mishra was tense on Saturday afternoon as she was still awaiting some information regarding her sister. Image by Mukund Jha 
Mishra, who was called to the mortuary on Saturday morning, said she couldn't identify anybody. "I still don't have any information about her," she said.
Likewise, Amit Kumar Singh, in his 30s, hasn't had food since last evening, as he has been running from one help desk to another for many hours now to receive some information regarding his wife, Madhu Devi. 
"We last spoke during lunchtime yesterday. I was in Okhla then, after which, when I received the news, I came this side," he said.
Singh is worried as tension is rising at  home, as his two daughters are awaiting some update.
NewsClick visited mortuaries at the hospital, where several dead bodies were charred beyond recognition. Authorities at the hospital confirmed that DNA tests would be carried out to identify the bodies.  
"I am told that there was only one exit gate in the building because of which as fire broke, it became difficult for the employees inside to move outside," said Mubarak, 37, who has been looking for his wife since last night.
"Why can't the government ensure that such buildings are safe for employees who work there?" he asked.
Atul Garg, chief of the Delhi Fire Services, was also quoted on Friday night as saying that the factory owners in question had never applied for a Fire NOC. Most factories that operated in the building did not possess a NOC and were functioning without following requisite guidelines, India Today quoted him as saying.
As per media reports, Garg added that the fire occurred due to an electricity blast.
On Friday, videos of the incidents showed that as firefighters helped those trapped on the upper floors, smoke billowed out of the windows of the building. As per first-hand accounts, many resorted to jumping - with the help of one rope - while others waited for assistance as hundreds watched the tragic episode from the road.
However, one among those who couldn't survive was Yashoda Devi, whose age couldn't have been verified. 
"She used to work in the unit for a mere Rs 6,000 a month," said Poonam, 33, her  neighbour, who was consoling the latter's daughter on Saturday afternoon outside the Sanjay Gandhi Memorial Hospital.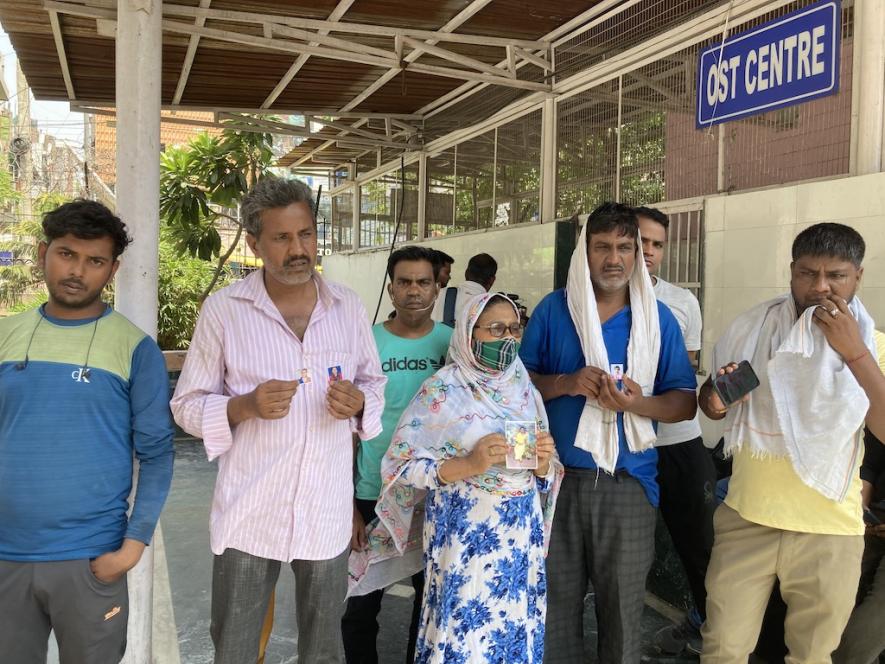 Relatives of those missing wait for information at Sanjay Gandhi Memorial Hospital on Saturday afternoon. Image by Ronak Chhabra
"We demand that there must be a proper investigation into what caused the fire and why enough arrangements were not present to ensure the safety of the workers," Poonam said.
On Saturday, Delhi Chief Minister Arvind Kejriwal ordered a magisterial inquiry into the Mundka incident while announcing Rs 10 lakh ex gratia for the kin of those who perished in the fire and Rs 50,000 for the injured. He also visited the Mundka site on Saturday morning.
President Ram Nath Kovind and several political leaders, including Prime Minister Narendra Modi, Union Home Minister Amit Shah and former Congress president Rahul Gandhi expressed grief at the loss of lives in the incident.
Demanding an enquiry to ascertain the reasons for this incident, CPI(M) also expressed deep condolences to the families of people who lost their lives in a massive fire at a building in Delhi.
Meanwhile, a delegation of central trade unions visited the Mundka site on Saturday morning. "We blame the Delhi government for not ensuring that the safety provisions under the Factory Act are properly adhered to within the industrial quarters in Delhi," Anurag Saxena, general secretary, CITU Delhi said.
He added that the ministers at the top must be held accountable for "their negligence". "We also demand that at least Rs. 50 lakh must be paid as ex gratia to the kin of the deceased.
Get the latest reports & analysis with people's perspective on Protests, movements & deep analytical videos, discussions of the current affairs in your Telegram app. Subscribe to NewsClick's Telegram channel & get Real-Time updates on stories, as they get published on our website.
Subscribe Newsclick On Telegram