Muscle-Flexing Indian Vigilantes Imitate What They Hate
This Hindutva-inspired extremism will be disastrous for India as Pakistan and Afghanistan's experiences show.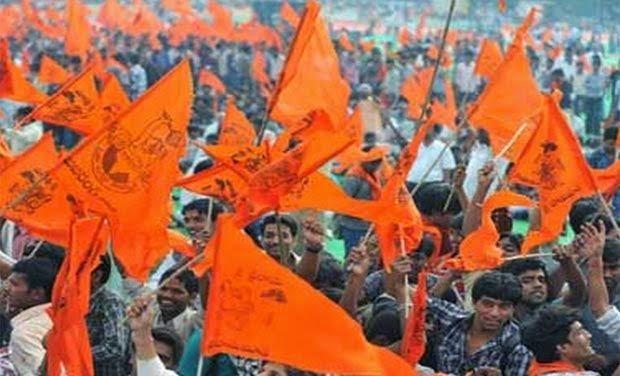 Hindutva stormtroopers are carbon copies of the Islamic fundamentalist groups they so detest. It would be funny, if it was not so tragic, that Hindu vigilante outfits operate much like their counterparts in Pakistan or Afghanistan. The irony however is completely lost on them.
Intolerance is a basic trait shared by self-righteous right-wing outfits across the world whether Hindu, Muslim, Christian or Jew. Those who do not pray as I do, or dress as I like, or believe in my interpretation of facts, is the other—the enemy who should be taught a lesson. So murder, rape, bullying can all be justified, so long as it is done in the name of "the greater good". Bloodthirsty killers and goons become heroes and martyrs.
Take the rigid blasphemy laws of Pakistan. Anyone can be hauled up for real or imaginary insults to the Prophet. In 2011, the Punjab Governor Salman Taseer was gunned down by his bodyguard Mumtaz Qadri for daring to question the blasphemy laws of the country. He merely spoke up for a Christian girl who was the target of one such group.
Taseer's brutal murder shocked Pakistan's liberals to the core. But Qadri was hailed as a hero by several Islamist groups in the country. Qadri was hanged for the murder amid protests from thousands of Islamists. His funeral was attended by thousands of common people who believed Qadri had done no wrong by acting against a governor who was anti-Islam and pro-Christian. Blasphemy laws are not associated with Hinduism. Yet the spate of killings in the name of protecting the sacred cow, are no different. Vigilante killings in India have gone up since the BJP government of Prime Minister Narendra Modi was elected to power with a massive majority.
There may have been vigilante killings earlier but with the ascent of Modi the Sangh Parivar, or the larger Hindutva family, took the centre stage in Indian politics. With the ruling BJP well-ensconced in Delhi, flaunting one's religious beliefs became much more acceptable. The days of Left and liberal ideology were over. And the Indian elite, accustomed to veer towards the power centre, took a massive right turn. The fact that the world was also turning right helped.
The first lynching case was in 2015, when Mohammad Akhlaq, a 52-year old Muslim iron-smith, was attacked by a mob of 18 Hindus on suspicion that his family had beef in their home. The incident happened in Bisada village in Dadri area of Uttar Pradesh. "Mohammad Akhlaq messed with our religion, he messed with our gau mata, what happened to him was right," one of the accused who was later freed on bail said later. Certainly no remorse for killing an innocent man. Ravi Sisodia, a member of the killer mob, developed complications and died. Villagers wrapped his body in the Indian tricolour and gave him a funeral worthy of a hero. They felt he had done his religious duty by protecting the cow, sacred to Hindus. A Union minister, Mahesh Sharma attended the funeral and promised help to the "martyr's" family.
In 2019, Vishal Singh one among the mob that lynched Aklaq to death was spotted sitting on the front row of a meeting addressed by Uttar Pradesh chief minister Yogi Adityanath in Bisada village. All of them are out on bail and chances are, they will escape punishment. The Delhi riots in February once again highlighted the aggressive and self-righteous mood among Hindus who believed that they were taking just revenge on anti-CAA protesters.
The police charge sheet reported by the Wire spoke of a WhatsApp group called "Kattar Hindut Ekta" was formed during the riots. The messages they sent out are a chilling reminder of the mindset of the attackers. This was the mob that killed nine Muslims in Bhagirathi Vihar in North East Delhi, according to the police report. Here is one, sent out by accused Lokesh Solanki to the group on 25 February: "Brother Lokesh Solanki this side from Ganga Vihar area if any Hindu need any back up then do contact. We have men, arms, and ammunition. I have just killed two Muslims in Bhagirathi Vihar area and thrown them in drain with the help of my team."
Whether court hearings will lead to convictions is yet to be seen. But so far, in today's India, minorities have been killed with impunity.
The Hindutva supporters loudly proclaim the virtues of Hinduism, a religion of infinite tolerance with an ability to absorb different cultures and people into its fold. Yet Hinduism, as practised by the current Hindutva followers, is far removed from the philosophical all-embracing and open religion that the Rig Vedas and early scriptures preached. Some of the current practitioners have made Hinduism a formal orthodox and intolerant religion far removed from everything it was meant to be.
After the demolition of the Babri masjid in 1992, Saralata Barooah gave her take on Hinduism: "Those who have destroyed the masjid are not true followers of Hinduism. This is not something our religion has ever prescribed. Hinduism taught me to respect every religion not destroy places of worship that others cherish." But that kind of broad Hinduism is no longer evident. When religion becomes a political tool, it has to be directed against the "Other".
Persecuted groups ranging from Jews to Parsis were welcomed with open arms into India in the past. Mughal conquerors made India their home and contributed immensely to its culture. In modern times we had refugees from Bangladesh, Afghanistan as well as Sri Lankan Tamils fleeing from persecution to India. Pro-democracy activists of Myanmar did not just live in India, but the late NDA defence minister George Fernandes allowed the media wing of the movement to operate from his official residence in the heart of Lutyens Delhi.
After the partition of India in 1947, Pakistan chose to be a theocratic state with Islam as the state religion. Though its founder Muhammad Ali Jinnah wanted minorities, including Hindus and Christians to have equal rights, he did not live long enough to enforce his vision. There is a move now to build a Krishna temple in Islamabad. The fundamentalists are up in arms against the move. But liberals in Pakistan are supporting the temple plans. Prime Minister Imran Khan's government had given the green signal. A $1.3 million instalment was advanced. But seminaries across Pakistan are objecting. Pakistan Tehreek-e-Insaf (PTI) ally Pakistan Muslim League (Quaid-e-Azam) has also vociferously objected. The construction has been stopped for now.
Down the years, Pakistan became increasingly orthodox. Military dictators as well as politicians used religion to further their rule. General Zia-ul-Haq was one of the worst offenders. Zulfikar Ali Bhutto amended Pakistan's constitution to declare the Ahmadiya sect as non-Muslim. Now with the rise of Wahabi orthodox Islam, Sunnis have also become targets of extremist outfits like the Pakistani Taliban. The Lashkar-e-Jhangvi, an Afghanistan-based Sunni extremist group which also operates in Pakistan, has made Shias its target. The bombing of Shia mosques in Pakistan is part of their agenda. It is a orthodox Sunni outfit.
India under Mahatma Gandhi and Jawaharlal Nehru chose another path. The Indian Constitution allows freedom of worship. Indians were proud to be multi-ethnic, multi-religious and multi-cultural. Yet all this is gradually changing as the country turns right, and is increasingly becoming a Hindu state where minorities have to take extra care not to disturb the over-sensitive Hindutva believers.
Though there have been many aberrations in the past, and Hindu-Muslim riots took place several times during Congress rule, and the 1984 massacre of Sikhs in Delhi is a black mark on Indian democracy, yet never before did ordinary Hindus flex their muscles at every imagined provocation by the Muslims. Do Sanghis want India to become a mirror image of Pakistan?
The author is an independent journalist who has been covering foreign policy for decades. The views are personal.
Get the latest reports & analysis with people's perspective on Protests, movements & deep analytical videos, discussions of the current affairs in your Telegram app. Subscribe to NewsClick's Telegram channel & get Real-Time updates on stories, as they get published on our website.
Subscribe Newsclick On Telegram