Myth of Internationalisation of Democracy
A key question is whether democracies follow the same policy towards others which they expect from the world.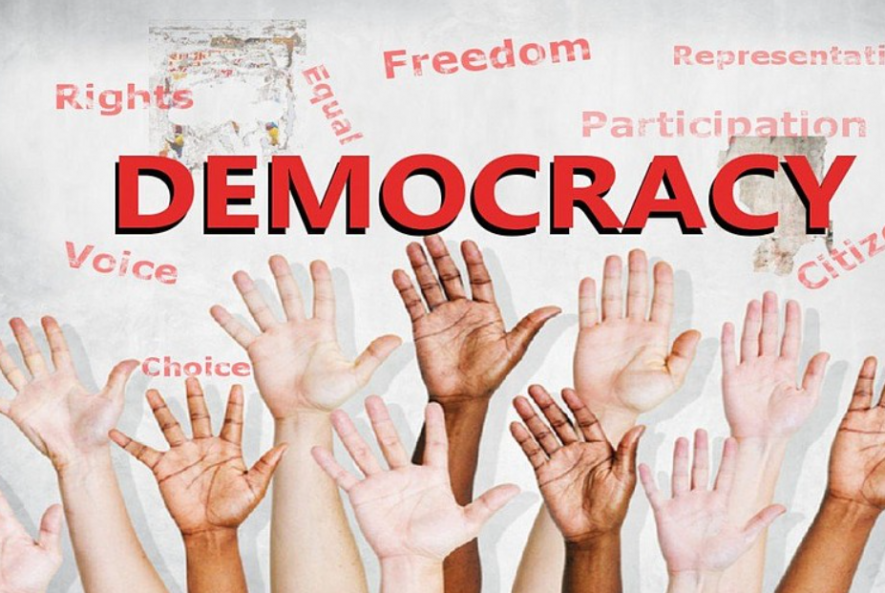 Whenever a democracy is beleaguered at home, democracy lovers look beyond their borders to garner moral support. The just-released Freedom in the World index prepared by the prestigious eighty-year-old US government-funded autonomous organisation Freedom House has not surprisingly, therefore, attracted the attention of all freedom lovers in India.
The index has given India 67 points out of 100. Since the 71-31 range connotes "Partly Free", the news is not good for the Indian government. Last year, India was in the "Free" category, though quite close to the tipping point, with a score of 71. Evidently, a different standard of ranking was done then.
The Indian state's panicked reaction to international opinion on the ongoing farmers' agitation provides an opportunity to explore a few questions about democracy from a larger perspective. The first question is whether it is ethical for one democracy to talk about another. Second, do such intrusions enrich democracy in general? And the third, do democracies follow the same policy towards others which they expect from others? To contextualise these questions, a recent court judgment from India may prove instructive.
When a lawless situation arose in the aftermath of the farmers' tractor procession on 26 January, the Delhi Police in its over-enthusiasm nabbed a Bengaluru-based 22-year climate activist, Disha Ravi. They alleged Ravi was a conduit to an international plot that threatened India's security. To most informed Indians it was a cock-and-bull story. But the law is the law and legal due process is legal due process. And so, the matter reached the courts. Her bail application was heard and thankfully granted.
In junking the Delhi Police's story and granting Disha Ravi bail, the presiding judge raised a much larger question about the legitimacy of peaceful dissent in a democracy: "The right to dissent is firmly enshrined under Article 19 of The Constitution of India. In my considered opinion the freedom of speech and expression includes the right to seek a global audience (emphasis added)." The italicised words are critical, and this column is devoted to them. The puzzle, then, is simple: why is the right to dissent not international? Should not democracies sustain each other?
Let us consider the words of US President Joe Biden. On 4 February, he addressed the staff of the US State Department. Clearly interfering in the internal affairs of China and Russia, he branded the former "authoritarian" and accused the latter of damaging and disrupting American democracy. He specifically referred to the suppression of the freedom of expression in Russia and attacked "the politically motivated jailing of Alexei Navalny… [who should be] entitled to his rights under the Russian constitution… He should be released immediately and without condition."
Through omission Biden did not spare India either. The latter was conspicuously missing in his 19-minute (2,492-word) speech, although he had enough reasons to be direct, given Narendra Modi's full-throated endorsement of Donald Trump in the lead up to the 2020 US election. In this light, Biden's refusal to even acknowledge Modi, while at the same time offering unequivocal criticism of "Russia's aggressive actions—interfering with our election," should be read as a subtle rebuke of Modi's undiplomatic bravado.
A second omission relates to India's membership in the Indo-Pacific Quad, which also consists of Australia, Japan and the United States. In his speech, Biden reserved special praise for America's "closest friends", Australia and Japan; tellingly, he made no mention of India. It could not have been an oversight. Every word of a presidential speech undergoes careful scrutiny prior to its delivery. A non-statement is also a statement in diplomatic communication.
There were other statements too. For example, "additional steps to course-correct our foreign policy and better unite our democratic values with our diplomatic leadership"; America's "moral leadership on refugee issues [by raising] the refugee admissions back to 125,000 persons for the first fiscal year of [my] administration"; "want a rigorous debate [of course in an American context] that brings all perspectives and makes room for dissent" so as not to "target or politicise you [bureaucrats]"; "I signed an executive order overturning the hateful, discriminatory Muslim ban"; "racial equity… has to be the business of the whole government"; and, most importantly, "we defend equal rights… of the people of every ethnic background and religion."
Given the recent lapses in India's democratic ethos, such statements could not have gone unnoticed in India's policy circles. Any trained student of international relations can easily read between the lines and deduce that Biden's departure from fundamental positions held by his predecessor constituted a message to India and Modi.
Barring the atmospherics of such statements, India's democratic backsliding will not be the decisive factor in US-India relations. In the final analysis, what will dictate America's India policy is India's willingness to promote US strategic and economic interests. It is a myth that capitalism and democracy go hand in hand. And although it is true that communist regimes too do not mind doing business with governments of all political shades, they at least do not burden themselves with any corresponding theorization—at least not anymore.
Recall that Mrs. Gandhi's Emergency, which was nothing but a constitutionally promulgated dictatorship, was a bonanza for all major nations, whether it be America, England, France, Japan, Netherlands, or even the Soviet Union. None of them had any qualms about the trampling of democracy in India. By then, the early days of the Cold War, when the Americans and the Brits considered India a counter model of development to China's communism, were long gone indeed.
If at all there was any strong international voice against the Emergency, then it was confined to a handful of liberals in the West, spread across academia, journalism and politics. They did their best to influence their respective governments and public opinion. Now that there is talk in India about the Modi regime being an "undeclared emergency", one should not expect any measurable censure from world capitals. It will be business as usual. Every nation will look at India through its respective strategic and economic prisms.
One last point. What does the Freedom House Index say about other SAARC nations? The picture is disgraceful. Afghanistan has a 27-point rating, that is, "Not Free". All the remaining six fall in India's category, that is, "Partly Free", though with lower scores: Bhutan (61), Nepal (56), Sri Lanka (56), Maldives (40), Bangladesh (39), and Pakistan (37). The only saving grace is that China has a very low rating of 9. But China does not claim to be a "democracy". It rather ridicules democracies for being phony.
Thanks to the actions and statements of Donald Trump, particularly what happened on 6 January when the Capitol Hill was attacked by Republican goons with Trump's endorsement, their arguments carry greater weight today.
The overall Index suggests that Christian-majority nations are by and large stronger democracies. Exactly the opposite is true for Muslim-majority nations (the element of historical injustice meted out to them by Christian-majority nations must be kept in mind though). The record of Buddhist-Hindu nations is mixed, with the notable exception of Buddhist-majority Japan, which is near the top with 96 points.
In the South Asian context, Hindu-Buddhist Bhutan, India, Nepal and Sri Lanka have registered a better record than their Muslim-majority counterparts, Afghanistan, Bangladesh, Maldives and Pakistan.
Postscript: Finland and Norway top the Freedom in the World Rating with 100 points. Many in India, who pooh-pooh any international rating that does not fit their "India is great" narrative, will rush to conclude: Who cares for such tiny nations that put together are smaller than one-half of Delhi's population? Such dismissals remind me of a humiliating encounter in Sri Lanka in the early 1990s.
During an official banquet hosted by Sri Lanka's Election Commission, I was seated next to S. Thondaman, President of the Ceylon Workers Congress. Known as the country's all-weather politician, Thondaman served as cabinet minister under every Sri Lankan President from 1978 until his death in 1999. Those days, my native state of Bihar had earned much notoriety for "booth capturing" during elections. In his characteristic brashness, Thondaman said to me: "You have seen our electoral process. Did you see any booth capturing like you have in your country?"
I wished I could hide under the table. Still, I summoned my nationalistic bravado and offered up a rather lame rebuttal: "After all, ours is a very large country, where such small aberrations are unavoidable." Thondaman's acerbic reply left me with nowhere to hide: "If you cannot manage such a large nation better dismember it into small pieces."
Get the latest reports & analysis with people's perspective on Protests, movements & deep analytical videos, discussions of the current affairs in your Telegram app. Subscribe to NewsClick's Telegram channel & get Real-Time updates on stories, as they get published on our website.
Subscribe Newsclick On Telegram