Narinder Batra's Election Illegal, Alleges Sudhanshu Mittal as IOA Infighting Reaches IOC
Last week Indian Olympic Association (IOA) vice-president Sudhanshu Mittal wrote to the International Olympic Committee (IOC) alleging that the president, Narinder Batra, was elected to the top position of the international hockey federation (FIH) and IOA on the basis of false affidavits.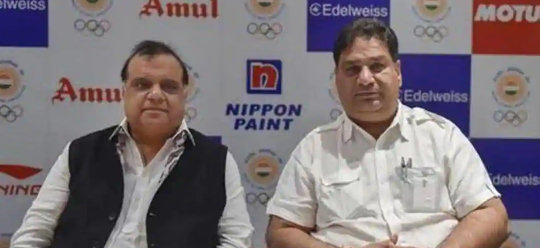 The conflict within the Indian Olympic Association is between factions lead by president Narinder Batra and secretary general Rajeev Mehta (right).
Indian sports seems to be fighting on two fronts right now. It has been grappling with the coronavirus pandemic and mulling the restart of training and competitions. As if those battles were not enough, the infighting in the power corridors of the Indian Olympic Association (IOA) has taken a nasty turn during lockdown. Led by IOA president Narinder Batra on one side and its secretary general Rajeev Mehta on the other, this conflict has reached the International Olympic Committee (IOC).
At a time when the country's biggest sporting body should have been busy creating the roadmap for revival, the ugly sparring within the IOA is bound to drag things into further disarray.
Last weekend, the IOA vice-president Sudhanshu Mittal wrote to the IOC alleging that Batra was elected to the top position of the International Hockey Federation (FIH) as well as the IOA on the basis of false affidavits.
Also Read | Michael Holding: BCCI has Every Right to Hold IPL if T20 World Cup is Postponed
Mittal wrote to the IOC president Thomas Bach and its executive board, calling the appointment of Batra as the president of the FIH 'illegal'. He also alleged that Batra, 63, had put in false declarations to the IOA when he was contesting for the presidency. Batra was elected as president December 2017 while he was named the FIH president in 2016. He was also elected as an  IOC member last year.
Mittal's letter to IOC executive board on June 6 was released to the media a day later on Sunday. It read: "When Batra was nominated as well as elected as the president of FIH he was also holding the post of president of Hockey India. This is not permissible according to the statute of FIH." 
Mittal also alleged, "In December 2017, the elections of the IOA were due. Shockingly, Batra was nominated as a candidate for the IOA president's post and he accepted the same. Batra was a representative on behalf of the HI in IOA's elections and voted as a representative on behalf of the HI [Hockey India]. Since he had already resigned from any office bearer's post with the HI in order to comply with the FIH statute, there is no possible way that he could be in the executive committee of the HI, unless Batra had given false declaration to the FIH and to everyone else that he had resigned from the HI."
Article 7.2 of FIH rules cited in the letter says the president shall, within 30 days of election, retire from any executive office or post in the national or continental bodies. Batra, elected to FIH in November, stepped down as Hockey India president in December 2016. Mittal wrote, "Batra was a representative on behalf of Hockey India in the December 2017 elections of the IOA and voted as a representative on behalf of Hockey India."
Batra, in his response to the IOA's Executive Committee and IOA members, said he will formally respond to the allegations after he returns to office.
"As you all are aware that I am in home quarantine till June 20th, 2020, due to seven positive Covid 19 cases in my house and if all are being well and it does not get extended, then I may start going to my office from 22nd/23rd June," he said.
"This complaint now being filed by Mr. Sudhanshu Mittal was earlier filed in similar language against me by Ms Mahajan, President of All India Tennis Association during my election as President of IOA in 2017 before the 3 Hon'ble Judges who formed the Election Commission and I had replied then also. After the election of IOA got over, my reply along with other documents was given to Secretary General IOA by the Election Commission for IOA record.
"I will be giving reply for issues raised by Mr Sudhanshu Mittal in his 6th June email and it will be given on my return back to my office."
The feud between Batra and Mehta became an open battle when an email exchange between the two officials was made public on May 22. Batra sent a mail to Mehta detailing how he wants to "take over" the secretary general's work so that he can spend "more time with his family".
Also Read | Indian Football Team's World Cup Qualifiers and IPL Could Hamper 2020-21 Season of ISL
"I have decided to take over/divide much of your work load and will be doing the needful in days to come…since I am Delhi based…Your very important advice will always be sought," Batra wrote, adding that Mehta will then be able "spend more time with his family" and take care of his business in Uttarakhand.
Mehta replied saying if Batra was so interested in taking over the responsibilities of IOA secretary general, he should have chosen to fight for the post in 2017.
"IOA office is open and I got reports on every work in the office, as on today," Mehta replied to Batra. "As for your desire to take over some of my responsibilities, I may inform you that I am perfectly comfortable with the workload assigned to me...if you had such desires of doing day to day affairs, I would have stepped down from office in 2017 and you should have contested as Secretary General of IOA."
Mehta then took a dig at Batra's workload—"you should spend quality time with your family in Delhi while you continue your work with Hockey India and the International Hockey Federation for the advancement of Hockey."
IOA treasurer Anandeshwar Pandey has also shot off a letter to Batra saying everyone's role in the IOA constitution is well defined. "No office bearer is above the constitution, " he said.
Get the latest reports & analysis with people's perspective on Protests, movements & deep analytical videos, discussions of the current affairs in your Telegram app. Subscribe to NewsClick's Telegram channel & get Real-Time updates on stories, as they get published on our website.
Subscribe Newsclick On Telegram