'Nationalist' BJP Govt Invites Foreign Takeover, Offers Cheap Indian Labour!
A series of moves by the government on FDI, tax concessions, public sector disinvestment, labour reforms and low wages should be seen as a sell-out package.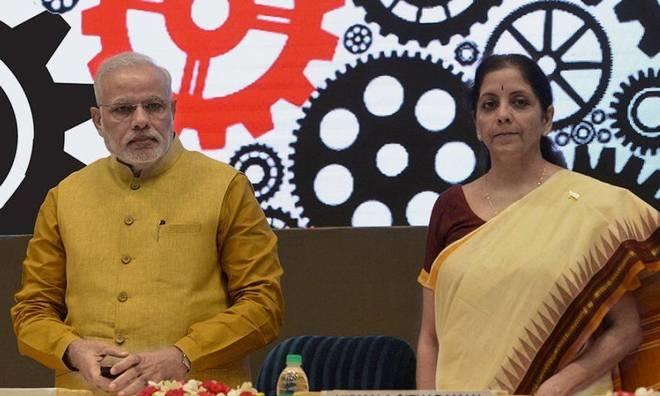 It is ironical that the Narendra Modi government, which never tires of reminding everybody about their nationalism and patriotism, is actually following an economic policy of selling off the country's national resources to foreign companies. It recently announced measures of easing foreign direct investment (FDI) in coal mining and associated infrastructure, contract manufacturing, single brand retail and digital media. 
The easing of foreign investment in coal mining will open the way to big multinational mining conglomerates (BHP, Rio Tinto, etc.) to not only extract coal but also export it abroad, retaining the profits. It will destroy the public sector enterprise Coal India Ltd. Which could have very well done the job itself and helped the country by keeping the earnings within the country. Similarly, by allowing FDI in contract manufacturing, it will allow giant companies like Apple to use India's cheap labour and overheads to manufacture their overpriced devices and sell them abroad at super profits. Easing FDI in single brand retail will mean global companies like Ikea (furniture maker) and H&M (clothing) will start functioning and capturing Indian markets, destroying domestic makers. Even the weak norms for local sourcing have now been removed.
Earlier, during its first term, the Modi government had eased FDI norms in a slew of sectors, including non-banking financial services, defence, construction development, insurance, pension, asset reconstruction companies, broadcasting, civil aviation, pharmaceuticals, trading, plantation crops, satellites, etc.
The Prime Minister once defended this policy of allowing foreign capital to take over economic activity in India as based on his definition of FDI as "First Develop India". He meant that foreign capital inflows will generate jobs and thus the country will develop. But the record inflow of foreign capital in the past 5+ years has seen less than 28% invested in productive activities with most of it going into stocks and low employment entities like financial services and information technology.
Earlier, the government had given tax concessions to foreign investors in the stock markets too, along with other concessions, supposedly to spur investment and growth. In fact, it appears that the Modi government is using the current economic slump to push through economic policies that will dangerously undermine India's economy.
But there is a larger game that is being played out here. To understand this, let us look at some of the other policies and legislations adopted by the Modi government recently.
Disinvestment
It is a wonder that selling strategic industrial assets to private sector is described as "nationalist" and "patriotic" by the Modi government. Already having set a record of selling off public sector enterprises through piecemeal disinvestment of Rs.2 lakh crore, the government has declared that it will now go for decisive privatisation of CPSUs through multi-pronged routes. Already sale of major PSUs in steel, pharmaceutical, engineering and other sectors, have taken place. Now, on the selling block are some of the best performing public sector companies including IOC, NTPC, Powergrid, Oil India, GAIL, NALCO, BPCL, EIL, BEML etc. A target of divesting Rs.1 lakh crore worth of public sector units has been set this year, which has been described as "suicidal" by leading trade union, Ventre of Indian Trade Unions or CITU. Many other units or sectors are being corporatized, which is just a first, covert step to ultimate privatisation. These include units in railways and even defence sector (ordnance factories). 
The problem with such reckless privatisation is not just that it will lead to job losses or more onerous conditions of work for the lakhs of workers. That will happen, of course. But the larger issue is that what were once national assets, whose functioning ensured our country's self-reliance and economic sovereignty will now be private property. In future, the private owners may decide to sell off their holdings to foreign players also. So, it is not too far-fetched to see a future where key industries will be controlled by big foreign conglomerates, who will determine – blackmail and arm-twist – the country to ensure their profits. 
Forcing Cheap Labour
There is another element to this "nationalist" and "patriotic" outlook that is even more lethal. The labourers who work to produce wealth are being forced to become slaves with a pittance given for their wages and curbs on their rights. This has been wrought through changes in labour laws like the recently passed Code on Wages, and the pending Code on Occupational Safety, Health & Working Conditions Bill. In the name of merging several distinct labour laws and making them simpler and more harmonised, these new laws ensure that working hours will no longer be statutorily fixed and that wages will not be determined by needs. S
Such was the euphoria of the Modi government after its recent victory in the general elections that the Labour Minister announced that the national floor level minimum wage would be just Rs.178 per day, a mere Rs.2 more than what was fixed in 2016! This wage level is almost one third of the minimum recommended by the accepted formula used for decades, based on minimum requirements of food clothing, shelter and other necessities. Since the new law on wages has no place for considering needs of workers, the Modi government has effectively given a free hand to industrialists to push down wages as much as possible. The 45-year high of unemployment has already created an army of unemployed which helps in keeping the wage levels to a minimum.
This third element of shackling workers and extracting the maximum out of their labour at the lowest cost is the great "advantage" Modi government is offering investors and industrialists, both domestic and foreign. Does the defence of country and slogans like "India First!" not include the people of the country?
Taken together it is difficult not to see that the present government is single-mindedly pursuing a path of enslavement. But it is cloaked in rhetoric of "nationalism" and "patriotism". This may fool many people but very soon the reality of this enslavement is sure to dawn on people. 
Get the latest reports & analysis with people's perspective on Protests, movements & deep analytical videos, discussions of the current affairs in your Telegram app. Subscribe to NewsClick's Telegram channel & get Real-Time updates on stories, as they get published on our website.
Subscribe Newsclick On Telegram