Navigating Complex Web of Labour Rights in the Gig Economy
Panelists including labour activists, workers, and legal experts discussed exploitative practices and fair labour standards in gig economies at an event organised by the Amazon India Workers' Association.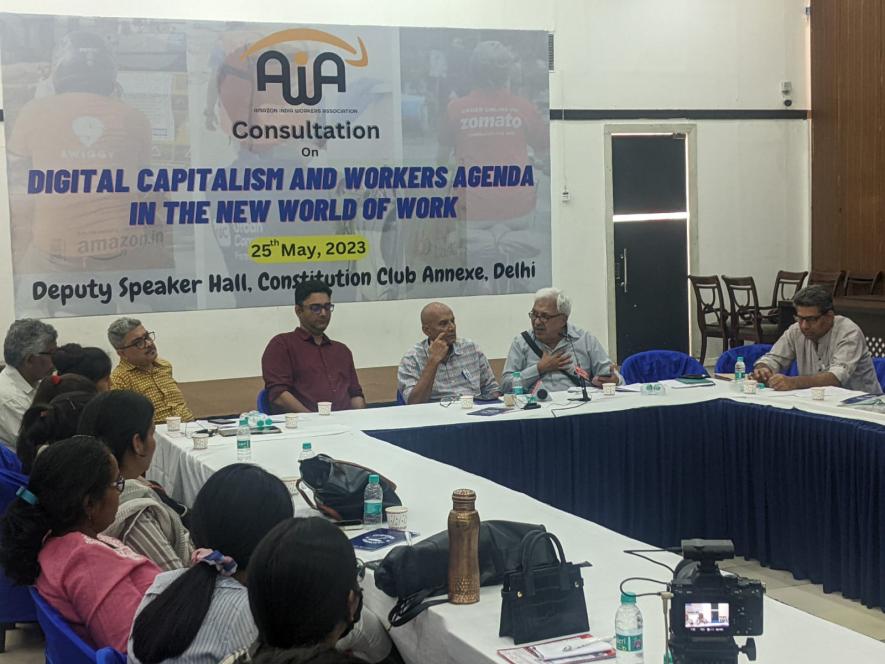 The Indian labour market has experienced significant changes in recent years. The emergence of the gig economy – which existed prior to the COVID-19 pandemic – has rapidly accelerated during this period. However, the job crisis following the pandemic has led to a surge in labour supply to gig platforms, giving rise to exploitative practices by these platforms. In response to these concerns, a panel comprising labour activists, researchers, lawyers, and trade union leaders from various gig economy platforms convened on May 25 to discuss the market scenario and address the unfair labour practices of these platforms.
The event, organised by the Amazon India Workers' Association, witnessed participation from numerous Amazon warehouse workers.
Amazon, a leading multinational company, is known as the world's largest retailer and a prominent provider of cloud services. Originally established as an online bookselling company, Amazon has evolved into an internet-based enterprise focused on e-commerce, cloud computing, digital streaming, and artificial intelligence (AI) services.
According to a report, Amazon generated over $1.29 billion in daily revenue as of 2022. However, workers present at the gathering expressed concerns about the company's treatment of its workforce.
Pawan Sisodiya (22) said that he worked at an Amazon warehouse in Manesar and alleged that the company consistently attempts to conceal records of injuries occurring in its warehouses. Additionally, employees are compelled to perform tasks beyond their designated roles, he claimed.
Nidhi (20), an Amazon employee from Uttar Pradesh's Ballia, highlighted the inadequate safety measures in place at the workplace. Working in the picking department, Nidhi is required to cover a distance of 25-30 kilometres every day. She reported fainting frequently due to the absence of cooling devices such as air conditioning and fans. Nidhi claimed that fainting due to physical exhaustion and heat were a common occurrence at the Amazon warehouse located in Manesar.
Some of the other work-related issues raised by the gathered employees included improper termination practices, lack of restroom facilities, insufficient lunch breaks, and extensive surveillance through CCTV cameras.
Gayatri Nair, a researcher affiliated with the Indraprastha Institute of Information Technology, presented her extensive research on gig economy platforms with an emphasis on gender. She shared that several studies have indicated that app-based service companies' algorithms exploit the vulnerability of the workers they hire. In this regard, migration plays a crucial role as migrant workers, particularly women, are less likely to speak for their rights due to limited awareness and fear of losing their job.
Nair stated, "The algorithms employed by these platforms thoroughly comprehend the workers' history and economic background. Migrant workers, especially women, are more susceptible to exploitation in such scenarios, as they are less informed and assertive about their labour rights."
She specifically referred to firms like Urban Company, which claim to empower women by providing flexible working hours. However, protests by women workers affiliated with Urban Company throughout the country have flagged extreme labour law violations by the company.
Nick Rudicoff, a labour activist involved in the 'Make Amazon Pay' campaign, shared instances of protests against labour law violations by Amazon in the United States and Europe. The campaign was considered a success as workers achieved a "historic" victory by overcoming a multimillion-dollar campaign by the multibillion-dollar corporation, thus securing the right to form Amazon's first-ever union.
Rudicoff highlighted concerns regarding privacy and the extensive data collection practices carried out by Amazon, which further "enable exploitative practices". Recently, in response to pressure from UNI Global Union, representing more than 20 million workers in the service sectors across 150 countries, the European Union requested Amazon to provide clear explanations regarding the 'spying allegation' against its workforce resulting from the data collected about its workforce.
In recent weeks, strikes have occurred among workers associated with the service delivery app-based platform called Blinkit in a few areas of Delhi NCR. Some of these workers approached the labour department in Gurgaon, Haryana, seeking a resolution. However, the meeting with the labour department did not yield a concrete outcome, as the department alleged that the company does not hire workers but refers to them as "partners." This complexifies the situation because workers are then unable to claim the rights guaranteed to them under Indian labour law and the constitution.
However, a senior labour lawyer, who is also a senior advocate at the Supreme Court of India and the founder of the Human Rights Law Network (HRLN), disagreed with this perspective. According to him, the labor rights established by the constitution possess sufficient strength to address the violations committed by gig economy platforms. He, along with several labour rights activists, is in the process of preparing a petition to the court in order to strengthen the implementation of these laws on the ground. The petition is expected to be filed in court in July.
Get the latest reports & analysis with people's perspective on Protests, movements & deep analytical videos, discussions of the current affairs in your Telegram app. Subscribe to NewsClick's Telegram channel & get Real-Time updates on stories, as they get published on our website.
Subscribe Newsclick On Telegram