Nehru Memorial Library Name Change: Congress Slams Modi Govt, Terms it as "Pettines"
Petty politics, Says AAP's Saurabh Bhardwaj, on renaming of Nehru Memorial Museum by Centre.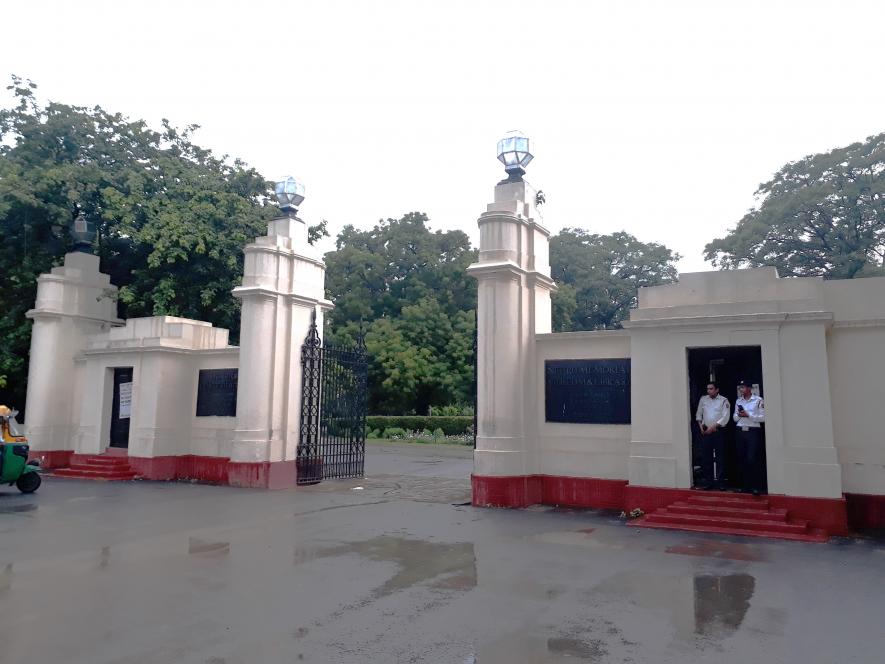 Image Courtesy: Wikimedia Commons
New Delhi: With the Nehru Memorial Museum and Library (NMML) officially renamed as the Prime Ministers' Museum and Library (PMML) Society, the Congress on Wednesday alleged PM Narendra Modi has had a single point agenda of "denying and defaming" the Nehruvian legacy.
The Opposition party asserted that despite the "relentless assault", Jawaharlal Nehru's legacy will live on for the world to see and he will continue to inspire the generations to come.
In a post on X, Congress General Secretary Jairam Ramesh said, "From today, an iconic institution gets a new name. The world renowned Nehru Memorial Museum and Library (NMML) becomes PMML — Prime Ministers' Memorial Museum and Library."
"Mr. Modi possesses a huge bundle of fears, complexes and insecurities, especially when it comes to our first and longest serving Prime Minister. He has had a single point agenda of denying, distorting, defaming and destroying Nehru and the Nehruvian legacy," Ramesh said. 
"He (Modi) has erased N and put P instead. That P is really for pettiness and peeve," the Congress leader said.
But he can never take away Nehru's gigantic contributions in the freedom movement and his towering achievements in building the democratic, secular, scientific and liberal foundations of the Indian nation-state "all of which are now under assault by Mr. Modi and his drum beaters", Ramesh said.
Congress MP Shashi Tharoor also hit out at the government over the renaming, saying it is a pity that it came to this.
"I think that the idea of expanding what the building showcases to accommodate other Prime Ministers is unexceptionable idea. In fact, it is good to encourage, children and members of the general public to be aware of the contributions of all the prime ministers, I have no difficulty with that.
"But in the process, it's rather petty to take away the name of the first Prime Minister who led the interim government, who was prime minister upon independence, who is so far the longest-serving prime minister. You could have continued calling it the Nehru Memorial Prime Ministers Museum and Library," the former union minister said
"This pettiness is unfortunate and it shows a certain bitterness towards our own historical past which, I believe, is not worthy of a government that has such a good majority. They should show big-heartedness that you expect from a government with a big majority," Tharoor told reporters on the sidelines of an event in Thiruvananthapuram.
At a press conference at the AICC headquarters here, Congress spokesperson Supriya Shrinate alleged the government is full of contradictions both political and ideological.
 "The reality is that each time Mr Modi goes to Mahatma Gandhi (memorial) and bows before him, it proves the point that Gandhi is our biggest identity and all those who defame the Mahatma, all those who eulogise Godse, you stand with them Mr Modi. Your bulldozer in Varanasi razes decades-old Mahatma Gandhi and JP buildings and you want to bow before the Mahatma," she said, attacking the prime minister.
 "As far as Nehru ji is concerned, he was independent India's first PM and unlike Mr. Modi he did not cry foul. The country was coming out of 200 years of British colonial rule, he got down straight away to building India, he laid the foundation for IITs, AIIMS, IIMs, ISRO, institutions like that which have held us in good stead," she said in response to a question.
Undermining Pandit Nehru by changing the memorial or library that had his name, shows nothing but their own insecurities, Shrinate said.
"You (Modi) are a man who is full of insecurities because you know jolly well that you have done nothing in the last nine-and-a-half years by which history will remember you," the Congress spokesperson said.
History is created, it is never changed or converted, she added.
 "History was created by Indira (Gandhi) ji when she ensured that Pakistan was divided into two and she ensured that Bangladesh was born. You can keep saying what you (Modi) want but reality is that you have done zilch to create history," Shrinate said.
Congress MP Manickam Tagore also slammed the government over the name change, saying "hate against Nehruji" is a "well known element of RSS/BJS/BJP/Narendra Modi".
"PM Shastri ji created…VP Radhakrishnanji inaugurated. Narendra Modi closed it. Nehru ji lives in the hearts of INDIA," he said in an X post. 
The Nehru Memorial Museum and Library has officially been renamed as the Prime Ministers' Museum and Library Society with effect from August 14, the vice chairman of the PMML executive council said in a post on 'X' on Tuesday.
"Nehru Memorial Museum and Library (NMML) is now Prime Ministers Museum and Library (PMML) Society w.e.f August 14, 2023- in tune with the democratisation and diversification of the remit of the society. Happy Independence Day! @narendramodi, @rajnathsingh @MinOfCultureGoI," the post read. It also had a picture of the Teen Murti House.
In mid-June, in a special meeting of the NMML Society, it was resolved to change its name to PMML Society.
 Petty Politics: AAP Minister
Delhi minister and senior AAP leader Saurabh Bharadwaj on Wednesday termed the renaming of the Nehru Memorial Museum and Library "very shameful", and said the move reeks of "petty politics".
The Nehru Memorial Museum and Library has officially been renamed as the Prime Ministers' Museum and Library Society with effect from August 14.
When asked about the move, Bharadwaj told PTI video, "It is a shameful thing. It is not in Hindu culture and our culture to disrespect someone after their death. Jawaharlal Nehru was our country's first prime minister. He was a freedom fighter and had made a great contribution. This shows petty politics. "
The renaming had prompted sharp criticism from the Congress. The Teen Murti Bhavan had served as the official residence of India's first prime minister Nehru.
Get the latest reports & analysis with people's perspective on Protests, movements & deep analytical videos, discussions of the current affairs in your Telegram app. Subscribe to NewsClick's Telegram channel & get Real-Time updates on stories, as they get published on our website.
Subscribe Newsclick On Telegram