NEP Fails to Understand Needs of Students, Say Teachers at National Education Assembly
Teachers, students flay policy for not only flouting the constitutional mandate of providing social justice and secular education, but also its "ill design and purposelessness."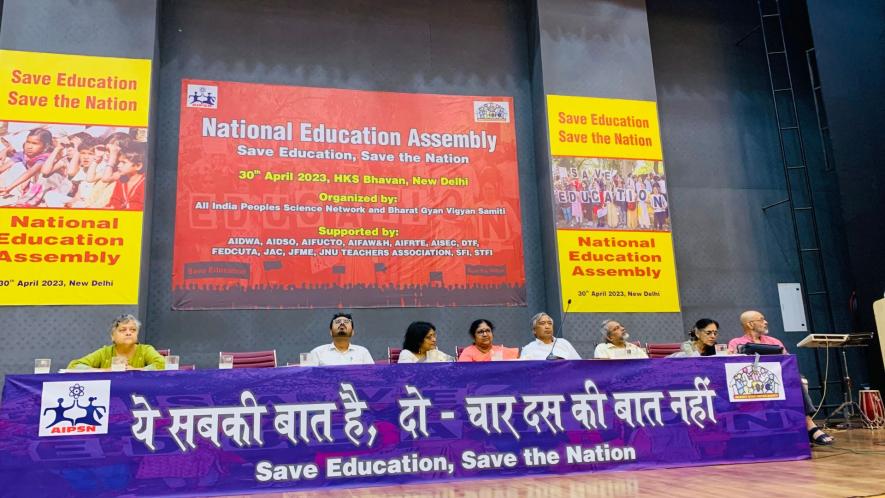 New Delhi: "Paathshaala Khula Do Maharaj, Mor Jiya Padhne ko Chahe" (Oh benevolent government, please open a school, I yearn to read), the powerful lines of a Hindi poem by Sarveshwar Dayal Saxena sung in a fully crammed auditorium, summed up the spirit of National Education Assembly as hundreds of teachers, students, education activists and artists converged in New Delhi on Sunday to reflect on the New Education Policy (NEP) and its ramifications.
The participants, assembled in HKS Bhawan in the national capital, maintained that the policy not only flouts the constitutional mandate of providing social justice and secular education but is doomed to fail due to its ill design and purposelessness.
R V Bindu, Minister of Higher Education, Kerala, who inaugurated the assembly, said "we see distressing times when marginalised communities, particularly Muslims, face unprecedented 'othering'. The secular fabric of the country has been torn apart. The erasure of the 'other' could be seen in recent deletions in the National Council of Educational Research and Training (NCERT) textbooks, where references to Mughal History have vanished."
The  minister sadi: "We must remember that two legendary struggles in Kerala -- Malabar Mutiny led by Muslims and Channar Revolt where dalit women sought rights to cover their bodies – too were deleted a few years back".
She added that NEP as a document had specific "gaps, silences, contradictions and absences. "
"NEP, with its profusely verbal acrobatics, appears to address all the concerns of modern education but covertly smuggles the agenda of the ruling party through the fissures and gaps in the ideological structure. The document is completely silence on constitutional measures like reservations. It never mentions reservations for socially and economically backward people. In today's Indian context, these silences should be considered criminal," she said.
Bindu said NEP urged centralisation, denouncing the very principles of federal structure. "It has not been subjected to any legislative or social scrutiny. It has bypassed parliamentary procedures. Through an advertisement, it has invited public opinion, but all replies and suggestions were discarded", the Kerala education minister said.
The new policy has come after 36 years of implementation of the National Education Policy 1986. Hence, "an education policy should scrutinise the merits and demerits of previous policy documents, but NEP never attempts to study the impact of previous policy documents," she added.
Addressing the gathering, Sukhdeo Thorat, former Chairman of the University Grants Commission (UGC), said that previous education policies of 1948, 1966 and 1986 were based on a comprehensive study of the education sector. Radhakrishna Commission, 1948 and Kothari Commission 1966 studied shortcomings and positive things and came out with new suggestions. "However, if we look at the present document, it appears to have drawn imitation of practices from Germany and the US," he added.
Thorat said: "After 1986 and the revision in 1992, our education sectors have undergone phenomenal change. There were hardly any private colleges in 1966, but half of today's educational institutions are private. The current policy does not look into this change, and I think the government has missed a golden opportunity to assess the sector's needs now."
The NEP suggests that there should be a universal test for admissions inCcentral and state universities.
"Our universities understood their needs and conducted entrance tests accordingly. We already had entrance tests for engineering and medical admissions, and the experience of Tamil Nadu amply demonstrates that it will be the poor students in rural areas, particularly girls, who will be the victims of the new system. They cannot travel to coaching centres, and even if they do, it needs a lot of money to get coaching for exams."
The former GC chief noted that students who secured fewer marks in their board examinations but took coaching classes were more successful in getting medical and engineering seats. "The same thing will happen to this new test also. If Kerala has the choice, it should not opt for this for its state universities," he added.
Thorat also expressed that allowing foreign universities to open their campuses in the country demonstrated an "unclear approach" toward internationalisation.
"How will a poor student be exposed to these universities when they fix their syllabus, fee and terms of services themselves? I think the best way to ensure internationalisation was through collaborations with these universities where students and teachers exchange could easily happen. The conditions are so bizarre that even private universities find implementing them difficult. These universities will cater to a minute population of students with the resources to access this education," Thorat said.
Some teachers and educators who attended the assembly, told NewsClick that the "thoughtlessness" of the policy was severely affecting students.
Dr Sunanda Tidake, Principal of Rashtramata Indira Gandhi Arts, Commerce and Science College in Jalna district of Maharashtra, told NewsClick that provisions like Academic Bank of Credits and Cluster Colleges were doomed to fail as these do not understand the needs of students and teachers would do a wrong assessment to save their skin.
Academic Bank of Credits is a digital repository of marks where students can store their credits. Similarly, students can opt for their subjects but will have to attend classes for specific subjects in pre-determined colleges.
Talking to NewsClick, Tidake said the policy advised students to go to different colleges and earn credits. "Post-pandemic, we see that the students are doing part-time jobs to compensate for the reduced wages of their parents. So, they come to college in their free time. We are also witnessing that they are skipping classes on a mass scale. This system may have worked for some students who wanted to study different subjects. They have made it a template for all. Ultimately teachers will give bogus marks to save their jobs and colleges. If they show that the students are not coming to college, they will shut them off instead of understanding students' needs."
Professor Manisha Rathi, who teaches English at Maharshi Dayanand University, Rohtak, said girl students had been excluded from higher education after the merger of colleges. "Parents would send the girl students to these colleges because these institutions exclusively impart education. With these mergers, the girls have been locked in their homes," she added.
"NEP suggested scrapping the M Phil course, which was immediately done away with. Now UGC has mandated that there will be a week-long workshop on research methodology. Resource persons in these workshops suggest that we look at Ramayana and Mahabharata for their ethical interpretation. Have we not understood these texts well for centuries?", she said.
Second, it has also been suggested that researchers must link their research with ancient religious texts like Upanishads, Shukta and other scriptures and cite it in a bibliography.
"Even if you do not find anything, it must be mentioned. They are telling students that everything is available in these texts. So, there is a serious question over critical research now!" concluded Rathi.
A similar story was shared by teachers, activists and researchers who noted that schools were being rampantly merged and closed. The NEP's recommendations, like building large school complexes, are leaving students behind, they said.
A Bharat Gyan Vigyan Samiti member in Madhya Pradesh said Chief Minister Shivraj Singh Chouhan had announced that MP would be the first state to implement NEP. "He did so without understanding the needs of the state. We, too, decided to oppose this mindless policy passed during the pandemic without any discussion," the member said.
"If I have to put it simply, I can say that there is a new caste system of schools where we have CM Rise Schools, Navodaya Schools, Kendriya Vidyalaya, Ekal Schools etc. The schools in 12 kilometres of radius are being marked and merged, and closed. In the latest DISE report 2022, the government accepted that it had closed 22000 schools, and 19.82 lakh students were affected. In tribal areas, 10000 schools were merged, and the number came down to 3000," he said
He added that the offensive on education was protested when mass organisations came together, and conventions in different districts were covered. "Our Jathas visited 2200 villages between 2019-2022. We decided not only to oppose but build new alternatives like community learning centres in 600 villages where 62,000 students are learning. We have also started 12 literacy centres for adult education. Calculating it financially, we contribute Rs 6 crores per month to our society. This fight is long, but we are prepared too", he said.
Biplab Ghosh, Coordinator for North Eastern States, All India People's Science Network, said that the administrators were creating an illusion of having a quick fix through NEP. "After the pandemic, we decided to survey the Senapati district of Manipur, and were shocked to see that only 3 out of 500 schools were open. There is an insurgency. There are infrastructural challenges in creating schools in an earthquake-prone zone. Yet, there is no attention to detail."
Reflecting upon the changes in school education, eminent academician Anita Rampal said the current system had already failed our students,  and the new policy was only adding woes to their pain.
"To understand it, we must see what is happening in Andhra Pradesh. More than 50 % of students in Kadappa and Vijaynagaram districts have failed their board examinations. This same government went to the World Economic Forum in Davos to sign an MoU with Byju for syllabus preparation for classes 8- 12. In the National Testing Agency, which prepares question papers, we hear nightmarish stories about teachers being forced to prepare question papers unrelated to their subjects. So, this situation amply explains the seriousness of our policymakers towards school education. They are playing with the future of children!" Rampal said.
N Madhavan, representing the Tamil Nadu Science Forum, said the Tamil Nadu government said that it would not implement NEP and would develop its own education policy. "We have already achieved a gross enrolment ratio of 51% in higher education. This policy treats everybody in the same way. The needs of Tamil Nadu are different from Bihar. The Centre may advise on some matters, but universal imposition is not good. This is why we chose not to implement it," he said.
Get the latest reports & analysis with people's perspective on Protests, movements & deep analytical videos, discussions of the current affairs in your Telegram app. Subscribe to NewsClick's Telegram channel & get Real-Time updates on stories, as they get published on our website.
Subscribe Newsclick On Telegram