NEP Introducing Refurbished Version of Varna System, Allege Students and Teachers
Students and teachers gather at Jantar Mantar, ask for revision of New Education Policy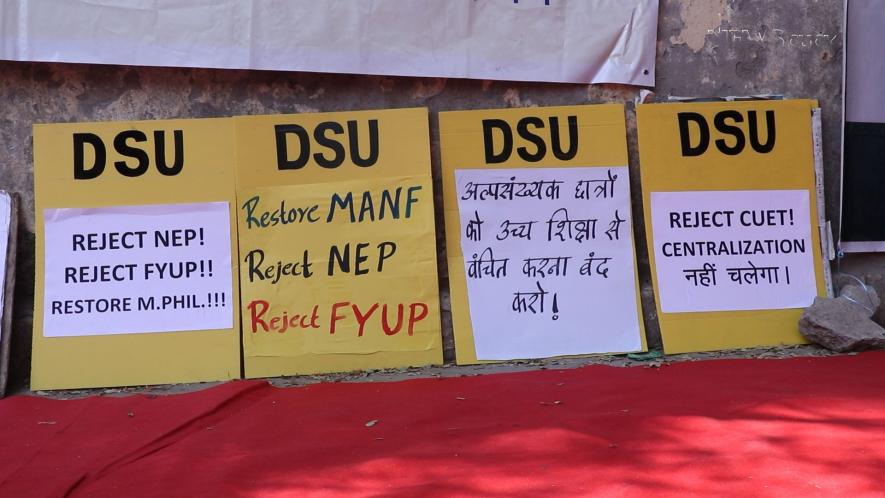 New Delhi: Students and Teachers assembled under the banner 'All India Forum for Right to Education (AIFRTE)' at the iconic Jantar Mantar in the national capital to ask for a revision of the New Education Policy (NEP). Holding placards with slogans like 'Down with NEP', and 'Stop Merger of Schools in name of integration' the protesters maintained that the NEP has introduced a regime where girls, Dalits, and Tribal and Muslim students are at peril.
"My grandfather was a worker in Calcutta Jute Mill. He taught my father in a government school. Despite hailing from a Dalit background, my father ensured that I get first-class education at Delhi University. When I was pursuing my graduation, I paid Rs 424 per year. If I calculate all the fees from my graduation to PhD, I spent about Rs 8000. Today, can I imagine such an affordable scenario where a student from a Dalit family can achieve such top-class education? Absolutely not. They are not destroying public institutions. They are destroying rays of hope rickshaw pullers, construction workers saw about sending their children to college," the hard-hitting words came from Professor Ratan Lal while addressing the gathering. 
Sharing his experience of teaching, Lal who teaches History at Hindu College added that the students who were admitted under Four Year Undergraduate Programme (FYUP) through Common University Entrance Test (CUET) were particularly perturbed by the stress to complete a six-month semester into two months!
"I have been teaching History at DU for 25 years but I have never seen this amount of experimentation in academics post-2010. Teachers are getting guidelines when the classes have ended and students are appearing for examinations. Checking examination copies is at the mercy of god. Four-Year Undergraduate Programme, I call it a four-fold varna system, where shudra will exit in the first year, Vaishya in the Second Year, Kshatriya in the third year and Brahmins will complete graduation in the fourth year. But there is a large section who were called untouchables who will be out of this system. I get a decent salary. Still, I cannot think about getting my son educated at Ashoka University. The way things are unfolding, one can certainly say that we are not on the path of becoming Vishwaguru but a world factory producing workers for the western world," Lal said.
Talking about reduced scholarships, Lal said the ground realities about scholarships to the minorities are in complete contrast to the claims of PM Narendra Modi who recently announced that results in assembly elections in North East have removed the anti-Christian tag from his image. He said, "we should look at the data of minorities' pre-matric scholarships. In the academic year 2018-19, 7.3 million fresh applications were received including 3.5 million for renewal but only 5.6 million scholarships were distributed including 2.7 million renewals. The budget for road construction and defence is ever-increasing. If education is in such a pathetic situation, I do not know how India will become Vishwaguru."
Monami Basu who teaches Economics at Kamla Nehru College told NewsClick that NEP is posing challenges on academic and administrative fronts. The teachers have been forced to teach courses in three classes per week which traditionally required five classes. Talking to NewsClick on the sidelines of the protest, she said that teachers were not at all consulted in designing courses despite being a significant stakeholders. Pre-designed courses were made in such a way that the students could understand the subject comprehensively. If it is pruned, the students will suffer in their masters.
"A science teacher told me that they cannot perform practicals in the labs. A practical which usually takes two hours to conclude is being wrapped up in 45 minutes! On the administrative front, NEP suggests a Board of Governors which means that colleges will be able to decide on variable pay structures, and terms of services. There are no ad-hoc positions as the workload has been reduced. Permanent positions are being filled up with people of a particular dispensation. Value-added courses and skill enhancement courses are designed in such a way that can be offered through online mode for which credits can be earned through the academic bank of credits. It clearly suggests that we are at a very fast pace towards privatisation," Basu told NewsClick.
Nandita Narain, former President of the Delhi University Teachers Association (DUTA) maintained that the diversity of classes has vanished after CUET facilitated admissions. Sharing her experience, she told NewsClick, "I have been teaching Maths in St Stephens College. Earlier, my class had students from North East India, Southern and Western India. Today, the class has students from only three states; Rajasthan, Haryana and Uttar Pradesh. It is already been reported that the number of girl students has dropped. Diversity enabled students to learn from each other about their cultures, languages etc. It has just gone."
She added, "When you come to the teaching part we are noticing that CUET which is a computer-based test is excluding students from entering higher education. Students are asking parents for computer courses. Once you are computer proficient, then you can attempt these tests. We are receiving new guidelines in February about how to evaluate students internally. Earlier, 25% was devoted to it including 5% marks for attendance. Six days before the end of the semester, we are told about new guidelines according to which 45% of marks are for internal assessment including 35 marks for continuous assessment. We never evaluated them on these lines. Essentially, it is asking teachers to do forgery and give marks on assumptions."
The protesters maintained that apart from higher education, school education too is too feeling the heat in form of mergers and handovers to the corporate sector via NGOs. Ram Murti Sharma, Assistant Professor, Department of Education, Delhi University told NewsClick that the policy is talking about big schools and clusters after merging schools. "We are seeing the impact of mergers where students are dropping out increasingly. What is more perturbing is the handover of resources to the private sector. Schools in Indore were closed and wealthy families literally bought them. In Delhi too, the campuses of merged schools are offered to NGOs in the name of imparting skills. We know very well who is the real beneficiary," Sharma told NewsClick. Experts point out that 12 state governments have closed/merged 80,647 schools so far after the beginning of the policy by the Gujarat government in 2013.
Priyanka, a student of Maharshi Dayanand University, Rohtak, said that it is important to locate details to understand the impact of the policy. "How can you explain the impact of NEP to a common man who has hardly heard about it? Let me cite some examples from Haryana. The state government brought Chirag Yojana under which government will fund families who wish to enrol their children in private schools. Once the majority of government schools lose their students, they will close them. Away from it, you are surprised at the budget deduction for education. Our universities are no longer receiving any grants. So, they are not only asking for more fees from students but deliberately failing students to reappear for papers. Once the university starts accepting reappearing forms, it earns Rs 1.5 crore each day from these forms alone. So, these examples must be told to explain NEP!" she said.
Shambhavi, a student at Indraprastha University said that girl students will be under pressure to abandon their studies at earlier stages because FYUP facilitates an easy exit. She said, "we saw parents taking their children from  Delhi after securing admissions that she need to pay Rs 15,000 per month for hostels. A girl came from her home to college by taking a three-year break so that she can at least complete her graduation. Here, they are under pressure to exit education early."
Aishe Ghosh, President of Jawaharlal Nehru University Students Union (JNUSU) said that it is interesting to note that the BJP which struck down FYUP in 2014 after massive students and teachers' outrage, has brought again same structure through NEP. "More than FYUP, there are concerns about CUET being driven by the coaching mafia. We saw how the coaching mafia operates in the preparation of IIT-JEE papers. It is being replicated in CUET where public institutions have very less stake. We are hearing about irregularities in its conducting," Ghosh told NewsClick.
Ghosh, also Vice-President of the Students Federation of India (SFI) Delhi Unit, underlined that NEP harbours a colonial mindset by sidelining the contribution of our public institutions to the dream of universities like Harvard and Oxford. "JNU and Vishwa Bharati contributed to our societies through alternative methods. We could have presented them to the world to showcase our strengths than feeling inferior in comparison with western institutions. Second, we also need to see who is going to these universities. This policy advocates the opening of campuses by foreign universities here. A degree from Oxford and Harvard cost millions of rupees. Even if these universities come, can a common person send children to study there?" she questioned.
Get the latest reports & analysis with people's perspective on Protests, movements & deep analytical videos, discussions of the current affairs in your Telegram app. Subscribe to NewsClick's Telegram channel & get Real-Time updates on stories, as they get published on our website.
Subscribe Newsclick On Telegram