'Never Felt This Lonely': J&K Healthcare Workers Face Mental Health Crisis Amid COVID-19
"I feel cooped up in my home. At the hospital, I wrap myself in a PPE suit and on the road, car is my shield. I have never felt this lonely before. If it prolongs, my mind will explode," a doctor, working with COVID-19 patients in the Valley, said.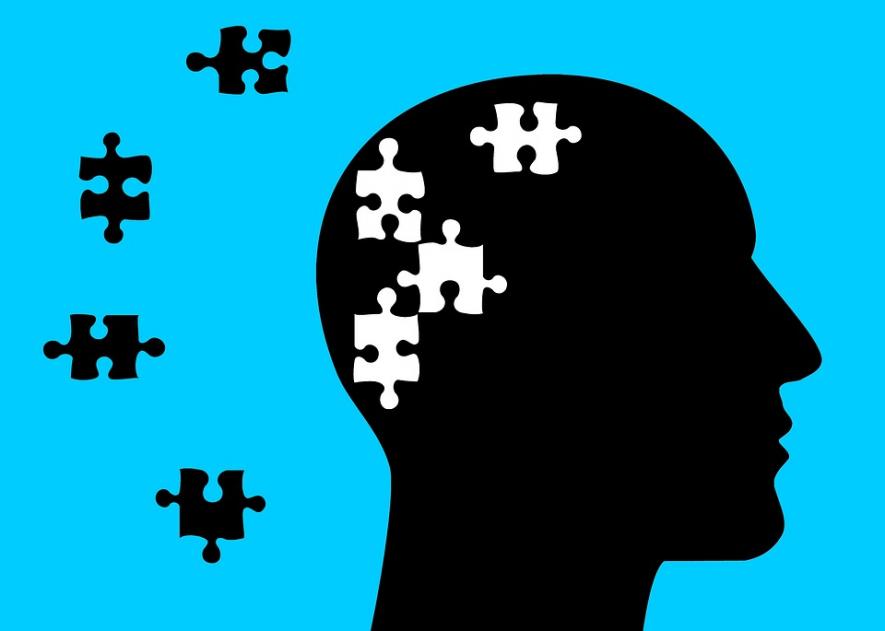 Image Used for Representational Purpose Only
The frontline healthcare workers, who directly deal with suspected or confirmed COVID-19 patients in Kashmir, are facing extreme mental pressure with a majority of them experiencing symptoms of depression, anxiety, insomnia and distress. The fear of transmitting the disease to their families is affecting their psyche the most.
A 29-year-old doctor (name withheld), working at the COVID-19 Out-Patient Department of the Valley's premier Sher e Kashmir Hospital, said that the fear of taking the infection home keeps her awake all night. "I take all the precautions but still fear about infecting my family members," she told NewsClick over phone.
The hospital receives a huge rush of patients' every day, exposing her to increased risk of contracting the disease. "Every time I walk into the hospital I feel like entering a death den. The very feeling of catching the infection sends shivers down my spine," she added.
Explaining that this is affecting her mental health, she said, "I get nightmares every night. They wake me up in the middle of the night and I find myself lonely." Added to this is the fact that she cannot meet her family members regularly, particularly her mother.
She feels as if she has developed a shield around herself which prevents her from interacting with the outside world, "I feel cooped up in my home. At the hospital, I wrap myself in a PPE suit and on the road, car is my shield. I have never felt this lonely before. If it prolongs, my mind will explode," she said, adding that the only thing that consoles her is that she is doing it to protect her community.
Also read: 'Humiliated and Beaten': Kashmir Healthcare Workers Bear Brunt of COVID-19 Lockdown
The ten-hour journey that she undertakes every day from her home located in Chanpora area of Srinagar towards the hospital only aggravates the feeling of loneliness.  
For a 36-year old physician, Tanvi, self-isolation is "next to impossible" owing to her elderly in-laws and a newborn baby. Both of them, she said, come under the high-risk age group. "I have to take care of our kitchen as well. We are scared," she said. With both her and her husband working as doctors, who are working in the field, their family has become vulnerable. "We take precautions and leave everything to God. These things are taking a toll on the mental health of the entire family," she added.
Over 50 healthcare workers, including doctors and paramedical staff, have been quarantined or isolated due to their exposure to positive or suspected cases of COVID-19 in the last one month in Jammu and Kashmir. The newly formed union territory witnessed a jump in positive in the last two days as nearly 60 residents tested positive, taking the number total number to 184. Of these, 152 are from Kashmir division. This sudden spike in the number of cases has intensified the fears of contracting the virus among the frontline workers. 
Asma, a 26-year-old nurse, who works with multiple groups believes her chances of contracting the virus are more. "The danger always lingers on my head. I work round the clock with different groups including surveillance teams and at a quarantine centre," she told NewsClick, adding, "We face a lot of mental stress. For us everyone is a potential carrier of the virus, we do not know who is positive. I am stressed. I think about it the whole night. The fear of going into the field keeps me awake. We are more scared for our families. Our fears are multilayered."
Apart from the fear of infecting themselves and their families, the workers also experience stigmatisation, which is taking a heavy toll on their mental health. "The worst thing is the attitude of society towards us. They see us as if we are thieves. No one talks to us and people usually change their routes to evade confronting us," Gulzar Ahmad, an ambulance driver from South Kashmir's Shopian told NewsClick. "My uncle died yesterday. My mother did not allow me to visit for the fear of spreading disease. He was my only maternal uncle, but I cannot visit," he lamented.
Talking about an incident last week when he had ferried a suspected case, he said, "After his test came positive, I was also advised to test. The following night I could not sleep and smoked entire night."
"For the last two decades of the insurgency here, I have ferried patients in most dangerous situations. Last year, encounters used to take place almost daily here. We had to ferry the injured or dead persons every day. At times I have ferried patients amid the exchange of fire. But believe me, the situation is more dangerous today," he said.
Also read: COVID19 and Mental Health: 'No Space for Individualism,' Say Doctors
Mental health experts say that though the whole society is vulnerable to stress, the ongoing studies across the world suggest healthcare workers are more vulnerable to psychological distress and can develop complications. "They are our soldiers; and have higher risk of developing stress. Every day I receive complaints of sleepless nights and fearfulness from health workers. Some have phobia of getting diseases while others are simply worried about their families," Shoib Sheik, a mental health expert based in J&K, told NewsClick. 
He, however, raises an alarm regarding the prolonging of the situation. "If the situation prolongs the mental health scenario is only going get worse. It can have more lethal effects. If it remains for a short time they (healthcare workers) will not develop severe complications," he said. 
Isolation, he added, develops a feeling of loneliness which is a risk factor for developing depression. Anxiety of getting infection increases their irritability. They are also unable to concentrate on work.
'Administrative fascism' adding to the stress
What is adding to the worries of the healthcare workers is the attitude of the administration towards them. The indifference and apathy which they have termed as "administrative fascism" increases their mental trauma, "The doctors need extreme care and have to be provided with appropriate gear by which they can protect themselves and fight this virus. But the administration is showing callousness and indifference towards the issues of doctors. it increases our distress," a doctor said, wishing not to be named. 
He was referring to the order issued by the Directorate of Health Services, Kashmir, wherein it warned healthcare workers for criticising administration. "Some of the government servants are publicly criticising the efforts of the administration to combat the Pandemic of COVID-19, which is against the service conduct rules," the notice said. It further added that action would be taken against "any person disobeying any regulation or order made under the Epidemic Diseases, Act, 1897, punishable under section 188 of the Indian Penal Code."
"There can be difference of opinion or some minor issues, which the government employees can bring into the notice of concerned authorities so that the issue is redressed instead of putting that issue in social media, print and electronic media, which is causing more harm than good to the public and administration in combating pandemic of COVID-19," the order issued by Directorate of Health in Kashmir on April 1 stated.
The order was issued after some doctors and paramedics raised alarm over the lack of appropriate protective gear like Personal Protection Equipment (PPE), hand gloves and masks in the Valley.
Also read: COVID-19: Our Voices Suppressed, Say Doctors Over PPE Row
Get the latest reports & analysis with people's perspective on Protests, movements & deep analytical videos, discussions of the current affairs in your Telegram app. Subscribe to NewsClick's Telegram channel & get Real-Time updates on stories, as they get published on our website.
Subscribe Newsclick On Telegram