New Appreciation for Ancient Ponds Spurs Desert Communities in Rajasthan
People of Jodhpur and Barmer use philanthropic capital and community contributions to rejuvenate existing water bodies, improving access and bolstering water security.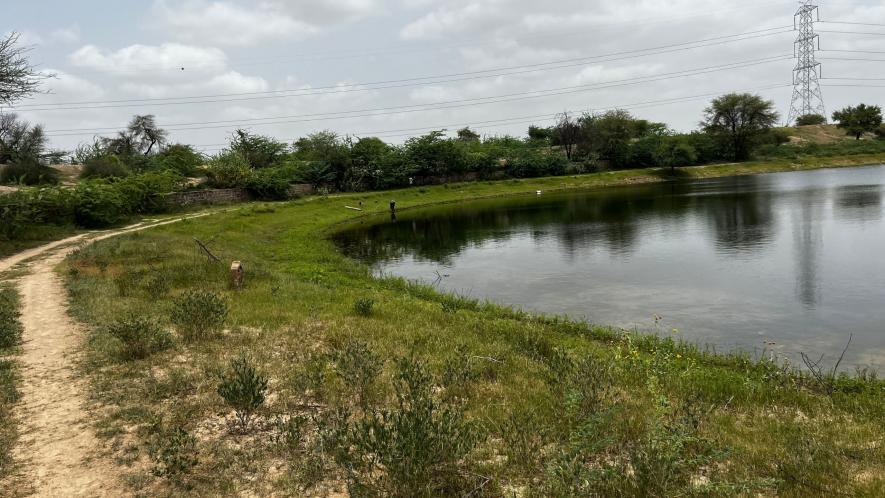 Agolai pond (Photo credit- Dinesh Bothra, 101Reporters).
Jodhpur/Barmer, Rajasthan: In Agolai village, nearly 50 km from Jodhpur, a weathered inscription detailing the history of the public pond has faded. But Rikaram Kadela (48) reckons that the pond is over 500 years old; spanning more than 13 acres (with a catchment area of nearly 2,000 acres), it caters to the water needs of around a dozen hamlets.
Increasing the pond's capacity had long been pending, say residents. Even in 2017, a plan to develop the pond had been mooted, but nothing happened. "But last year, with community participation and financial and technical support from NGO Gramin Vikas Vigyan Samiti (GRAVIS), the Gram Panchayat and the community, we took a step towards this goal. The results speak for themselves," says Mangilal Baliyan (55).
The pond's water storage capacity increased with the removal of over 6,022 cubic meters of sediment over two weeks using excavators, notes Kadela. The Gram Panchayat and community members carted away much of the silt for uses such as kuchcha road laying and land levelling. With a depth exceeding 30 ft, it is currently more than half full. Private tankers frequent its banks, pumping water to take to paying community members who are now benefitting from cheaper and more frequent deliveries.
A few kilometres away in Surani, an older community pond spread over 50 bighas (more than 30 acres) has also undergone a quick and effective facelift. Its water-holding capacity had diminished due to sediment accumulation, but for 17 days in the summer of 2022, under the guidance of Vasundhara Seva Samithi (VSS), giant excavators removed nearly 11,000 cubic metres of silt from the pond.
Thanks to the generous pre-monsoon rain this year, the pond, which is the sole drinking water source for the community, appears significantly full. "Now, if the pond fills up entirely during monsoon, not only Surani but even neighbouring villages will not need to rely on external sources for water for two years," says Mahendra Singh Inda (38), who works closely with the Sarpanch, his mother, Sujan Kanwar.
In the desert state of Rajasthan, nothing is more important than water. Many traditions and generational knowledge revolve around water — how to find it, where to store it and how to use it judiciously. So, it is natural that large, rainfed waterbodies —human-made or otherwise— have remained the anchors for human settlements in the state for centuries.
In Barmer's Ramsar block lies Banwa Nadi (Nadi means a rainfed structure). Amidst the undulating sand dunes of this region, stretching for miles in all directions, these ponds are few and far between and, therefore, precious. Hukmaram Makad (68) from Babugulariya panchayat believes the pond was identified and dug around a century ago with "bare hands".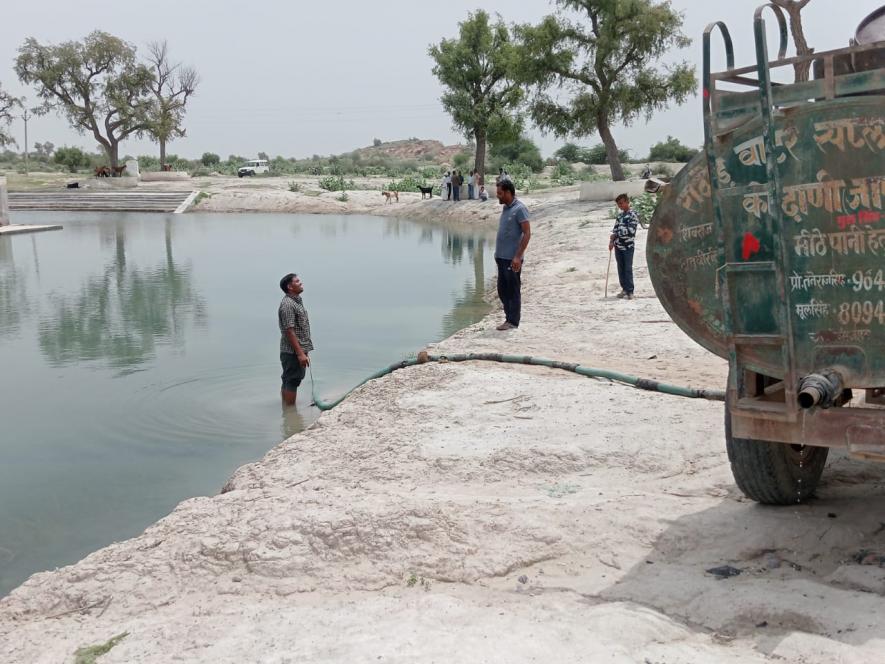 Barmer pond (Photo credit - Mukesh Mathrani).
But now communities benefit from modern machines that can achieve spectacular results in a matter of days. Across project sites, a minimum of ten thousand cubic feet of silt were moved in within a couple of weeks and at the cost of around three lakhs, often increasing their capacities twenty times over.
The first water body census published this year enumerates 16,939 water bodies in Rajasthan, of which 98.9% are in rural areas, 71.6% are human-made, and 46.7% are under public ownership. Out of these, over 13,000 have had no repair done on them for the last decade.
There is now increased awareness around the maintenance of these waterbodies thanks to organisations like R.G. Manudhane Foundation, Tata Capital, and A.T.E. Chandra Foundation, who, with their NGO partners, have worked on rejuvenating 850 waterbodies across 12 districts of Rajasthan over the past two years. This work has augmented surface water storage capacity by 989 crore litres, positively impacting groundwater reserves wherever hydrogeologically possible.
The results of this work are immediate and, therefore, encourage donors to do more. For instance, Sridhar Sarathy, Head of Sustainability and CSR for Tata Capital, says, "Tata Capital believes that waterbody rejuvenation and maintenance is extremely important to build not only capacity for storage and recharge of groundwater but also community awareness and resilience towards climate change impact. Our pilot project with ATECF and a local NGO partner helped rejuvenate 30 surface water bodies, creating a capacity of 31.61 crore litres of water for 30 villages in Jodhpur district last year, which will be doubled to benefit 60+ waterbodies in Jaipur district in FY23-24."
Water at Doorstep
"In my youth, I used to travel at night on a camel cart to bring water from places located 20 km away and return only by morning," Makad remembers. But women, who were primarily responsible for bringing water to their homes and for livestock, often did not even have the luxury of transport. For most of them, the day began with a 3-4 km trek, and if the routine was missed, there was simply no water for the rest of the day.
Despite the state trying to ensure water security through other means, geographical challenges created by sand dunes and small and scattered settlements make any last-mile water delivery project doubly difficult to implement. Much of the region also falls under the overexploited category regarding groundwater resources and has sunken and highly saline groundwater unfit for consumption. Thus, the only viable option is surface water.
Without pipes, the only way for water to reach their homes is either by foot or tankers — which, along with the presence of large storage tanks in almost every home, has improved access and reduced drudgery for women; the rejuvenation of waterbodies in their villages has compounded these benefits.
"Almost every household in the village receives pond water from tankers and stores it in underground water tanks called tankas, measuring between 3000 to 10,000 litres," says Inda. Bharti Odh (30), a farm worker from Surani, says hundreds of women now save time and labour. "We have more time to work in the fields alongside men and prioritise our children's upbringing."
Tankers become unaffordable when the water source is too far away or scarce. Before the rejuvenation of Banwa Nadi, tankers would bring water from Gadra Road or Khudani, requiring a 40 to 50 km roundtrip. "It used to cost Rs 1,200 to 1,500 per tanker, considering the distance. On average, each household requires three to four tankers monthly, a heavy financial burden for most families," recalls the former village sarpanch Kesaram Puniya.
Now, after Banwa Nadi rejuvenation, the tanker costs have reduced to Rs 300 to 400, says Mool Singh, a tanker operator in Ramsar block. He remembers how the pond used to fill up a little during the monsoon, only to quickly dry out. Now, there is water throughout the year. The time required for delivery has also come down from a day to two to three hours, thus meeting the needs of over a dozen gram panchayats and 3,000 to 4,000 households with a population of around 20,000.
The twin benefits of water security and reduced financial burden have incentivised the community to invest their time and resources to develop and safeguard water sources.
Under this model, the NGOs incur the costs for excavators while communities and Gram Panchayats pay to cart the slit away and transport it to wherever it is needed. The Gram Panchayats also create embankments, develop the catchment area and commission plantation works under the MGNREGA scheme. Makad adds that to ensure community participation in pond preservation, they plan to form a committee. While the Gram Panchayat is responsible for pond security and management, villagers will take it upon themselves to monitor the pond.
Birbal Khinchar, a 58-year-old villager from Surani, reflects on the experience. 
"Community participation in the pond's revival has provided us with an opportunity to transcend caste discrimination. No one owns the pond's water; it belongs to all of us. We do not let villagers from nearby areas go thirsty either; they fetch water from here without restrictions."
Scaling up Community Action
Given these kinds of outcomes, ATECF's Vertical Head for Sustainable Rural Development, Amrtha Kasturi Rangan, says that the work can be scaled up to include all the waterbodies in Rajasthan with community participation (in maintenance and carting away silt), technology interventions (in choosing sites, triangulating work and use of machines) and government support can play a vital role in catalysing this as a movement across Rajasthan.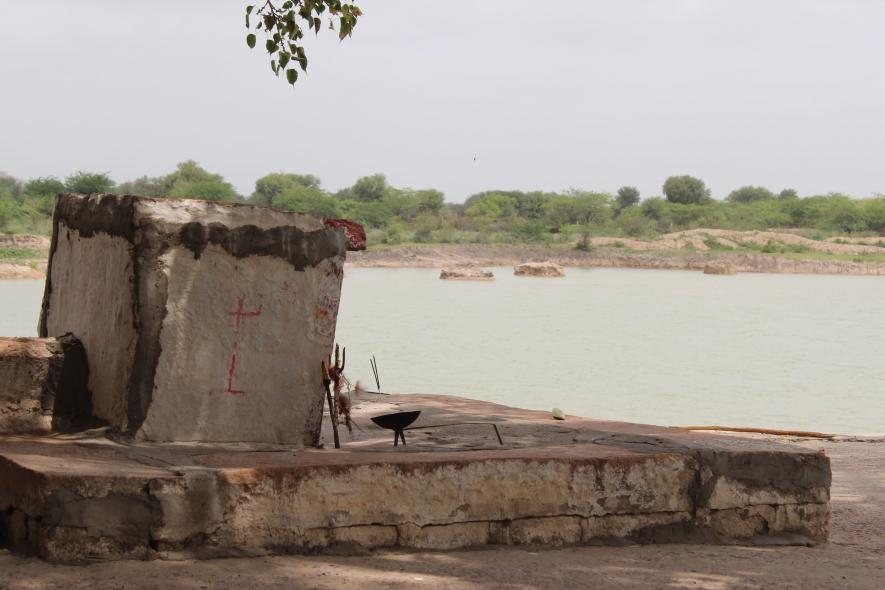 Surani pond (Photo credit- Dinesh Bothra, 101Reporters) 
Stressing the community aspect, she says, "Communities must come together to own it — and the role of the NGO in convincing them about the benefits of the work becomes important for this. The fact that they contribute 65% of the project cost by carting the silt away is a testament to the impact this work has on their lives." 
Khinchar fills his tanker with water from the pond before sharing his thoughts, "I have witnessed numerous famines and witnessed water and fodder scarcity for livestock. The crisis of water for human needs is not new to this desert area. However, we are grateful to our forefathers whose wisdom emphasised the importance of water. As a result, Surani Pond continues to be a valuable water asset for our present and future generations."
(Dinesh Bothra and Mukesh Mathrani are Rajasthan-based freelance journalists and members of 101Reporters, a pan-India network of grassroots reporters.) 
Get the latest reports & analysis with people's perspective on Protests, movements & deep analytical videos, discussions of the current affairs in your Telegram app. Subscribe to NewsClick's Telegram channel & get Real-Time updates on stories, as they get published on our website.
Subscribe Newsclick On Telegram