New Yoga Poses for the Age of Modi
On International Yoga Day 2021, Indians saw more photo-ops of neo-converts to yoga while the government pretended that a badly-managed pandemic caused no hardship.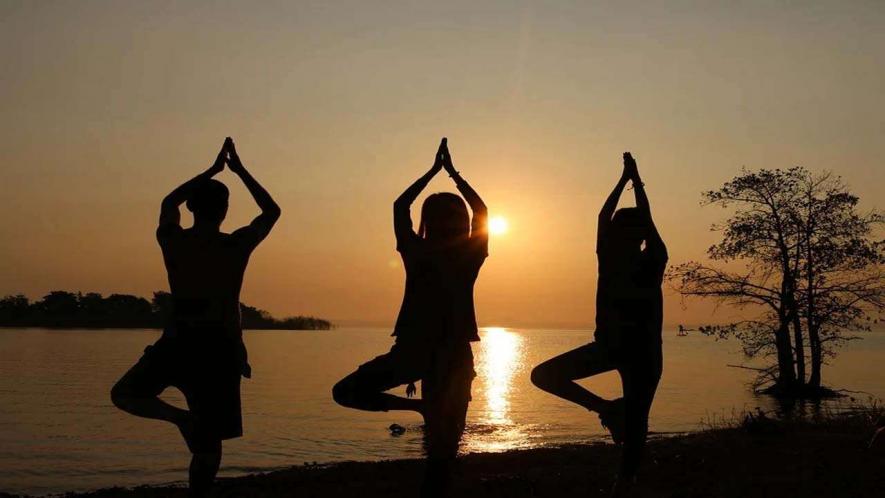 Classical yoga poses are impossible in Mumbai's suburban local trains with their super-dense loads of commuters forced into other kinds of body contortions. But the now sparsely-populated trains became sites of conducted yoga sessions on June 21st to mark International Yoga Day. This was not the only unlikely location for the ancient transcendental self-practice. Throughout the day, photographs went viral on social media timelines and WhatsApp groups showing Indians in a gamut of yogic postures.
From Mumbai's heritage Buddhist caves at Kanheri to the banks of the Ganga in Varanasi where Covid bodies had recently floated, from the rough terrain of Pangong Tso in Ladakh to the Government Institute of Medical Sciences in NOIDA, whose staffers in PPE-fitted suits did Vrakshasana or the one-legged tree pose, everyone seemed to be at it. There were more bizarre ones such as the Indo Tibetan Border Policemen who did yoga atop horses in Lohitpur in Arunachal Pradesh and Border Security Force men who sat in yogic postures on the backs of camels that were on their sides with legs tied up (this is torture for the hapless camels).
Yoga, India's ancient practice to train the human body and mind in self-awareness, cultivate discernment and equanimity, and access a higher form of consciousness, was well and truly turned into photo-ops. Prime Minister Narendra Modi's heart must have warmed at seeing the photos. Who knows, there might even be a team in his office tracking these one-day-wonder yoga sessions and creating folders for the boss to peruse.
Modi prevailed on the United Nations, soon after his election in 2014, to declare June 21st as International Yoga Day. Over seven years, we have seen people unlikely to have anything to do with yoga bend over backwards to fit into Modi's good books. This year, horses and camels were drafted too. Modi turns everything into a spectacle. Yoga, a reflective practice, is now a full-fledged one.
Modi alone cannot be blamed for the commercialisation of yoga. This goes back decades when flower children of the West "discovered" India, her sadhus and yoga. However, it remained eclectic. The liberalisation and globalisation of India in 1991 led to an elevated interest in all things esoteric or exotic. Yoga was among them. Yoga boutiques and yoga spas became the rage in New York and San Francisco as much as tony parts of Mumbai, Delhi and Bengaluru. The philosophy of yoga was reduced to exercises or asanas which were further contorted into fusion versions such as Power Yoga, Jazz Yoga, Hot Yoga and the like.
The puritanical and less glamorous yoga practised and taught in old-age yoga schools, continued quietly as it had for decades, nourishing and sustaining tens of thousands of Indians for whom yoga was a way of life. They do not get this post-2014 spectacle. They are repulsed by the exhibitionism and reductiveness Modi has brought to a personal, meditative practice. They know it is political sagacity that makes scientists in PPE suits and BSF jawans on supine camels do asanas for photo-ops. This is not yoga, they say.
However, Modi's public advocacy of yoga is not intended for long-time and committed practitioners. Yoga is a vehicle for his politics of spectacle, his government's narrative management, and self-promotion. Not a single International Yoga Day has gone by in seven years without Modi's photographs or videos prominently circulated. The World Health Organization app launched on June 21st to facilitate access to yoga in international languages is incidentally called mYoga.
In the process, Modi has introduced new "asanas". Take the first and easiest one, jhootasana. It calls for distorting reality by rolling words off one's tongue that have no relationship with the truth, words that require the listeners' native intelligence to be in the supine position to receive each word spoken as the ultimate truth. In it, any realm of falsehood is possible – Mohandas Gandhi becomes Mohanlal Gandhi, demonetisation becomes a good move for India's economy, losing territory in Ladakh is China getting a thrashing, India's catastrophic second wave of Covid-19 brought on by government's criminal negligence became a well-managed pandemic, and the vaccination programme is a success.
There are many variations of jhootasana as a quick run-through of the Modi years will show. The government's Solicitor General even used this in the Supreme Court to say that there were no migrant workers on the roads last year. Union Home Minister Amit Shah stated this week that Modi has taken a "historic decision to provide free vaccine…" when India's inoculation programme has been universal and free for decades. The jhootasana is a useful exercise.
Then, there is the hugasana. It is a full-body pose that requires the practitioner to clothe in the spiffiest of attires and practice only in the company of exalted people or heads of governments. It calls for opening arms wide, beaming smile on face, relaxed and warm stride exuding positivity, followed by a full-body frontal embrace of the other. There is a variation with a half-body sideways embrace too, but the cameras never capture it right. Modi has nearly perfected the frontal hugasana, and in its true spirit, he reserves it for the high and mighty of the world, especially the western world or an uber-wealthy sheikh.
Congress MP Rahul Gandhi also practises hugasana but with a difference. In his practice, he embraces everyone from college students to fishermen, old women to his sister Priyanka. It is the embrace average Indians share with dear ones, a more prosaic version than Modi's but more genuine. When Rahul Gandhi practised the hugasana on Modi in the Lok Sabha, the Prime Minister was taken aback. Incidentally, the Gandhi siblings are long-time practitioners of the Buddhist meditation Vipassana that, like yoga, is known to cultivate empathy and compassion. It is not clear if Modi's yoga regimen has led him to empathy and compassion yet.
Then, Modi re-introduced the classic cronyasana. In its earlier avatar, it was practised in the secrecy of inner rooms and hushed ways. Modi evolved it into an open and unapologetic practice. It calls for identifying key wealthy industrialists who can prop you up, commit their resources to you, and in the true spirit of energy exchange that's an inalienable part of metaphysics, you bend reality and law so they can rake in profits. Power and profit in perfect sync, as it were. The cronyasana is not for everyone. Power and profit move in rarefied circles, after all.
In contrast, the jumlasana is for all. It's also an easy posture. All it calls for is a flexible and slippery tongue that can make false promises. These promises are never meant to be honoured, so it's too bad if listeners believe otherwise. Modi, and many of his ministers too, have mastered jumlasana over the years. From the jumla of putting Rs. 15 lakh in every Indian's account to eradicating black money from the economy and affirming that millions of migrant workers stranded in the nationwide lockdown last year were well cared for, Indians have got used to seeing and doing jumlasana. It has become a way of life in New India.
If there is any doubt that these new asanas do not benefit the practitioner, take a good look at Modi, who has increasingly looked like a designer sanyasi in the last few months. The mYoga was probably not a misnomer, after all.
The author, a senior Mumbai-based journalist and columnist, writes on politics, cities, media and gender.
Get the latest reports & analysis with people's perspective on Protests, movements & deep analytical videos, discussions of the current affairs in your Telegram app. Subscribe to NewsClick's Telegram channel & get Real-Time updates on stories, as they get published on our website.
Subscribe Newsclick On Telegram