NGOs Call for Model Border to Combat Trafficking in West Bengal
The problem of re-trafficking after rescue, especially among cross-border trafficked persons, is on the rise.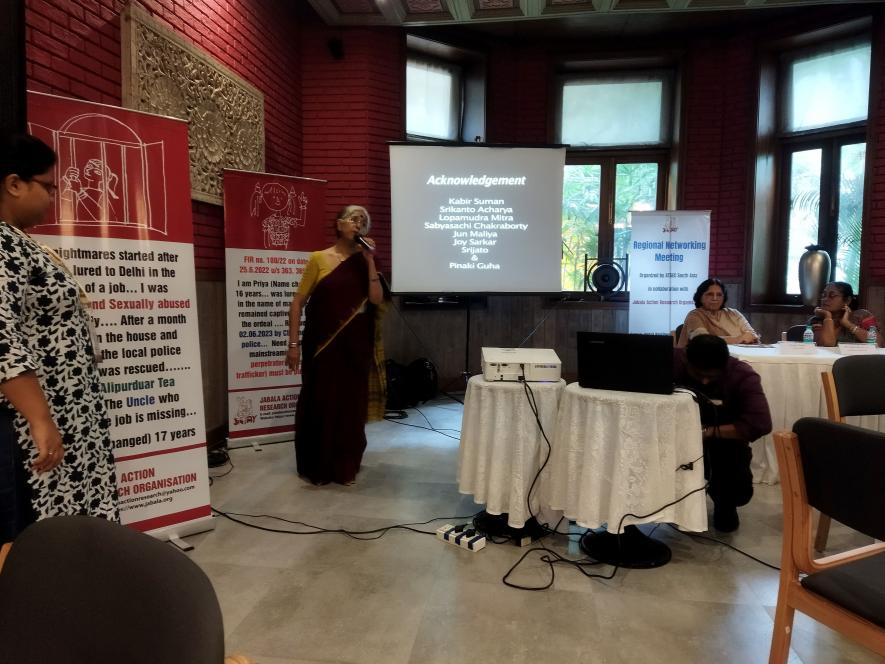 Baitali Ganguly, Jabala Action Research Organisation, addressing a round table conference on cross-border trafficking in Kolkata.
Kolkata: "My nightmares began after being lured to Delhi under the guise of a job. I endured physical and sexual abuse almost daily. After a month, I escaped from the house and sought help from the local police station, leading to my rescue. I returned to Alipurduar tea garden, but the uncle who offered me the job remains missing," said 17-year-old Alka* (name changed) as she shared her story with an NGO – Jabala Action Research Organisation, an NGO.
In another recent case, a 16-year-old girl, Priya* (name changed), was lured to Pune under the pretext of marriage, where she remained captive and faced severe ordeal. She was rescued by the CID on June 2 this year. She now requires maintenance support with her sole demand being the punishment for the arrested trafficker.
NewsClick spoke with members of Action Against Trafficking  Sexual Exploitation of Children, India (ATSEC India), a nodal organisation comprising renowned non-government organisations in the city. They discussed a new proposal to reduce cross-border trafficking in West Bengal, where girls and women from Bangladesh and Nepal are lured into the flesh trade. The city is also purportedly used as a launching pad for transfer to other parts of the country and beyond by traffickers.
Speaking to NewsClick, Payal Banerjee, Director of Prosecutions, Government of West Bengal, stated that trafficked individuals are charged under the Foreigners Act and pushed back into their respective countries. "Prosecuting the trafficker remains the duty of the foreign government. Although India and Bangladesh have a bilateral treaty, video conferencing to punish traffickers has not been implemented," she said.
Tapati Bhowmik, Senior ATSEC member and Secretary of Sanlaap, a prominent NGO combating trafficking, emphasised the need for a model border with zero trafficking, citing the success of their operations on the Hakimpur side of the Indian border, adjacent to Satkhira in Bangladesh. She proposed engaging the Border Security Force (BSF) and BGB of Bangladesh, along with NGOs, in awareness campaigns for a successful venture.
Bhowmik noted that despite the increase in the median age of trafficked girls, the menace of illegal border crossing and the exploitation of girls for the flesh trade persists in West Bengal.
According to her, in cases of cross-border trafficking, many traffickers receive a clean chit, as the BSF prioritises pushing back illegal migrants over apprehending traffickers and launching FIRs against them. Bhowmik recounted a recent experience where a 19-year-old married woman was lured into India in the name of love and trafficked. The BSF intercepted her, but the trafficker, a youth from the Indian side, was seen freely gossiping in a tea stall as no FIR was launched against him before the woman was pushed back.
These grey areas in border management, according to Bhowmik, highlight the need for improved anti-trafficking measures. Her shelter home in Narendrapur houses 38 inmates, mostly rescued trafficked women and juveniles.
During the unlock period post-COVID, around 74 girls were rescued by their organisation, and 90% of them fled their homes after getting acquainted with culprits during the lockdown days. Many of them were juveniles, highlighting a concerning trend. Bhowmik shared the case of a woman footballer from South 24 Parganas district who was trafficked after the trafficker "drugged her with a laced cold drink at the railway station".
The rise of elopement, especially among children, is a growing issue in West Bengal. Bhowmik advocated for gender counselling and the use of the Child Marriage Prohibition Act to curb child marriage-laced trafficking.
Aleya* (name changed), a survivor from Swarupnagar block of North 24 Parganas, told NewsClick that returning home after rescue leads to facing stigmas. "BDO office employees and peers at home hold us responsible for our trafficked past. Victim compensation, which is supposed to be Rs 8 lakh, ends up being as low as Rs 1.5 lakh after years of persistence with government departments," she said.
Moni Khatun* (name changed), another survivor, now works as a peer group leader within the survivors' collective. She shared the harsh reality of being denied readmission to her school due to the school authorities deeming her a bad influence on other students. Moni questioned why people are sold like cattle in West Bengal and expressed frustration at the delay in receiving victim compensation.
The problem of re-trafficking after rescue, especially among cross-border trafficked persons, is on the rise. NGOs recalled an instance where a girl rescued from Kamatipura, Mumbai, was repatriated but faced peer stigma, prompting her to leave her country again and land up in Kamathipura by paying a border intermediary.
Bangladeshi Advocate Salma Ali, the Regional Chair of ATSEC, highlighted how river erosion, divorce, and poverty contribute to an increased trafficked population across the Bangladesh border, both in India and Saudi Arabia. She shared success stories from the Bangladesh National Woman Lawyers' Association and ATSEC.
The Ramola Bhar Charitable (RBC) Trust, institutionalised in 1990, was born out of the need for justice and equality for women and children. Roma Debabrata, the president of RBC Trust, became involved in the case as a translator for the Bengali-speaking girl during court proceedings. This legal battle extended over several years, navigating through local courts and ultimately reaching the highest judicial authority – the Supreme Court of India. The arduous struggle for justice in this case became the catalyst for the inception of a movement.
Driven by a vision to eliminate all forms of oppression, atrocities, and violence against women and children across various segments of society, R.B.C Trust initiated a global movement named STOP (STOP Trafficking and Oppression of Children & Women) in 1997. This movement aims to combat exploitation and abuse in all its forms. STOP has been accorded special Consultative Status with UN-ECOSOC.
NewsClick also spoke with Roop Sen of Sanjog, a renowned anti-trafficking activist. Sen expressed concern about the lack of cohesive investigation by the Anti-Human Trafficking Units (AHTU) of the police, resulting in many traffickers going unpunished. "AHTU officers often work on trafficking cases as an additional workload, lacking the resources for detailed investigations required for organised crime," she told NewsClick.
Sen emphasised the need for transparency in Indo-Bangla cross-border terrorism. Despite bilateral agreements, there is a lack of data on the number of Bangladeshi nationals captured in India in the last 25 years, highlighting issues in data management.
AHTUs in India are rescue-focused, lacking preemptive investigation, mapping, or addressing structural issues in human trafficking. Investigations are often conducted at the local thana level, with no interstate investigation mechanism. The running cost of AHTUs, as per the law, should be provided by the state government, but due to the low ratio of trafficked persons compared to other crimes, there is little impetus from political leadership. IPC Sections such as 372 and 373 (anti-trafficking sections) are not consistently imposed on perpetrators.
Get the latest reports & analysis with people's perspective on Protests, movements & deep analytical videos, discussions of the current affairs in your Telegram app. Subscribe to NewsClick's Telegram channel & get Real-Time updates on stories, as they get published on our website.
Subscribe Newsclick On Telegram