Nijjar Affair Poses an Existential Dilemma
The Nijjar affair has taken the lid off the acute contradictions in India's foreign policies… built on personality cult and opportunism.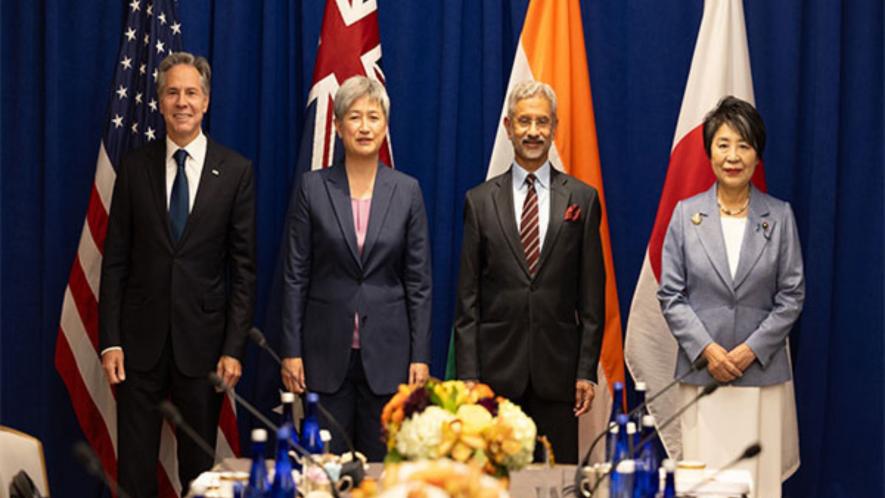 QUAD foreign ministers from US, Australia, India and Japan (from left to right) met in New York, September 22, 2023
The raging controversy over alleged involvement of the Indian government in the killing of Sikh plumber-cum-religious activist Hardeep Singh Nijjar in faraway Canada is snowballing. Sensing that our elites are ultra-sensitive about Western criticism, Canada, with firm American backing, is rapidly widening the gyre of the controversy in a spiral that expands outward as it goes up.
The three new elements that Prime Minister Justin Trudeau introduced during his riveting press conference on the margins of the UN General Assembly session in New York on Thursday dominated by the ramifications of Nijjar's killing, are: 
one, he has dragged the Indian Prime Minister into the eye of the storm by referring to his "direct and frank conversation" with Modi;

two, his assertion that Canada is "standing up for the rules-based order"; and, 

three, the analogical reasoning that Trudeau introduced (for the first time) on finding a common relational system between India's alleged violation of Canada's sovereignty under international law and Russia's invasion of Ukraine. 
Trudeau has left much food for thought. Principally, Ottawa and Washington are acknowledging publicly that they are moving in tandem. (Of late, Trudeau has neatly slipped into the shoes of Boris Johnson as the strongest advocate of the US' proxy war in Ukraine.)
Not only that, the US envoy in Ottawa, David Cohen, has since disclosed that "shared intelligence among Five Eyes partners" prompted Trudeau's offensive allegation last Monday about Indian agents' involvement in the killing of Nijjar. 
Cohen added: "There was a lot of communication between Canada and the United States about this… We have been consulting throughout very closely with our Canadian colleagues — and not just consulting, coordinating with them — on this issue. And from our perspective, it is critical that the Canadian investigation proceed, and it would be important that India work with the Canadians on this investigation. We want to see accountability, and it's important that the investigation run its course and lead to that result."
We should carefully weigh the implications of the calibrated remarks by the White House National Security Advisor Jake Sullivan and Secretary of State Antony Blinken on successive days following Trudeau's press conference.  
One significant aspect of Sullivan's press conference was that he was asked to comment on Modi government's approach to the Nijjar case being of a kind with recent Indian policies, viz., that Delhi is challenging America's vital interests — "economic aggression… they [Modi government] made a deal with 18 countries to not use dollars to trade… India has — is on a US watchlist for intellectual property theft of US companies. India has been — is part of BRICS." 
Sullivan responded that "where we have concerns with India, whether it comes to issues related to the very watchlist that you're describing or otherwise, we make those concerns clear. And we defend US interests, as we do with every country in the world.
"Now, India is not Russia, and China has its own set of challenges that we deal with in its own context. So, of course, there is going to be differences in how we deal with countries one by one.
"But the idea — the North Star of this administration is: If you represent a threat to the American people's security, prosperity, or basic sense of fairness, we will take action to defend that. I think our record on that — across multiple countries … is quite clear… Regardless of the country, we will stand up and defend our basic principles. And we will also consult closely with allies like Canada as they pursue their law enforcement and diplomatic process." 
Simply put, the Biden Administration is indeed taking a holistic view of the Modi government's foreign policy. 
Blinken also confirmed that the US is "coordinating" with Canada and sought "accountability," while stressing that "it's important that the investigation run its course and lead to that result." Interestingly, Blinken called this a case of "transnational repression" which is something the US takes "very, very seriously," and also concerns the "international system".
Blinken was speaking after a meeting earlier in the day in New York with his QUAD counterparts, including External Affairs Minister S. Jaishankar. This becomes important for two reasons. First, there is a (self-serving) misconception among Indians generally that given the US' keenness to get India on board its Indo-Pacific bandwagon, Washington will not displease India, which, in turn, would isolate Canada. Thus, our cheerleaders have been hammering away at Canada. 
On the contrary, what the Biden Administration has now done is to ensure that the entire Five Eyes security alliance — Australia, Britain, Canada, New Zealand and the US — is on the same page with Trudeau. This is a harsh message and highly consequential. 
Second, Blinken's press conference followed his "candid and constructive discussions with China's Vice President Han Zheng – showing that we [US and China] will continue to seek ways to work together on issues where progress demands our common efforts, while managing our competition responsibly." 
Evidently, Delhi's simplistic assumption that the US regards India as "counterweight" to China, blah, blah, is a deeply flawed estimation of big power politics, bordering on naiveté, albeit encouraged by the Western commentators.
The naiveté reached its apogee in our clumsy move to appease Washington by inviting Biden as the chief guest at the Republic Day celebrations in January, and on holding a QUAD summit in Delhi at the same time as the icing on the cake! 
We cannot be anymore dumb-witted than that. The Biden Administration is nowadays courting China with a view to getting President Xi Jinping to visit the US and agree to a summit meeting with Biden, which the latter is keenly seeking with an eye on the November 2024 election.
It's a desperate attempt to get China to persuade Russia to agree to a dialogue process in Ukraine so as to stave off the military defeat of NATO during its 75th anniversary celebrations in July next year in Washington, which the White House is choreographing as a triumphal moment for the Biden presidency's transatlantic leadership. 
All in all, the Nijjar affair takes the lid off the acute contradictions in India's foreign policies. The assumptions driving the foreign policy's China-centric thrust turn out to be delusional; the "Westernist" trajectory has landed in a cul-de-sac; the assiduously propagated larger-than-life global image of India turns out to be a mirage; foreign policy built on personality cult and opportunism rather than rational and consistent principles attuned to the world in transition got battered; and, most important, the hubris in India's diplomacy boomeranged. 
The Nijjar affair poses an existential dilemma. Surrendering to the US diktat will make India look a surrogate state and a laughing stock in the Global South. Indians won't approve of it. 
On the contrary, ignoring the diktat will be hugely consequential. Make no mistake, Five Eyes had a gory history against the Soviet Union; in the post-Cold War era, it all but destabilised Hong Kong, and is today an active player in Myanmar and Thailand in India's neighbourhood. Its entry in the subcontinent is ominous.
In a week's time already, what appeared to be an investigation into a murder case, has got entangled with the "rules-based order" and the working of the "international system" — and the BRICS. That is a dramatic escalation signalling discontent with the government. 
In effect, what the US expects by "accountability" is nothing less than a dismantling of the national security state that India transformed into through the past nine-year period. 
MK Bhadrakumar is a former diplomat. He was India's ambassador to Uzbekistan and Turkey. The views are personal.
Get the latest reports & analysis with people's perspective on Protests, movements & deep analytical videos, discussions of the current affairs in your Telegram app. Subscribe to NewsClick's Telegram channel & get Real-Time updates on stories, as they get published on our website.
Subscribe Newsclick On Telegram