No Flash in Pan: LJP Split Could Make or Break Dalit Politics in Bihar
Hindutva and subaltern assertion come head-to-head in Bihar over the legacy of Ram Vilas Paswan.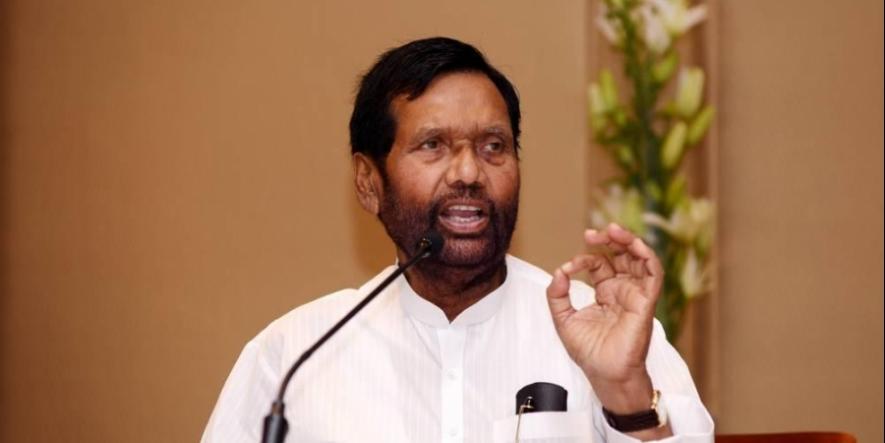 Image Courtesy: New Indian Express
All watchers of Bihar politics know the late Ramvilas Paswan would bring five or six per cent more votes to whichever electoral coalition he chose to support. His unfailing capacity to transfer the votes of the LJP has had a significant impact on electoral outcomes in Bihar. And it is this ability that gave Paswan his bargaining power with a variety of ruling coalitions. It is why the recent cracks within the party—just eight months after Paswan died—are significant. Sixteen per cent of the population of Bihar comprises Dalits, and the Paswan or Dusadh community, who are the core voters of the LJP, comprise nearly 30% of Dalits in the state.
Cracks in LJP
Some observers would say that Ramvilas had sort of nominated Chirag as successor during his lifetime. They would argue that Pashupati owes his political fortunes to his older brother, Ramvilas. Chirag would, therefore, eventually find acceptance among the community and Paras would be regarded as a traitor. Others argue that neither Chirag nor Pashupati have hammered out a meaningful connection with the on-ground cadre. If so, it would follow that Pashupati has only staged a coup with the help of Chief Minister Nitish Kumar. In 2008, Kumar carved out a new Mahadalit category consisting of 22 Dalit communities in the state. Only the Paswan social group was excluded until they got included a decade later. However, it is the BJP's Sanjay Paswan who has taken all the credit for the feat. He has argued that his barefoot yatra mounted pressure on the Nitish-led coalition government for their inclusion, and it worked. It would then follow that Pashupati is seen as having aligned with an "anti-Paswan" JD-U. Naturally, it would reinforce his image as a traitor to the collective interests of the Paswan community.
However, there is more to it. In whatever proportions the two wannabe factions of the LJP wean Paswan votes away from each other, to that extent, they would hurt each other's electoral strength. It would weaken the bargaining capacity of the community, making both the to-be factions ineffective, and such a scenario would only be helpful to the BJP, which is an ally of the JD-U in Bihar. In such a scenario, the Paswan social group would lose its relative importance in state politics, at least in the next election.
We do not know yet, if the Dalit Sena Ramvilas launched would remain loyal to Pashupati (who steers it at present) or if Chirag will absorb all Paswan votes en bloc. For sure, his nominees in the 2020 Assembly election got all-around support, hurting Kumar and his JD-U in the electoral sweepstakes.
Chirag is still youthful in his thirties and has a long way to go. However, it is now his compulsion to go among his supporters to establish his credentials and demonstrate his charisma. He has to prove his mettle, and it is quite a formidable challenge. Not just the absence of his father, Chirag is limited by having no ministerial berth in the NDA government at the Centre any longer, though the LJP and BJP are allies since 2014. Chirag will have no largesse to distribute and will struggle to erect a patron-client relationship when he has no share in the spoils of power.
Clues in History Dalit Politics
The first significant political assertion after Independence of Bihar's Dalits was in 1967. Their articulation was through an extra-parliamentary politics of armed struggle through Naxalism. Ramvilas entered the Bihar Assembly from the Alauli (in Khagaria) constituency soon after, in 1969. The Naxalite movement had helped organise the land-labourers among the Dalits, creating a stream parallel to the middle-class parliamentary politics of Dalits pursued by the Congress and socialist parties. The Naxalite movement helped the weaker sections connect with the demand for the democratisation of society as a whole. Linked with "non-parochial" issues such as the Bihar Press Bill, 1982, it created a strong socio-political force out of the Dalit movement.
In the 1971 Census, around 39% of the population of Bihar consisted of land-labourers. And a huge chunk were Dalits. The inequality at the root of a series of anti-Dalit massacres in the 1970s and 1980s was palpable. The Belchi massacre of Dalits by Kurmi landlords on 27 May 1977 is one horror story that the Dalits of Bihar have not erased from memory. Nitish Kumar belongs to this Kurmi social group, though he took an openly critical stand against the perpetrators.
As political winds shifted in the 1990s, the Dalits and backward classes (OBCs) of Bihar secured a share in power. From 1977 till his death, Ramvilas remained the most prominent Dalit face in Bihar politics. He pursued a stridently anti-Congress socialistic politics but also claimed to be sympathetic towards the villagers-turned-Naxalites.
Understanding the Paswan/Dusadh community
The Paswan community takes pride in its history of mobilisations. After 1857, members of the community were recruited in the constabulary as chowkidars. They also performed tasks that had them wield the stick on behalf of zamindars, chiefly revenue-exaction. Hence, it is said, the Urdu term, pasbaan (close aide and protector) came to be the group's appellation.
In 1891, the Paswans launched caste associations that demanded Kshatriya status. In their meticulously researched book, "Swarg Par Dhawa: Bihar Mein Dalit Andolan, 1912-2000," Prasanna Kumar Chaudhary and Shrikant write about the many caste rallies held by the Dusadhs from 1913 to 1915. They raised issues related to self-respect, demanded the right to wear the sacred thread (janeu), celebrated the dignity of labour, commemorated caste heroes, and so on. In April 1937, just around the time when the provincial ministries were formed, the Dusadhs got divided into two factions over staking a claim to "Rajput" status.
Is there such a powerful assertion or movement among the Dalits of Bihar today? There is not. Moreover, neo-Hindutva seems to have co-opted a large number of Dalit leaders. These leaders are not given space or opportunity to pursue Dalit-oriented politics in any real sense. It was particularly evident in July 2016, when the LJP chose to remain silent on the Bhumihar-led atrocity against the Paswan Dalits in Paroo, Muzaffarpur.
A good proportion of Dalit middle classes appear considerably saffronised today. The members aspire to get a more respectable place within the Hindu fold rather than define themselves in antagonistic terms vis-a-vis Hindu society. In short, the old rhetoric of mobilising Dalits against Brahmanical or Manuvadi forces is no longer a rallying point now that neo-Hindutva has state power and socio-political hegemony. [For example, rarely do Chirag, Tejashwi Yadav of the Rashtriya Janta Dal or Akhilesh Yadav of the Samajwadi Party in neighbouring Uttar Pradesh engage in this kind of rhetoric.]
Next, Hindutva myth-making and memory-construction about the political mobility of backward or Dalit social forces is based on their "history" of having fought Muslim power. It is done to pit subaltern energies against the Muslims and reinforce the Hindutva project to consolidate Hindus and build animosities against the Muslims.
Finally, many Dalit groups in Bihar now have their own leaders who have aligned with one or the other dominant political forces of the day. For instance, the Musahar community of Dalits have Jitan Manjhi, former chief minister. The Dhobi community has Shyam Rajak of the RJD. Ramai Ram, also of the RJD, is old and almost a spent force but the Ravidas community he belongs to has had an adversarial electoral-political relation with the Paswan community for several decades.
So, the challenge before Chirag is to emerge as the most prominent face of Paswan politics, if not of all 23 Dalit communities of Bihar. Despite the pandemic, he has planned roadshows and an Ashirwad Yatra that starts on 5 July, his late father's birth anniversary. Will he gain through such "gimmicks" is the question. So far, he has been unable to demonstrate magnetism in persona or politics. He is barely able to converse in the local languages and dialects of Bihar. There are hints of communication between Tejashwi and Chirag, but will they align their politics, and could it help hone his leadership? It is too soon to say.
Chirag has regularly demonstrated his "love" for Prime Minister Narendra Modi, even calling himself Modi's Hanuman. Given this affinity to Hindutva, will Tejashwi feel comfortable aligned with him? It is an important question because in the politics of perpetuating myths, which seeks to construct and popularise "memories", the subaltern communities are often projected as having resisted Muslim powers in pre-modern and early colonial days. For instance, BJP leaders have claimed that the Dusadhs were Gehlot Rajputs of Rajasthan who migrated to Bihar fighting the Mughals! It is also a claim that they joined the British to fight Siraj Ud Daulah in the Battle of Plassey in 1757.
Historians such as Nandini Gooptu [The Politics of the Urban Poor, 2001] and Charu Gupta [Sexuality, Obscenity, Community, 2001] detail such majoritarian myth-making and political mobilizations in North India during the 1920s and 1930s. In each, the subaltern group gets pitted against Muslim communities, even if the mobilizations took place in the context of the rapidly-growing base of the national anti-colonial movement.
Also of note is the avowed efforts of Akhilesh and Tejashwi to widen and diversify the base of their parties. They are yet to groom and project, for instance, any viable deputy chief ministerial candidates who could represent a new segment or wider cross-section of society. To be blunt, many non-Hindutva regional political formations are yet to demonstrate a spirit of accommodation. But politics can change on a dime, and therefore, even the possibility of a Chirag-Tejashwi alliance is interesting to watch.
The author teaches modern and contemporary Indian history at Aligarh Muslim University. The views are personal.
Get the latest reports & analysis with people's perspective on Protests, movements & deep analytical videos, discussions of the current affairs in your Telegram app. Subscribe to NewsClick's Telegram channel & get Real-Time updates on stories, as they get published on our website.
Subscribe Newsclick On Telegram