No Govt Aid, No Work: Maharashtra's Unorganised Labourers Struggle for Survival
The Maharashtra government announced monetary aid and ration to help labourers. But on the ground, the situation is different.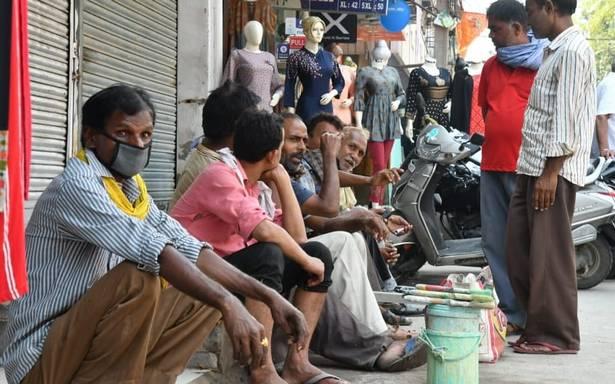 Image Courtesy: The Hindu
The government's unplanned lockdown to tackle the coronavirus pandemic has left the unorganised sector in shambles. Now, as the country is supposed to go into Unlock – Phase 5, the devastation being faced by unorganised labourers remains unchanged. In Maharashtra, the state worst-affected by Covid-19, the unorganised sector workers are struggling hard to survive with no work, no money and less food.
Baban Ghongade from Kalyan's Suchak Naka has not gotten any work for a week. When this reported saw him on October 5, he was asking for work from a truck driver who carries sand for construction work. But the truck driver said he already had two extra labourers while the daily trips were reduced to three from earlier seven.
"There is no work. I am from Murbad (30 km from Kalyan). Earlier, I used to get work as a helper for plumbing work or to do plaster or even to clean water tanks of societies. But all this has stopped," said Baban. 
Navi Mumbai to Vasai via Kalyan is a hotbed of industrial as well as construction activities. Work has resumed on various projects and industries in the last two months but not at full capacity like pre-lockdown. This has left the labourers from various projects without work. 
The situation is worse in regions outside of Mumbai. In Nasik, the only hope for labourers now is crop harvest. 
Gururaj Chavhan is a 28 years old landless labourer from Sinnar tehsil of Nasik. He has not received any formal training in electrical work, but he is skilled at TV and refrigerator repairing, electrification work as well as repairing electrical items like mixer, iron and fans. As Nasik is a hub of various companies related to electrical goods, he used to get some work in the long chain of dealers and sub-dealers. But, since last four months, Gururaj has rarely gotten any repairing or electrification related work. So he has gone back to his village in Sinnar tehsil hoping to get the work of harvesting.
"My contractor and two shopkeepers told me that they will call once there is enough work. So, I returned home. I hope people will give me work during harvesting season," he said. Gururaj is ready to do any kind of work to get by. "I also drive tractors. There are six tractors in my village. I have requested their owners to keep me as a driver so that I can carry the cane to mills. If not this, then I will go for cutting of canes," said Gururaj.
There are various schemes being run by the Maharashtra government for the labourers in the unorganised sectors. There are three direct pension schemes-- Indira Gandhi Niradhar, Sanjay Gandhi Niradhar and handicapped pension. According to the state government's data, there are 45.80 lakh beneficiaries of these schemes. Also, there were 17 lakh labourers registered under MGNREGA in 2018-19. Additionally, there are 13 lakh cane cutters and almost seven lakh working in brick kilns, stone quarries etc, according to government data. Experts believe that the state government hasn't taken pro-active measures to help this section of unorganised workers. 
"The gross insensitivity towards the issues of labourers is the common thing between Modi Sarkar and Maharashtra Sarkar. To handle a diversified sector like this and help them stand and rebuild their lives, the state government should have shown innovativeness and empathy," said Heramb Kulkarni, social activist and writer. His book 'Daridryachi Shodhyatra' (In the Search of Poverty) was published in 2019 and widely acclaimed for the research and analysis on the poor and labourers of Maharashtra. According to Heramb, the Maharashtra government has ignored many issues being faced by a section of unorganised workers.
"From workers in brick klins to waiters in small hotels, they haven't received full salary since March. The state government should have ensured that. The tribals are forced to migrate because they didn't receive work or ration. Domestic helps, poor widows and other vulnerable sections are unable to register complaints regarding the no work-no salary approach. In all these cases, the state government should have come forward and see that the interests of unorganised labourers are protected," said Heramb. 
Recently, DL Karad, a trade unionist held a meeting and a march of unorganised labours in Nasik. He has taken the battle to the state government's doorstep. According to him, the government is bound to establish a board for all unorganised labourers. "UPA-I had passed the Unorganised Workers Social Security Act, 2008. According to it, one central board for welfare of unorganised labourers and various boards in all states are compulsory. The registration of all unorganised labourers through these various boards is the next step. Simultaneously, the state government will have to implement the schemes regarding social security for all these labourers. But nothing has been done in these years. Now we are demanding the implementation of this act in letter and spirit in the state," said DL Karad.
The situation in tribal district Nandurbar is different and complicated. The labours here neither received work under MGNREGA nor grains and other ration under the state government's Khawati scheme. The Tribal Development Ministry of Maharashtra has decided to give Rs 2,000 as aid along with food grain of Rs 2,000 to them. But the implementation of the scheme has been poor. Latika Rajput, social activist and coordinator of Narmada Bachao Andolan, sheds some light on the situation. 
"The list of labourers was supposed to be finalised by May and the distribution of money and grain should have started by June. But that very list is yet in making," she said. "You can imagine the speed and the intention of the government to help the labourers," she added sarcastically.
The lack of government aid has resulted in the migration of labourers from Nandurbar to Gujrat. This is another serious issue. These tribal labourers are largely illiterate. There are various allegations that the contractors in Gujarat do not pay them fully so that the labourers will return to them in the next year. This exploitation has been magnified due to the government's apathy towards the labourers.
"Labourers are receiving advance payments. It is negligible in proportion to their work. But, their entire income of this year was lost in the travel during the lockdown and also in subsequent months without work. That is why the labourers have to go back to their factories. The government has failed here," said Latika. 
Raghuji Vasave, a 46 years old labourer from Akrani teshil of Nandurbar, said he will go to Surat for his factory work in the last week of October. When asked whether he received money from the government during the lockdown period, he answered in the negative. "Nobody came to our village. We don't even know whether the government has announced money for us. We do not have money and food at home. So, we are planning to go to Surat for work. Somehow we survived the four months during the rainy season. But it's not possible anymore," said Raghuji.
The lockdown has exposed the failure of both the central and state governments when it comes to unorganised labourers and shown how they have only paid lip service with various schemes that did not reach most people on ground.
Get the latest reports & analysis with people's perspective on Protests, movements & deep analytical videos, discussions of the current affairs in your Telegram app. Subscribe to NewsClick's Telegram channel & get Real-Time updates on stories, as they get published on our website.
Subscribe Newsclick On Telegram