No Space to Bury the Dead in Maharashtra
While corpses pile up at crematoria, minorities struggle to accommodate a deluge of new arrivals at burial grounds.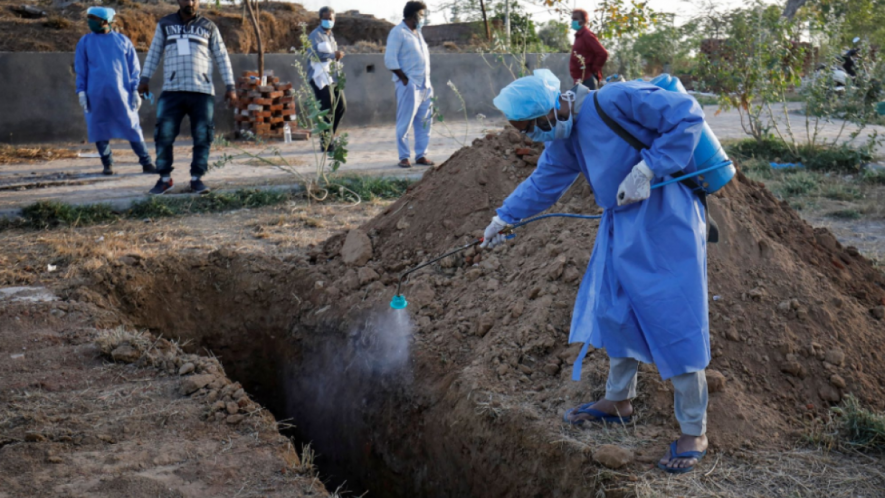 "At this point, humanity is hurting. In this Covid-19 situation, I don't know what even the government can do at this point," wireman-turned-ambulance driver Manoj Patil tells SabrangIndia on May 3, 2021, en route to his routine drop-off point: crematorium.
Crematoria and burial grounds have become routine places to visit for Patil, who has dedicated his waking hours to the free transport service after the actual driver ran away. As the days continued, he started picking up abandoned bodies from apartments and streets. These were bodies reportedly abandoned by frightened family members.
He tells us, "I used to get seven to eight calls from Muslim families requesting that I take away the patient's body. Nobody helped. They were too scared to touch the body. Lately, my uncle and I managed to gather some youths to help us out, provided that we pay them extra. They are still scared. Even I am but what can be done?"
Remembering the crisis when he started the service, he says the situation is somewhat better now. He hopes this is a positive effect of lockdown restrictions in Maharashtra. Yet District entry-maker for Muslim burials Prateek Sheikh says that the intake of bodies has not reduced for Muslim cemeteries.
"There is no space in burial grounds any longer. 800-year-old spaces are saturated. Where we once used to take in 25-30 bodies a month, we now have to accommodate 100 dead persons. Nowadays, we have started digging up 10-year-old graves and disposing bodies there," says Shaikh.
However, a greater concern were the current bodies that were disposed in Covid bags that lengthened the decomposition process. Lack of space has always been a pressing issue for burial houses. According to Shaikh, the district corporation is yet to allow for more space to build new burial grounds despite repeated requests by local groups. The only corporation provided burial ground in Nashik is situated around 15 km away from the city. All other establishments in the region are constructed by private entities.
"Another thing is that even in Muslim communities, we have Sunni, Shia and other branches. These groups do not allow their dead to be kept together which adds to the problem of space. Meanwhile, the workforce at the grounds is dwindling," says Shaikh.
The problem of shrinking space is not specific to Nashik or to Muslim cemeteries. For example, Mumbra town of Thane district, known for its huge Muslim population, also reported growing occupancy in graveyards. While the municipal corporation has consistently recorded less than 30 active cases in the area since April 13, residents tell SabrangIndia that local graveyards have reached 70-80 percent of the total capacity.
Dr. Abdul Qalam handling Covid-duty in Mumbra tells Sabrangindia that cases are higher than those reported last year. Although he says that the situation is not as dire as in other parts of Maharashtra, he still encourages people to maintain vigilance and adhere to social distancing and similar guidelines.
Meanwhile, Thane's St. John the Baptist Church posted the following message on their website on April 24:
"Due to an increase in the number of deaths during this pandemic, there is a shortage of graves. Hence, in the event of death of a loved one due to Covid-19, we urge you to go in for cremation. The ashes can be brought and buried in the cemetery or placed in a niche, which you may purchase… In addition we wish to communicate that burials may have to take place elsewhere if the situation worsens."
On the same day, Thane reported 1,108 new positive cases. Among the three well-known Christian graveyards in the area, St. John's current predicament represents the growing concern among communities, who conventionally bury their dead.
"It isn't just regular graves. We also used to have three-year-long graves from which families used to recover the deceased's bones for later rites. There is no space for such burials either. Nor do we hold funeral masses now," says parishioner Vanessa Pinto speaking to SabrangIndia.
She points out that the local parish welcomes around one thousand families and questions how the church is to accommodate all in coming decades. Pinto also talks about how the administration previously promised a new burial ground for the community but till date has not cleared any area for the same.
With the Sewri Christian Cemetery also running out space of late, local municipalities must now be compelled to answer a longstanding demand of people for new cemeteries. In 2017, the Maharashtra government cancelled a portion of the composite Goregaon cemetery for Christians living in the city's western suburbs. The Bombay High Court had condemned the move because even then, Mumbai among other cities was running out of burial space, forcing communities to change funeral practices, much like current times.
As for Muslims, the community has fought a long and hard battle with the Brihanmumbai Municipal Corporation demanding more space for burials since the 1970s. Yet, as per a Midday report, State Minority Development Minister Nawab Malik claimed no shortage and instead suggested 20 feet digging to allow two bodies in a single grave. A final resort that Muslims claim they long since resorted to.
Back in Nashik, Patil continues his rounds. Although happy that he does not get as many distress calls as before, perhaps 50 percent less he says, there is still a crowd outside burial grounds. His vehicle is often stopped from entering lanes where people bar Covid bodies from entering.
"I can't really take a roundabout route with an infected body in tow. Be it any religion, at the end of the day people are dying. So, I will continue to reach the bodies to necessary places. At the end of the day, I pray this all stops soon. People are hurting," he says.
On Monday, the Maharashtra Covid-dashboard flashed 70,284 deaths, with 3,148 deaths in Nashik and 13,294 deaths in Mumbai, as per official records.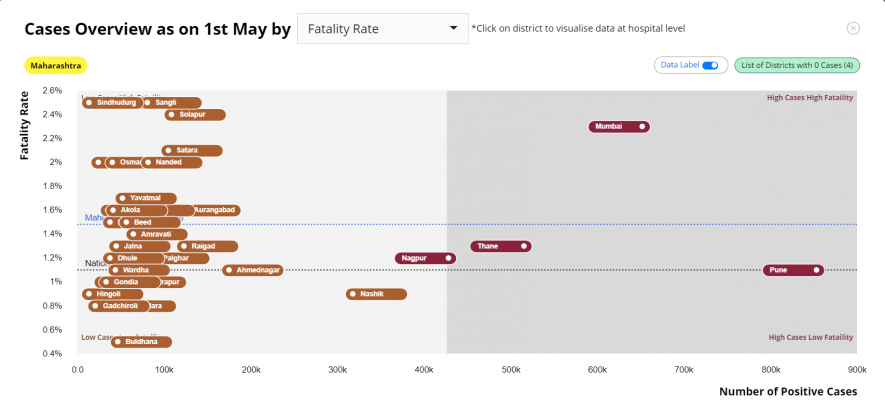 Courtesy: Sabrang India 
Get the latest reports & analysis with people's perspective on Protests, movements & deep analytical videos, discussions of the current affairs in your Telegram app. Subscribe to NewsClick's Telegram channel & get Real-Time updates on stories, as they get published on our website.
Subscribe Newsclick On Telegram