Normalising the Abnormal is the Strategy of BJP
In his speech, Anant Kumar Hegde, the Member of Parliament urged the gathering to identify themselves proudly with their caste, which, according to him, is the identification of one's blood.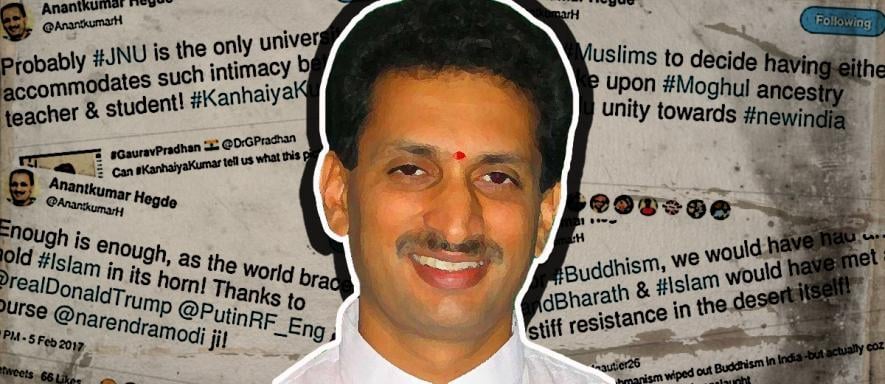 Anant Kumar Hegde addressed the gathering in an event organised by the Brahmana Yuva Parishad in Koppala district on 25 December 2017. In his speech, the Member of Parliament urged the gathering to identify themselves proudly with their caste, which, according to him, is the identification of one's blood. He said this while explaining the genealogy of caste in Hinduism. He calls caste system to be a "vikruti", a distortion which does not date back to more than a century ago in the country. According to him, it is those who are casteist who talk about brahmanism and caste discrimination in Hindu society. 
According to Shivsundar, a longtime associate of Gauri Lankesh Patrike sees this as, "normalising the abnormal" and he also remarked that this has been the strategy of BJP and RSS since the beginning. Hegde also says in his speech, "People with decency would agree and trust culture. Those who cannot differentiate between good and bad are those who consider education as culture. I do not intend to talk about such idiots." Saying caste is just like any other identity that is decided by his/her "occupation or karma", is akin to saying that caste is an everyday reality that must to be lived with and we must all accept caste and its atrocities happily.
Ignoring the history of caste based discrimination and violence, Hegde, in turn, accused movements and debates that question caste of being casteist. Adding that he was very proud of people who identify with their caste and religious identities, he attacked those who fight for secularism. According to him, "secularists" are those who do not know who their parents are and hence they refuse to identify themselves with any of their identities. Hegde attacked "secularists", saying that their numbers are negligible. He jokingly added that he hoped there were no "secularists" in the audience, garnering a round of applause from the gathering. 
Hegde is a member of Bharatiya Janata Party (BJP), and the current Union Minister of Skill Development and Entrepreneurship, and the Member of Parliament for Uttara Kannada constituency, and grabs at every opportunity he gets to show his immense respect for the Constitution of India, something he is bound to do as a sworn Member of the Parliament. For instance, he referred to the Constitution as Ambedkar Smriti, comparing it to the Manu Smriti, an ancient and appalling regressive legal text written by Manu. 
Talking of Manu and his Smriti, Ambedkar, in his paper titled 'Castes in India: Their Mechanism, Genesis and Development', had said: 
Manu, the law-giver of India, if he did exist, was certainly an audacious person. If the story that he gave the law of caste be credited, then Manu must have been a dare-devil fellow and the humanity that accepted his dispensation must be a humanity quite different from the one we are acquainted with. It is unimaginable that the law of caste was given. It is hardly an exaggeration to say that Manu could not have outlived his law, for what is that class that can submit to be degraded to the status of brutes by the pen of a man, and suffer him to raise another class to the pinnacle? … I may seem hard on Manu, but I am sure my force is not strong enough to kill his ghost. He lives like a disembodied spirit and is appealed to, and I am afraid will yet live long. One thing I want to impress upon you is that Manu did not give the law of Caste and that he could not do so. Caste existed long before Manu. He was an upholder of it and therefore philosophised about it, but certainly he did not and could not ordain the present order of Hindu Society. 
Hegde, in the same speech, went on to ridicule those who called "[them]" (him and his party) Manuvadi. As Ambedkar says in the passage quoted above, it is people like Hegde, who urge people to embrace their caste identity, who are the read custodians of Manusmriti. Shivsundar warns us to not make the mistake of reading Hegde's speech as his personal views. He says, "Pratap Simha, Pejawarashri (the seer of Udupi Pejawar Muth), Mohan Bhagawat, have been making such statements about caste, and hence, this is the view of the BJP, which these people are a part of, or support." 
While referring to the Constitution of India as  Ambedkar Smriti, Hegde said, "Smriti means laws of the land in that particular time. We had Manu Smriti, similarly we had Parashara Smriti and now we have Ambedkar Smriti". Continuing his speech on the Constitution, he said, "A few people say the Constitution mentions the word secular, so you have to agree. Because it's there in the Constitution, we will respect it, but this will change in the near future. The Constitution has changed many times before. We are here and have come to change the Constitution. We will change it." 
Shivsundar, referring to this in particular, says, "BJP and RSS are trying to test our patience by showing us their fascist agenda time and again. We must be extremely vigilant of what BJP and RSS does and say." 
Get the latest reports & analysis with people's perspective on Protests, movements & deep analytical videos, discussions of the current affairs in your Telegram app. Subscribe to NewsClick's Telegram channel & get Real-Time updates on stories, as they get published on our website.
Subscribe Newsclick On Telegram