Not in Defence of Qatar, But in Offense Against Western Hypocrisy
The U.S. sells Qatar much high-tech military technology including the Patriot long-range missile defence systems, the F-15QA fighter aircraft — the most advanced F-15 in the U.S. inventory — and AH-64E Apache attack helicopters.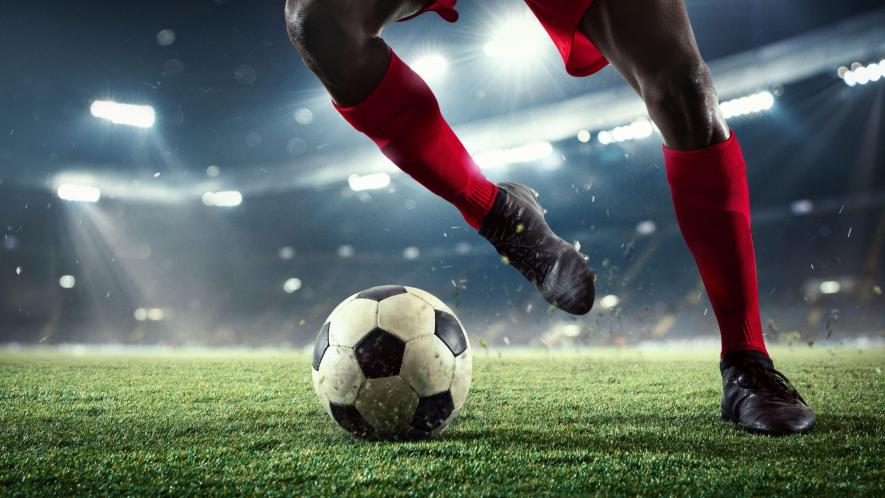 Image credit: Dafanews India
Throughout the buildup to this World Cup 2022 in Qatar, there has been a varying level of outrage against Qatar for human rights violations, deaths of migrant workers, and so on. There has been condemnation of what is being described in many quarters as a totally corrupt process under FIFA through which Qatar has managed to buy the right to host the World Cup. I do not intend to argue that either of these narratives is false; however, what must be exposed is the Western hypocrisy in selectively focusing on these issues.
Have there been deaths of migrant workers who were engaged in the construction of the infrastructure required for the world cup? Yes, and Qatar has definitely carried out a massive cover-up operation. Does Qatar have a regime which suppresses human rights? Yes, migrant workers have been forced into conditions similar to slavery. Domestic workers face rampant exploitation. There are strict restrictions on freedom of speech. Homosexuality may be punishable with death.
But is this something new? Was this not known to the shining beacons of Western democracy while they were building their alliances with, supplying arms to and buying oil from Qatar? Did it ever stop the US Air Force or the UK's Royal Air Force from using the Al-Udeid Air Base which was so generously built and financed for them by Qatar? No, they were happy when it served their imperialist interests in Afghanistan and Iraq and continue to do so in Syria and to threaten Iran.
Qatar also was in 2021 the U.S.'s second-largest foreign military sales partner, with more than $26 billion in active cases. The U.S. sells Qatar much high-tech military technology including the Patriot long-range missile defence systems, the F-15QA fighter aircraft — the most advanced F-15 in the U.S. inventory — and AH-64E Apache attack helicopters.
Moreover, are these Western hypocritical countries truly beacons of freedom, liberty and tolerance? Julian Assange had practically been in house arrest in the Ecuadorian embassy in London from 2012 till 2019 when he was formally arrested by the British police. Since then, he has been imprisoned and is continually being threatened with extradition to the US while also having suffered multiple health problems. All for what? The crime of exposing hundreds of thousands of crimes committed by these countries against people across the world including their own citizens. However, when it came to his case, human rights were thrown into the garbage bin.
This is not a one-off case of violation of human rights. The US has seen in the past few years the intensification of racist attacks against African Americans; particularly, with multiple instances of police brutality. The murder of George Floyd, a man arrested by officers of the Minneapolis Police Department on suspicion of using a counterfeit $20 note, caught international attention. Floyd was strangled to death by Officer Chauvin, a 44-year-old white man, who placed his knee on Floyd's neck for nine minutes even as he said "I can't breathe". Floyd's murder was only one amongst a series of murders by the police of African Americans. Even after all the outcry, in 2021, out of all police shooting deaths, 27% of those fatally shot and killed were African Americans even though they make up only 13% of the population. Further, African Americans are disproportionately incarcerated at 38.4% of the prison population.
Some others have said that Qatar is not a democracy and this must be condemned. But has democracy ever been what the West cared about? They do not care about democracy anywhere in West Asia. Bahrain, another Kingdom in West Asia hosts the NSA Bahrain, home to the US Naval Forces Central Command and the US Fifth Fleet, exerting their imperial domination over the entire region. There has never been an outcry from the West for "democracy" in the kingdom. Apart from the outcry over the murder of US-based journalist Jamal Khashoggi, there has not even been lip service from the US or other Western Countries to Saudi Arabia, despite the latter's internal human rights violations and also the horrific war being waged in Yemen where at least 10,000 children have been killed and half of the children under five are acutely malnourished. In fact, Yemen has become a laboratory for Saudi Arabia to test weapons they have purchased from the West.
If workers' rights are their concern, then it would be better for them to look into the conditions workers face in their own countries or the conditions imposed on workers in developing countries due to the MNCs from the West. The example of Amazon workers in the US who are continuously monitored and disciplined, to the extent that they often have to work while holding the urge to use the toilet is illustrative of the condition of workers' rights. Looking at how the MNCs work, Adidas from Germany, the official supplier for the World Cup is paying workers from Myanmar who are producing these clothes a measly 1.9 pounds per day. After workers staged a protest demanding better wages, dozens were fired from their jobs. This, however, is not part of the dominant narrative surrounding this world cup.
All of this is neither a defence of Qatar, nor is it a call to dissociate sports from politics. Football especially has seen so many teams and players who never shied away from their politics. We have the example of one of the greatest players to ever grace the sport in Diego Maradona who never shied away from asserting his association with the anti-imperialist, socialist, and communist movements. He was a man who participated in movements against the Iraq War, against free trade and worked to at least break the US's blockades against Cuba and Venezuela. We have the examples of players like Mohammed Salah, Sadio Mane or Paul Pogba who have raised their voices in support of the cause for a free Palestine and an end to Israeli terror on the Palestinian people. There are the fans of Celtic who have always been political and have had to pay fines for raising the Palestinian flag in their stadium.
Then we have the performative political shows by the Western Football Associations, Leagues and media. They took a knee in support of the Black Lives Movement in England and what did the English fans do? Continue their notorious racist behaviour to the extent of racially abusing their own players after their Euro 2020 final loss. Twenty-year-old Bukayo Saka, 21-year-old Jadon Sancho and 24-year-old Marcus Rashford all faced racist abuse after having given their all in leading the three lions to the finals of the Euros. These leagues have for long adorned rainbow bands, laces and all manner of paraphernalia in support of LGBTQ+ rights but queerphobia is so entrenched that there is hardly a single openly queer professional footballer. However, taking these performative stands makes them look "woke" and this especially applies to their sponsors who regularly take this or that stand looking at the profitability of whichever issue is in vogue.
So, let us take the Western cacophony on Qatar as an apt opportunity for us to point out the sheer extent of the "holier than thou" Western hypocrisy. Let us treat this World Cup as an opportunity to expose the violence and brutality that these countries continue to commit and sponsor across the world.
The author has an MA in Development and Labour Studies from Jawaharlal Nehru University; the views expressed are personal.
Get the latest reports & analysis with people's perspective on Protests, movements & deep analytical videos, discussions of the current affairs in your Telegram app. Subscribe to NewsClick's Telegram channel & get Real-Time updates on stories, as they get published on our website.
Subscribe Newsclick On Telegram