Not Paid for 3 Months, How Will we run our Households, Ask Striking JNU Workers
Mess and sanitation workers oppose proposed new structure of work, as also increase in workload after downsizing of workforce.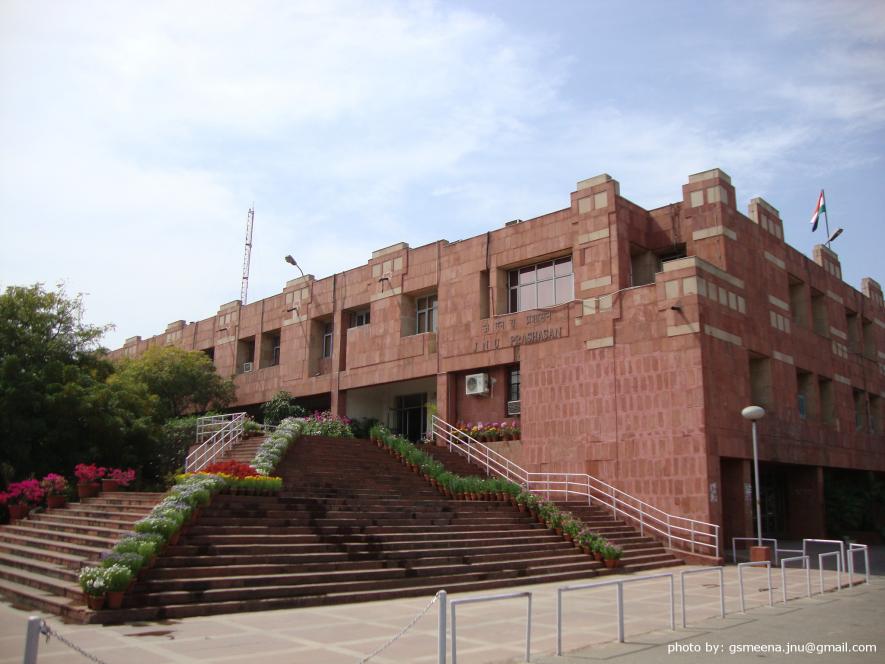 Representational image. | Image courtesy: Wikimedia Commons
New Delhi: Mess and sanitation workers of the capital's premier Jawaharlal Nehru University (JNU) boycotted work and observed a sit-in protest on Thursday at the office of Dean of Students against non-payment of salaries for three consecutive months. The workers allege they have been deprived of their salaries as the principal vendor did not receive his payments from the institution. They added that the new structure of work suggested by the JNU administration grants them only three days of work.
Gudiya Devi, who has worked in the university for 18 years through different house-keeping agencies, told NewsClick that the irregularity in paying salaries has been worrying the workers as many have taken loans on exorbitant rates to run their households.
"We have been running from pillar to post to get our salaries. I have to pay rent. We have not been paid for three months and have taken loans worth six months' salaries. For how long can one run a household on debt? No JNU official is ready to talk to us. They have asked guards to not let anybody in. The agencies work like brutes. Even if the issue gets resolved, we will receive only one month's salary," she said.
Rishi, another worker, said the new scheme of work by JNU suggests that few hostels, including Godavari, Kaveri, Periyar, Satluj, Jhelum and Ganga, will be handled by permanent staff of the university, whereas Shipra, Narmada, Sabarmati, Mahi Mandvi, Chandrabhaga, Koyna and Tapti will be served by contractual workers. 
"We have been told that only a few mess and sanitation workers are required in these hostels. However, the amount of work has not reduced. The mess and sanitation workers will have to work for longer hours. They are saying that they will provide work for only three days now. How can an ordinary  sanitation workers like me survive on such meagre work, as  we will be paid for only 12 days in a month?" he said.
Rishi said they had requested permanent staff to join the strike, adding that most of the workers live in inhuman conditions in urban ghettos like Kusumpur Pahadi, and non-payment of salaries was already worsening their situation.
Urmila Devi, former sanitation worker who has been organising workers, told NewsClick that the strike was taking place as they are not being paid despite clear court orders that salaries should not be stopped and there should be equal pay for equal work. "The workers are running from supervisors to different offices in the administration block but no officer is paying heed," she added.
Yashpal Tyagi, Deputy Labour Commissioner, New Delhi, in his order on 17.9. 2018 in the matter of All India General Kamgar Union versus JNU had ordered: "I am of the considered opinion that the contract workers employed in different categories by the principal employer are entitled to get the same wages (equal to pay with corresponding pay scale along with admissible allowances) by the principal employer for same and similar work under the provisions of rule 25(2) (v) (a) of Contract labour(R &A) central rules for the respective contract period with each contractor. The contention of the principal employer that regular employees are different from contract employees with respect to their sincerity and responsibility is not tenable in view of the fact that both are doing same and similar work with same designation."
Meanwhile, Sucheta De from All India Central Council of Trade Unions (AICCTU), in a statement said this was not the first time that the JNU administration hadviolated workers' rights.
 "For last two years, wages of workers are being delayed for 3-4 months repeatedly. Despite several intimations by the All India General Kamgar Union (affiliated to AICCTU), the union of the contractual workers of JNU, the repeated delay in payment has continued", she said.
Also, the number of workers has consistently decreased since 2020 declaration of the first phase of lockdown. "Earlier, 10-12 workers used to work in one shift in the mess, now only 5-6 workers do the same work. In garbage sorting work, 45 workers used to work in the beginning of 2020. Now the same amount of work has been enforced on 35-36 workers. And now, the administration is planning to reduce workforce and impose further overwork on a few number of workers," she added.
De said the JNU administration should Immediately reinstate all workers, not impose overwork and reduction in workforce in the name of rotation and immediately release pending salary.
Sudheer Pratap Singh, Dean of Students, JNU, did not reply to questions sent by NewsClick. This story will be updated if a response is received.
Get the latest reports & analysis with people's perspective on Protests, movements & deep analytical videos, discussions of the current affairs in your Telegram app. Subscribe to NewsClick's Telegram channel & get Real-Time updates on stories, as they get published on our website.
Subscribe Newsclick On Telegram