Noted Intellectuals Slam Bengal's Deucha Panchami Coal Mine Project, Demand Release of Jailed Activists
The large mining project would displace more than 5,000 families, most of whom are Adivasis and minority communities.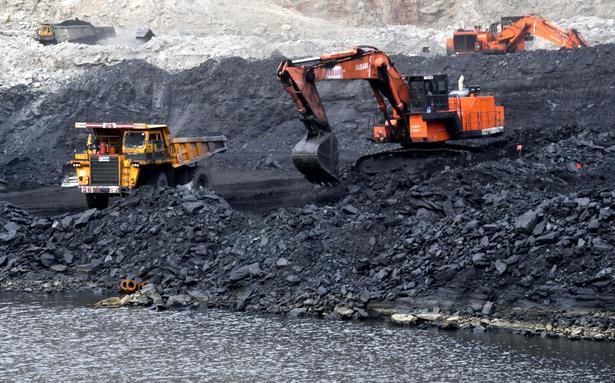 Image Courtesy: The Hindu
Several noted intellectuals and prominent activists have strongly opposed the proposed coal mining project at Deucha Panchami, in Birbhum, West Bengal, as it will displace thousands of Adivasis and harm the environment even as the world faces the climate change crisis.
Deucha Panchami is India's largest coal block and is supposed to emerge as the second-largest coal block in the world. Chief Minister Mamata Banerjee and the Government of West Bengal have announced it as a major mining project in the state "at a time when progressive governments around the world are turning away from coal towards more environmentally sustainable sources of energy," said a statement by a group of eminent academics, scholars, and activists.
They said that the mining project would displace more than 5,000 families, most of whom are Adivasis and minority communities. "There are apprehensions about the loss of land, livelihood, and habitat, as well as concerns about coercive action instead of following due process of law for obtaining consent," the statement said.
Further, a protest meeting organised by the "Birbhum Jibon, Jibika O Prakriti Bachao Maha Sabha" [Birbhum Association for Saving Life, Livelihood and Environment], on February 20 at the Dewanganj Football Ground in the Deucha Panchami area faced government wrath. Among the activists invited from Kolkata to address the gathering, seven were detained after the meeting, along with two local Adivasis. The group of intellectuals and activists called the incident "very unfortunate". The detained persons were subsequently charged with serious offences like attempt to murder. Since then, they have been in jail, and their bail has been denied. Moreover, the same FIRs also name around 20 more Adivasis and 150 unknown locals who have not been arrested yet. "These FIRs are hanging as a threat of further coercive Police action upon the local people," the statement said.
The arrested activists from Kolkata include Dr Prasenjit Bose, T. Khan, S. Sengupta, Imam, R. Mohammad, Malek Mollah, and S. Nanda. The arrested Adivasi activists are Mohon Mardi and Kalicharan Baske.
Amid protests against the project, the CM on February 21 and 23 increased the monetary package and upgraded other modes of compensation, such as houses and jobs, for the tribals who would be displaced from Deucha Panchami.
"This indicates that there are genuine grounds of discontent among the local people of Birbhum that have merited revision of compensation offers twice within three days," said the statement by intellectuals and activists. They appeal to concerned parties and the West Bengal government to engage in genuine dialogue with the local people and other stakeholders by following the due process of law. To achieve this, it was imperative that "coercive arrests and charges" against the activists and tribals are withdrawn, the statement said. They demanded that "the threat of further arrests is removed by releasing all arrested from jail, the false cases are withdrawn and the decentralised process of law of consulting local people in an atmosphere free of threat or fear is exercised, before making policy announcements from the highest offices."
Among the signatories of the statement are Amit Bhaduri, Retired Professor of Economics at Delhi's Jawaharlal Nehru University; Ardhendu Sen, Ex-Chief Secretary at Government of West Bengal; Harsh Mander, Social Activist and Director, Centre for Equity Studies; Jayati Ghosh, Professor of Economics at the University of Massachusetts; Ramon Magsaysay Award Winner Aruna Roy; Maroona Murmu, Professor of History at Jadavpur University; Nikhil Dey, Founder Mazdur Kisan Shakti Sangathan; Partha Chatterjee, Professor Emeritus at Columbia University; Prabhat Patnaik, Professor Emeritus of Economics at Jawaharlal Nehru University, and many others.
Get the latest reports & analysis with people's perspective on Protests, movements & deep analytical videos, discussions of the current affairs in your Telegram app. Subscribe to NewsClick's Telegram channel & get Real-Time updates on stories, as they get published on our website.
Subscribe Newsclick On Telegram