'Nothing Will Be Forgotten' Records how Jamia Students Fought a Brutal State
Those gripped by a sense of hopelessness can turn to a new book on student protests to draw an ounce of hope.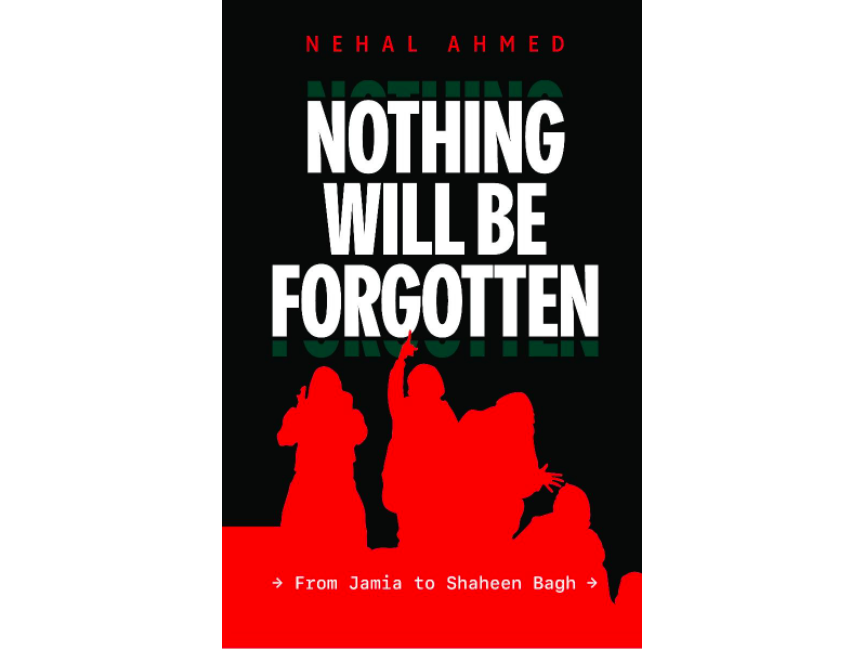 Ever since the Modi-led BJP government has come to power, it has strongly voiced its discontent over students doing politics. This has especially been true of students of Delhi's Jawaharlal Nehru University (JNU). When the university was attacked in 2016, everyone seemed united against the campus, which they said propagated "anti-India" sentiments. While the students of JNU fought their battle alone, just a little later, other universities realised that the government was not after JNU alone. One after the other, the State came for them: every campus directly or indirectly felt the heat. Be it the University of Delhi, Jadavpur University, or Hyderabad Central University. 
But the Centre's attack on Jamia Millia Islamia (Jamia) was quite different. It attested to the State literally going after students' lives when the police tore into the campus and started beating them, ruining the university library and infrastructure. The reason, all could see, was because Jamia students had stood united against the anti-Muslim Citizenship Amendment Act, 2019. 
Though several accounts of the Muslim women-led protests at Shaheen Bagh and voices against CAA, NRC and NPR have been documented, none had a student's eye witness account of the oppression that followed. Nehal Ahmed's book, Nothing Will Be Forgotten: From Jamia to Shaheen Bagh (LeftWord, 2022), fills that gap.
Though Jamia, as Ahmed notes, was "a crucial part of Gandhi's 1920 Non-Cooperation Movement", it was only in 2019, when it stood up to "defend and deepen the idea of India", that it found its voice. The State readied itself to muzzle it by either appointing a Centre-leaning head or moving security forces near the campus to supposedly 'put them in their place'. But on the eve of 15 December 2019, the unthinkable happened. Police broke into the university campus, entered the library, and beat students. CCTV footage of the incident went viral, sending shock-waves across the nation.
The title, Nothing Will Be Forgotten, is borrowed from Aamir Aziz's viral poem, "Sab yaad rakha jayega. Sab kuch yaad rakha jayega—All will be remembered. Everything will be remembered". The book characteristically breaks away from the mould of topical narratives in that it does not only evoke the solidarity of students as they faced crisis upon crisis. It also gives a poetic rendering of their protests. The book is peppered with poems by shayars and fankars, including Faiz Ahmed Faiz, Bashir Badr and Amrita Pritam. It is full of the idea of inclusive India that Ahmed's grandfather taught him. It is about the friendships that one values. It is about the ethos of India one carries in one's heart.
Amidst this narrative, Ahmed finds space to critique, question, and discuss questions of extreme importance that India confronts and which forewarn its decline if they remain unanswered. Why did the media spread false narratives about students during this period? Why did the police let a man open fire at protesting students outside the university? Why did it break into the campus in the first place? Why was a student asked to beg for forgiveness in the name of Allah, not Bhagwan? 
Is it that Jamia, Ahmed wonders, is geographically fragmented, unlike other universities, and so easy to take a hold over? Or is it because the State perceives Jamia as where "all Muslims" study? Did the mainstream media know that a student saved a policeman's car that some antisocial elements were ready to set afire? Did the media know that students had collected Rs. 10-20 donations to sustain themselves during the protests? Why did not most of the media note that Muslim women, stereotyped for far too long, had organised for the first time to safeguard their rights as citizens? If only the media had acknowledged that the "CAA is not just attacking the Muslim community, but it was first an attack on our Constitution." 
What has happened through the month of Ramzan, in Jahangirpuri or inside our homes, reflects that the fringe has entered our bloodstream. The idea of India is no longer of unity in diversity, spreading love and global harmony. It is about breaking the bones of those who resist what the leader says or does. It is about compliance and uniformity of opinions under his rule. But it wouldn't be characteristic of India if it did not resist a far-right regime.
Some of the most heart-warming chapters in this harrowing tale of State-sponsored violence inflicted on students are where Ahmed documents how students and other citizens responded through art during the nationwide anti-CAA-NRC-NPR protests. Ahmed notes how the protest sites had counters with names like 'Read for Revolution', 'Write for Revolution', 'Art Gallery', 'Study Circle', 'Lecture Series', 'Tea Counter' and so on. 
This author can attest to the exhilarating and motivating experience of visiting this resistance movement and being around its participants. There were books, music and dance performances, street plays, poetry recitations, and the langar brought by farmers from Punjab as a token of solidarity. Thanks to the langar "...the image of Shaheen Bagh became even more beautiful," Ahmed writes. But not just that, the langars made Shaheen Bagh "complete." 
But as soon as the COVID-19 pandemic broke out in March 2020, the sit-in protest that lasted 101 days finally ended. At the first opportunity it got, the State swooped in to wipe away all signs of resistance, sanitising sites that symbolised resistive fervour. But the State failed to realise that ideas are not easily erased. The task of reclaiming the idea of India has begun. And those gripped by a sense of hopelessness can turn to this book to draw an ounce of hope.
The author is an independent journalist. The views are personal.
Get the latest reports & analysis with people's perspective on Protests, movements & deep analytical videos, discussions of the current affairs in your Telegram app. Subscribe to NewsClick's Telegram channel & get Real-Time updates on stories, as they get published on our website.
Subscribe Newsclick On Telegram