NREGA Protests: Rural Workers Fight Technological Nightmare Brought on by Govt
MNREGA workers from different states have been protesting in Delhi against the mandatory online attendance and Aadhaar-based payment.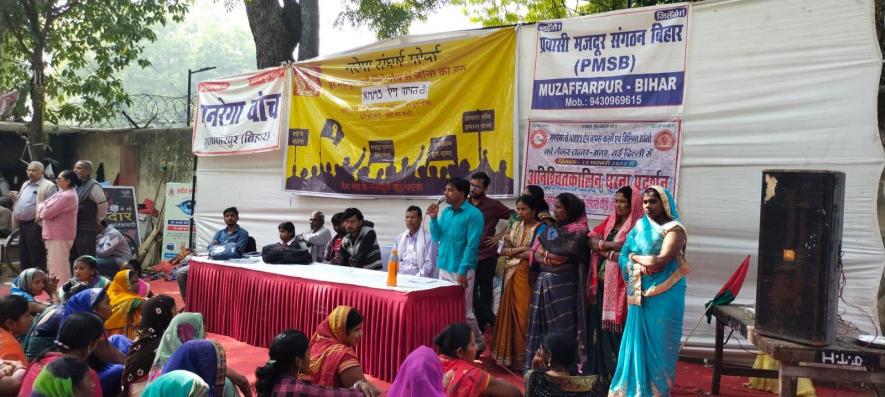 NREGA workers and civil groups protest against online attendance and Aadhaar-Based Payment System. Credit: NREGA Sangharsh
Delhi: Hundreds of workers from different states have been protesting for nearly a month at Delhi's Jantar Mantar against the central government's recently enacted rule of online attendance and payment to rural workers employed under the Mahatma Gandhi National Rural Employment Guarantee Act (MNREGA).
The protest of NREGA workers entered its 26th day on March 21 with no cognisance of the issue taken by the Union Ministry of Rural Development (MoRD).
After the government made digital attendance via the National Mobile Monitoring System (NMMS) mandatory for India's largest rural work scheme NREGA, a fray of complaints emerged from workers using the system.
The requirements of digital attendance include workers uploading their geotagged and time-stamped photographs once each half of the day using the app and within 11 am.
The second issue arose due to the Aadhaar-based payment system (ABPS) in the name of transparency.
The scheme, a lifeline for millions of workers in rural India, has two modes of wage payment, i.e. "Account-based" and "Aadhaar-based". The account-based mode is a standard bank transfer method requiring the worker's name, bank name and account number. In contrast, the Aadhaar-based payment system involves Aadhaar as a financial address.
Before its full-fledged implementation, the government tried employing it on a small scale in some states, such as Bihar and Jharkhand, which recently exposed the technological glitch.
Infuriated workers say they are helpless in countering the new attendance and payment systems.
Khusbu Devi, a Kurhani (Muzaffarpur)-based NREGA worker, claimed that functionality of the mobile application is full of discrepancies, such as – it does not open on time and a bad mobile network obstructs the uploading of photos. It has added to the woes of workers.
She told NewsClick, "We start working at the site, and after 11 am, the photos sometimes do not upload in the app due to weak internet connection. So eventually, those workers whose photos are not uploaded are marked absent; thus, there's no pay for the day despite hard work."
Another NREGA worker from the Patepur block of Bihar's Vaishali district, 58-year-old Vinod Ram, is appalled at not receiving wages for three days in the first week of February, which amounts to Rs 630, despite working for six days a week.
Ram told NewsClick, "The new method of online attendance is a problematic process due to bad network in village areas as claimed by the rozgar sevak. It has been robbing workers of their hard-earned money."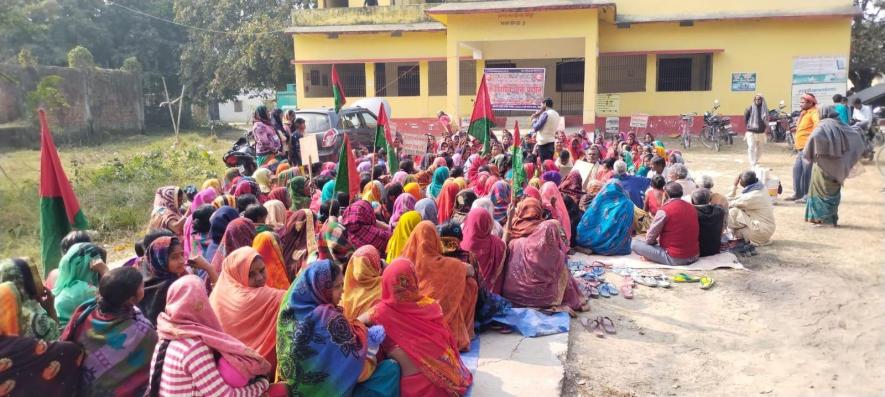 NREGA workers on protest against no payment in Vaishali, Bihar. Credit: NREGA Sangharsh.
Ram also recalled that on January 21, outraged workers gathered in front of the Patepur block office and registered anger for persisting assault on earnings via technology.
Similar unrest prevailed in Bihar's Muzaffarpur, where workers had threatened to go on strike over errors in payment of wages.
As per official data, the total number of NREGA workers in Bihar is 22 million.
Sanjay Sahni, coordinator of NREGA Watch, an organisation based in Muzaffarpur district pointed out discrepancies in wage dispensation due to attendance had not been recorded on the app of thousands of workers employed at Musahari, Bochaha, Aurai, Gaighat, Bandra, Katra, Sakra, Kurhani and Madhaul blocks.
"Often, there is no mobile connectivity, and the photo does not get uploaded, resulting in wage non-payment. If 100 workers are working on a site, then it takes two hours to register the attendance of 50 workers. After 11 am, the photos cannot be uploaded as the system hangs and technical issues hamper its functioning," Sanjay said.
So, the attendance of 50% of workers remaining incomplete is the existing peril of going online.
Pachati Singh, hailing from Manika block of Latehar district, Jharkhand, was one of the protest participants.
He told NewsClick, "Compulsory digital payment and attendance will wreak havoc for the largest rural workforce of the country. It is being done to harm the NREGA employment."
As per Section 3 (3) of the NREGA Act, the disbursement of daily wages shall be made on a weekly basis or, in any case, not later than a fortnight after the date on which such work was done.
ABPS has also been opposed by experts who were instrumental in pivoting the NREGA law.
Jean Drèze, the visiting Professor at the Department of Economics, Ranchi University, has termed the decision to implement ABPS as disastrous for the NREGA workforce.
Drèze told NewsClick, "Millions of workers have been entangled in the complex procedures of ABPS that require linking bank accounts with Aadhaar, meeting stringent KYC, and norms of e-KYC. Moreover, any discrepancies related to Aadhaar cards, like spelling errors in name and address, would intensify their hardships if the whole system goes online."
"Despite delays in wage payments, which have arguably been the biggest problem for the NREGA workers, payment transfer to bank accounts was still easier for the millions of workers," added Drèze.
According to official data, only 43% of NREGA workers are "eligible for ABPS" and 57% of NREGA workers will remain unpayable if the MoRD sticks to its January 30 order making ABPS compulsory for wage payments.
Experts have also questioned the efficiency of the ABPS system in payment delivery as claimed by the MoRD. A recent LibTech study pointed out discrepancies in the ABPS and mentioned that the speed of payment is much the same for account-based and Aadhaar-based payments. Moreover, rejection problems are much harder to resolve for Aadhaar-based payments.
Explaining the issue further, Rajendran Narayanan, a member of LibTech India and professor at the Azim Premji University, told NewsClick, "One of the most common glitch in the ABPS payment failure system is when it shows 'Inactive Aadhaar', which is the result of a software mapping failure with the centralised National Payments Corporation of India (NPCI), the clearing house for APBS. And workers remain clueless on this kind of technological shortcoming."
Get the latest reports & analysis with people's perspective on Protests, movements & deep analytical videos, discussions of the current affairs in your Telegram app. Subscribe to NewsClick's Telegram channel & get Real-Time updates on stories, as they get published on our website.
Subscribe Newsclick On Telegram