UP NREGA 'SCAM': People Died, but Wages Drawn in Their Names
For more than a year, there have been allegations of embezzlement of MGNREGA funds in many villages of the Bundelkhand region.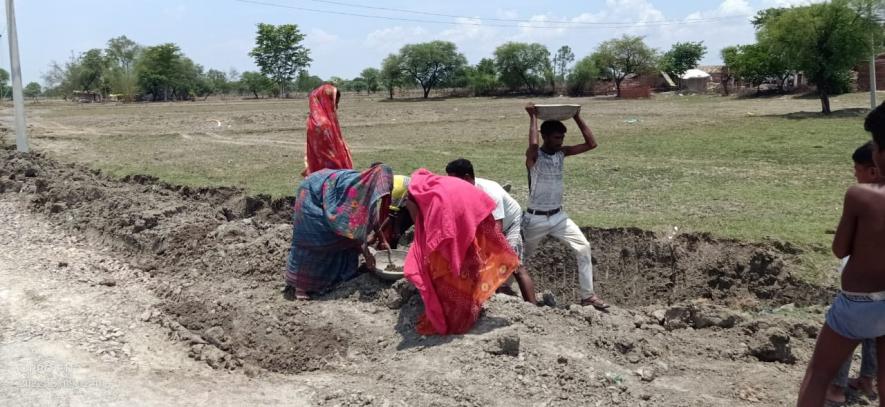 Photo Credit - Special Arrangement
Lucknow: Maya of Bhanwarpur village in Naraini block reportedly worked for 13 days under the Mahatma Gandhi National Rural Employment Guarantee Act (MGNREGA) in May 2022 and was paid Rs 2,556 on June 18, 2020. However, she had died on December 28, 2016, as per the death certificate issued by the Chief Registrar, Births and Deaths.
Maya, job card number 82, also 'worked' for 18 days under the NREGA scheme between July 30 and August 21, 2020, earning Rs 3,834 as wages.
Maya's case is not alone. Dead persons have allegedly come alive to draw wages from accounts under the MGNREGA in some villages of Banda district.
Prema, wife of Dayalu, had died on November 17, 2018, but was paid wages for work under NREGA in January 2020.
NewsClick has accessed data of at least 60 people who are either dead or do not exist, and still figure in the muster rolls and wage remuneration was drawn against their names under the MGNREGA scheme in Uttar Pradesh's Banda. The money obviously never reached them or their kin, who say they had no inkling of their deceased labouring under rural employment schemes.
"My father Shaukat was 70 when he died two months back. He never worked as a labourer under MGNREGA. This is a cruel joke on the poor that money is being stolen in his name," Suleman, a daily wager, told NewsClick.
Shaukat has left behind a family of five kids. Suleman, Rahman and Usman — all of them working as daily wagers in metro cities. Dozens of people from Bilharka's village had to leave their homes because there was no source of employment, alleged Suleman.
Mangal Singh Patel, the former village head of Bilharka, speaking to NewsClick alleged that "Not only money has been fraudulently drawn against the dead's name, but there has been rampant misuse of funds by way of enlisting ghost beneficiaries and fake muster rolls."
Hadaha Mafi village — 12 km from Atarra town – falls under Naraini block and has similar embezzlement stories under MGNREGA.
Matadin said his brother Sitla died in a road accident in 2015 and he never mentioned anything about working at MGNREGA sites. In another case in the same village, money was withdrawn twice a week in the name of Suresh's son Kallu despite him having never worked under the scheme.
Bijay Bahadur, whose wife Sudha Kumar is the village head of Hadaha Mafi, confirmed to NewsClick two cases of scam. He said, "Both the panchayat mitra and secretary draw money in the name of Suresh. The duo kept withdrawing money for 2-3 years. This is not the lone case of a scam in our area. A lot of work like canal cleaning and drain cleaning was not done, but money was taken out. When we complained about it, the officers only scolded the secretary in front of the public and no strict action was taken against them."
DISTRICT ADMINISTRATION CLUELESS
For more than one year, there have been allegations of embezzlement of MGNREGA funds in many villages of the Bundelkhand region. The authorities have received several complaints in this regard. But after the authorities allegedly did not take any serious note of the complaints, Raja Bhaiya, who runs the non-profit Vidya Dham Samiti in the district's Atarra block, has geared up to approach the High Court.
"This is not just a matter of 60 people, but hundreds of such people who have either died or never worked for MGNREGA but fraud is being done in their name. We have investigated each case and found the scam," Raja Bhaiya, who busted the scam, told NewsClick.
He said this needed to be enquired and the people involved in the irregularity should be put behind bars. "We have written to the district magistrate a week before, but no action was initiated so far. The block development officer and gram sevak shared a hands-in-gloves relationship and let the corruption happen."
According to the data, the work of cleaning the Gharar river was done with JCB machine in Bilharka Panchayat, but scams worth lakhs of rupees were allegedly withdrawn by showing the same work as done by MGNREGA workers.
When asked the reason for rampant impersonation, Raja Bhaiya said, "Bilharka Gram Panchayat is the last gram panchayat of Naraini block of Banda district bordering with Madhya Pradesh, therefore, government works are rigged on a large scale in this panchayat as no officer reach here.
PEOPLE MIGRATED BUT STILL 'WORKED' UNDER MGNREGA
Rahman's son Shaukat lives in Mumbai and does painting work. His job card number is 397. Rahman cannot come to his village every day from Mumbai to work under MGNREGA. Still, money is being grabbed by continuously showing wages in their job cards.
Shiv Ratan, son of Ramdhani, migrated long back in search of job but he too is a victim of the scam. He reportedly worked for 12 days of 3572 muster roll under the Mahatma Gandhi National Rural Employment Guarantee Act between May 7, 2022 and June 6, 2022. Again, from June 10 to June 23, he 'worked' for 12 days and same days in even July but he has no idea who withdrew the money in his name.
In this sequence, Jage, son of Chunubad, Jageshwar's son Jhulu, Betu's son Bhola, Kallu's son Munna, Gopal's son Bhau, Sakina's husband Subedar, Bhawanidin's son Sukhwa, Zeenat's wife Tasawwur, Shanti's wife Khande, Bhuri's wife Jumman, Safiq's son Maula Bakhsh are all pension holders. All of them are above 65 years of age and never went to work under MGNREGA, but fake payments have been made in all these accounts and later taken from them.
The story does not end here. There are dozens of people who really exist and have worked under MGNREGA for more than 50 days. But ironically, they were not paid their full wages. About Rs 3,00,000 worth of wages of these labourers are still outstanding.
Ram Babu, who worked for more than 50 days, speaking with NewsClick said that MGNREGA workers are promised payment of their wages within 15 days but it is the norm now to expect a delay of 2-3 months, and often enough, even after this wait, the payments are not made in full.
Siya Dulari, a mother of three, too toiled for months but was given just half her wages, that also after a lengthy wait.
Dulari also told NewsClick about the sad case of a fellow worker in Banda. While at work, she injured her spine in a work-related accident. She received no compensation from the government despite numerous appeals. The lack of help eventually led to her death, highlighting what he called the government's "acts of irresponsibility and incompetency".
Similarly, Rani, wife of Ashok, works as a rasoiya (cook) at a primary school in Bhanwarpur. She has never worked under MGNREGA, yet on different dates, wages have been drawn in her name by filling her name in the muster roll. The dates on which she is shown to be working under MGNREGA, she was found working at the school on those dates.
NewsClick tried to speak to the Banda block development officer but did not get a response. This story will be updated when his comments are received.
Get the latest reports & analysis with people's perspective on Protests, movements & deep analytical videos, discussions of the current affairs in your Telegram app. Subscribe to NewsClick's Telegram channel & get Real-Time updates on stories, as they get published on our website.
Subscribe Newsclick On Telegram