Nurses in South Africa Protest Demanding PPE, Income Tax Breaks and Danger Allowance
The protests were organized by the Young Nurses Indaba Trade Union. Other demands included the immediate and periodic testing of all healthcare workers and compulsory, conducive, decent and habitable accommodation for essential staff.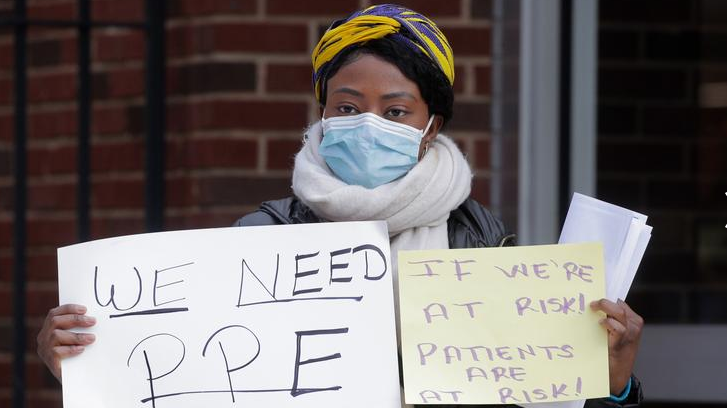 In addition to PPE kits, the provision of transport for nurses and other essential service workers is another key demand. Photo Reuters
On behalf of the healthcare workers struggling to make ends meet while treating COVID-19 patients, striking nurses from the Young Nurses Indaba Trade Union (YNITU) in South Africa staged demonstrations on May Day.
These gatherings, in which participants observed physical distancing, took place outside the Chris Hani Baragwanath Academic Hospital in Soweto and other clinics in South Africa. They was described by YNITU as "a symbolic protest, representing millions of workers who don't have Personal Protective Equipment (PPE)" and are risking their health and that of their families while defending the communities.
Unions representing workers across different sectors expressed solidarity with this protest action of the nurses, and called on the government to meet their demands.
These include adequate supplies of PPEs, the "immediate and scheduled periodic COVID-19 testing of all healthcare workers" and "compulsory, conducive, decent and habitable accommodation for essential staff working in COVID-19 units".
The nurses have also demanded an income tax break for six months and a COVID-19 Danger Allowance to address the financial distress that the country's healthcare workers face due to the economic shutdown. The lockdown in South Africa was imposed on March 27. The government reportedly began easing some restrictions on May 1.
The provision of transport for nurses and other essential service workers is another of their crucial demands. Many nurses who rely on public transport have been stranded for long hours, often at night, due to the low frequency of buses during the lockdown.
Having to take taxis has been a further drain on their "poverty wages." This is due to taxi drivers being forced to hike fares following the restriction imposed on the number of passengers they can have on board in a cab at a time. The nurses have also reminded the government that their pay hike has long been due.
"The majority of nurses are from poor backgrounds and are breadwinners in their respective homes, therefore COVID-19 has also deepened their financial strain and plunged them into the poverty because their little salaries have to be shared among a multitude of family members," the union had said in a statement on April 22.
The economic relief package president Cyril Ramaphosa had announced on April 21 had "completely and unashamedly excluded" the nurses and other health workers, the statement, titled 2020 The Year of the Nurse, added.
Nurses pointed out that even countries with much smaller economies and with much shorter legroom for government expenditure have provided their "frontliners Covid-19 danger allowance, income tax break and many other benefits to try to motivate them to keep on keeping on and never go weary in their fight against this cruel infection."
While the president had stated in his address that arrangements will be made for sufficient PPEs, he failed to commit to any timeline, and shortages prevail till date.
"YNITU will therefore call a stay away and withdraw our members' services on the 01 May 2020 should president never do anything for Nurses," the union had warned last week.
YNITU is affiliated to the left-wing South African Federation of Trade Unions (SAFTU), which in its statement expressing support, said that "Personal Protective Equipment (PPE) is not a Luxury, but (a) fundamental.. human right" of the nurses and other frontline workers.
Other unions express solidarity
"There remain drastic shortages on many essential items which nurses and healthcare workers need in order to protect themselves," the National Union of Metalworkers of South Africa (NUMSA), which is also affiliated to SAFTU, has pointed out.
"If our healthcare workers are not adequately protected, then it means the coronavirus will spread even further.. It is therefore of even greater importance that healthcare workers, and all workers on the front line, in all sectors, must be given the protective gear they need," the union added, calling on the government to meet the demands of the nurses.
The Food and Allied Workers' Union (FAWU) also expressed solidarity, saying, "These nurses should not be overlooked as they are vulnerable and at the frontlines of battling Covid19 in medical facilities… We therefore agree that these nurses should at least enjoy income tax break and danger allowance as means of motivation in this fight against a raging pandemic."
Pointing out that food workers, "who are tirelessly turning up for work every day.. (and) have to interact with multiple others in factories or.. retail stores all over the country" are also at high risk of exposure, FAWU raised the same demands on behalf of workers laboring in this essential service.
These unions and many others are united in their call for the nationalization of the healthcare sector, arguing that it is the only way to ensure the proper distribution of resources and workforce to meet the healthcare needs of the community, while also protecting the safety and dignity of the healthcare workers.
As of May 1, South Africa had recorded 5,647 cases.  103 patients have died.
Get the latest reports & analysis with people's perspective on Protests, movements & deep analytical videos, discussions of the current affairs in your Telegram app. Subscribe to NewsClick's Telegram channel & get Real-Time updates on stories, as they get published on our website.
Subscribe Newsclick On Telegram