Nutrition a Far Cry: 1.93 Lakh Posts of Anganwadis Vacant Across Country, Over 50K in UP Alone
A large number of vacant Anganwadi posts and non-operationalisation of approved centres are in 5 states alone and are directly impacting nutrition of children and women.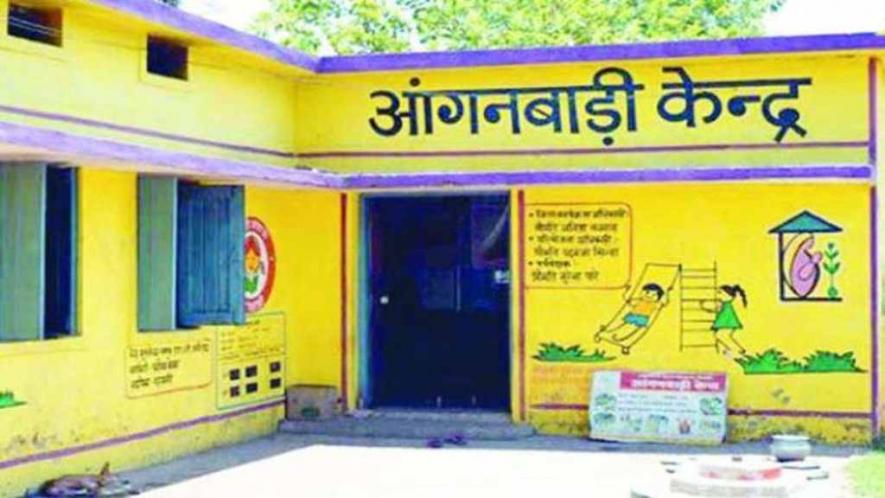 Image Courtesy: Social Media
In reply to a question in the Rajya Sabha, Women and Child Development Minister Smriti Zubin Irani said that 1.93 lakh posts were lying vacant in Anganwadis across the country at various levels. Out of these 1.29 lakh posts lying vacant in five states alone -- 50,670 are in Uttar Pradesh, 33,439 in West Bengal, 19,478 in Maharashtra, 15,720 in Tamil Nadu and 9,828 in Bihar (see table).
Anganwadis, mostly run by women, play a vital role in providing nutrition to children and women from the deprived sections. With such a large number of posts lying vacant and non-operationalisation of all approved Anganwadi centres, there has been a direct impact on nutrition of poor children and women.
The Union Minister, in answer to another question related to nutrition, told Parliament that 9.27 lakh children aged between 6 months and 6 years were suffering from extreme malnutrition, out of which four lakh children are in Uttar Pradesh alone.
Commenting on the vacant posts of Anganwadi workers and helpers in Uttar Pradesh, Veena Gupta, president of the Anganwadi Federation in the state, told NewsClick says that more than in reality, one lakh posts were lying vacant in UP alone. Citing an instance, she said that suddenly the authorities, citing an earlier revoked order, decided to stop the honorarium being given to helpers and workers aged 62 years and above.
Gupta claimed there have been no new appointments in UP since 2011, and about 10% of Anganwadi centres are completely vacant, adding that about 25%   
centres will become totally vacant due to the removal of 62-year-old workers.
These workers are currently enagaged in monitoring COVID-19 spread and vaccinations, various surveys, immunisation, and distribution of nutritious meals, and the vacancies would severely affect the lives of millions of children and women, she added.
At present, there are about 14 lakh approved Anganwadi centres across the country, out of which only 13.87 lakh are operational, that is, 12,265 of the approved Anganwadi centres in the country are not operational.
Out of these, 2,191 posts are of Child Development Project Officers or CDPOs, which make for 31% of the total sanctioned posts. Then there are about 17,000 posts of supervisors, 33% of the total sanctioned posts, and over 71,000 posts of workers and more than 1 lakh posts of assistants or helpers that are lying vacant.
Govt Spending on Nutrition, Anganwadis Lags
According to the Annual Programme Implementation Plan (APIP) of the Ministry of Women and Child Development for 2020-21, the expenditure on Anganwadis is borne by both the Central and state governments under the SNP or Supplementary Nutrition Programme and Anganwadi Common Services heads.
For these two heads, the North Eastern and Himalayan states get 90:10 Central and state share, respectively, and Union territories are given100% Central assistance. All other states get 60:40 Central and state share for Anganwadi Common Services and 50:50 for the SNP, respectively.
In the Lok Sabha on July 23, Union Minister Smriti Irani, in answer to an unstarred question gave a break-up of the funds sanctioned and released to the states in the past three years (from r 2018-19 to 2020-21) under the SNP and Anganwadi General Services.
She informed the House that in these three years, an amount of Rs 54,505 crore was sanctioned to all the states, out of which only Rs 48,044 crore has been released by the Centre, which is  Rs 6,460 crore less than the amount fixed on the basis of the prescribed norms.
In 2020-21, COVID-19 created panic in the country, leading to the sudden, unplanned lockdown due to which all Anganwadi centres were shut, thereby directly impacting nutrition. The Central government needed to find a way so that most of the affected people could get proper nutrition. But, instead of paying attention to this, the Centre has released Rs 4,100 crores less than the prescribed amount to states.
And if we see details of the amount used by the states, we find that in 2018-19, an amount of Rs 565 crore has not been utilised by states and in 2019-20,  Rs 1,596 crore remained unused. The figures for 2020-21 are not available as yet.
In such a situation, if the Central government itself has not given the full amount to states, how will states, with limited resources, give the Centre's share to it, in addition to bearing their own share of the expenditure.
A look into the details of the amount released by the Central government state-wise shows that according Uttar Pradesh got the lowest amount, which was Rs 1,941.58 crore less than the prescribed standards. Similarly, Bihar was released Rs 600 crore less, Karnataka Rs 475 crore less Assam Rs 317.2 crore, West Bengal Rs 287 crore and Rajasthan Rs 280 crore. The situation is somewhat similar in most states.
It may be noted that the states mentioned above are those that have a large number of malnourished children and anemic women, who will bear the brunt of the reduction in their nutrition-related expenses.
AR Sindhu, national general secretary of the All India Federation of Anganwadi Workers and Helpers (AIFAWH), said the Narendra  Modi government has drastically cut the budget of ICDS (Integrated Child Development Scheme). She said due to constant intervention of the Supreme Court and huge pressure from the public, the government is not being able to shut down Anganwadis, but the Centre has instead been continuously cutting actual expenditure. Whereas in the CAG (Comptroller and Auditor General)  and Parliamentary Committee reports, the government itself talks about malnutrition and pre-primary school children and how there is need to strengthen Anganwadis.
Talking on the vacant posts, Sindhu told NewsClick says that the responsibility of the Anganwadi centers where the posts are lying vacant has been passed on to workers of centres at the rate of only Rs 50 per month, due to which there is additional burden on these workers. She added that no recruitment means benefits will not reach the beneficiaries properly, thereby impacting the nutrition needs of poor children.
Need for More Anganwadi Centres
A large number of children are still out of the ambit of Anganwadis. In response to a question in Rajya Sabha, the Union Minister said that till March 31, a total of 8.31 crore beneficiaries had been given supplementary nutrition under Anganwadi services, out of which 6.75 crore children and 1.57 crore pregnant and lactating women were beneficiaries.
According to the 2011 Census, there are 16.45 crore children between 0 -6 years of age in the country, of which 12.13 crore are in rural areas and 4.32 crore in urban areas.
Commenting on this, Sindhu said currently only 50% beneficiaries are covered under the Anganwadis scheme. There are 16 crore children in the country below the age of 6 years. According to government data, only 6.75% are covered by the Anganwadis, which shows that there is need to set up more Anganwadi centres in the country.
At present, there are 14 lakh approved Anganwadi centres in the country, much less than the country's requirement, keeping in mind the number of children and the number of pregnant and lactating women in India. The Centre needs to set up more centre as well as increase the number of employees, Sindhu said.
Services Covered by Anganwadis
The beneficiaries under the Anganwadi Services Scheme include children up to the age of 6 years, pregnant women and lactating mothers, who are given a service package.
The other activities include providing supplemental nutrition (SNP), imparting pre-school non-formal education, providing nutrition and health education,
vaccination, health checkups and referral services.
But, in addition to all these works, Anganwadi workers and assistants are involved many works and surveys by the Panchayat Department, Election Commission, Health Department and other institutions and departments.
During the pandemic, all Anganwadi centres across the country were closed, but to ensure continuous nutritional support to the beneficiaries, door-to-door distribution of supplementary was done twice a month by the workers and helpers.
No Minimum Wage, No Social Security
Anganwadi workers and helpers are unpaid workers who are not considered 'employees' by the government, and are not covered under the Minimum Wages Act, 1948. They are paid a very little amount by the government, which is termed as 'honorarium. The amount of honorarium  fixed by the Central government is Rs 4,500 for a worker, Rs 3,500 for a mini Anganwadi worker and Rs 2,250 for a helper. However, some states pay higher from their own resources, but that too is very less in most states.
Anganwadi workers and helpers are given an insurance cover of Rs 2 lakh each in the name of social security only under Pradhan Mantri Jeevan Jyoti Bima Yojana (PMJJBY) and Pradhan Mantri Suraksha Bima Yojana (PMSBY). The insurance under PMJJBY is for those aged up to 50 years, and under PMSBY, the services are given till the age of 59 years, whereas services are taken from these workers even till they are 65 years old.
Let us tell you here that any common citizen can also get insurance under PMJJBY and PMSBY by paying Rs 330 and Rs 12. Apart from this, there is a provision of giving Rs 20,000 in case of serious illness. Anganwadi workers and helpers do not get any benefit of provident fund (PF) and gratuity.
The demand of Anganwadi workers to give them the status of 'employee' and they be paid minimum wages has been long-pending, which the government has been continuously ignoring.
This neglect of the government of the huge army of Anganwadi workers, who are responsible for nurturing the future of the country, is deplorable and needs to be rectified with immediate effect.
(Translated from Hindi. See the original article here.)
Get the latest reports & analysis with people's perspective on Protests, movements & deep analytical videos, discussions of the current affairs in your Telegram app. Subscribe to NewsClick's Telegram channel & get Real-Time updates on stories, as they get published on our website.
Subscribe Newsclick On Telegram