Odd Misses at FIFA World Cup: Alfredo Di Stéfano, the Slips Between the Cup and His Lip
In Part 1 of the feature on stars who missed the FIFA World Cup through strangest of circumstances, Newsclick.in narrates the tale of Alfredo di Stefano, the Argentinian who also played for Colombia and Spain but missed the World Cup and had to be content with glory at Real Madrid.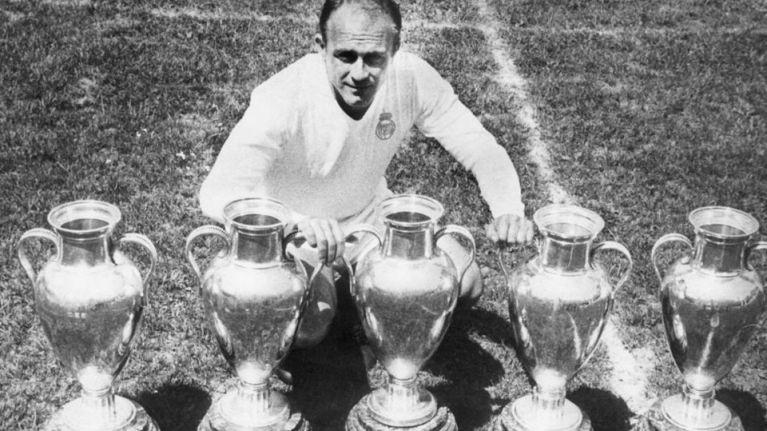 Alfredo di Stefano, who scored in five European Cup finals for Real Madrid between 1956 and 1960, helping them to titles, didn't feature in a FIFA World Cup.
The FIFA World Cup, the pinnacle of footballing excellence, provides players with a stage where they could become household names just by brilliance in a single tournament.
Pele, Diego Maradona, Johan Cruyff, Franz Beckenbauer, Zinedine Zidane and Ronaldo (the real one) aside, the World Cup has, over the years, launched absolute unknowns into footballing stratosphere.
Consider Josimar. Mexico '86 was the World Cup of wonders. It was Maradona's piece. And it was also the World Cup of brilliance. No other tournament has produced a better collection of goals — if you do only one thing with your lunch break today.
Josimar's brilliance also perfectly encapsulates the irony of the World Cup. Brilliance in a month-long tournament can make you viral, but sometimes things also go wrong. Soon after Mexico, Josimar's life unravelled. He went to prison, battled addiction, and was incarcerated when caught with coke in his wallet. His career never recovered.
READ MORE | Sunil Chhetri's Appeal Is Much More Than a Mere Call for Fan Support
In another twist, the World Cup is also a missed opportunity for some. Only 79 countries have ever qualified for the Finals, so it is reasonable to expect that some outstanding individuals have never ever been on that stage (George Weah immediately comes to mind).
However, the list is endless and an easier exercise would be to focus on those whose absence were strange and unfathomable. Newsclick's series starts off with the strange story of a man, who, despite having played for not one, not two, but three different nations with glorious World Cup history, misses out on the tournament altogether.
It is appropriate, then, to applaud Alfredo Di Stéfano, who began his playing career with the Argentine club River Plate in 1945, and ended his illustrious career in Spain in 1966, after winning a host of European and domestic titles with Real Madrid.
ALFREDO DI STEFANO
Di Stefano did what few others could have.
In annual lists that rank football's greatest players, Diego Maradona, Johan Cruyff and Pele regularly grab the top three spots. Sometimes—dependent mostly on the lister's age—Alfredo di Stefano sneaks in at fourth.
READ MORE | Argentina's Pull-out from FIFA World Cup Warm-up Dents Israel's Arrogance
A star at three different clubs in three different countries, Di Stefano's legend was built at Real Madrid, where he is regarded—in hushed tones, everyone mindful of insulting this guy—as the greatest player to have ever turned out for Los Blancos (The Whites). Which is saying a lot, considering they are, of course, the world's richest, most powerful, most popular, most influential and most successful club.
So, here's the thing. Bring up Di Stefano around Barcelona fans, and they will immediately launch into a tirade about Madrid's clout. And that is where the plot towards his World Cup absence lies. In a way.
Di Stefano grew up playing football in the Barracas, a working-class neighbourhood of Buenos Aires. At 19, he signed for River Plate. His early years at the club marked him out as a future star, and within two years he was featured in the national team.
This was a time when footballers were paid a pittance for their efforts, as Argentinian club owners sought to maximise profits while minimising expenditure. Expectedly, after a long diplomatic battle, the players went on strike. This set off a chain reaction and allowed the newly formed cash-rich Colombian league to poach the world's talent—to hell with FIFA regulations.
READ MORE | From Telstar 18 to Boots and Jerseys, the Plastic Side of FIFA World Cup
Duly, Di Stéfano, already an Argentina international, left River Plate for Millonarios and was soon turning out for Colombia. The pay was good, the quality of football—on account of some serious talent having been signed up—stupendous, and since they were outside of FIFA, the Colombian club owners didn't bother with transfer fees. Everyone, essentially, was on loan.
In this merry mess, Argentina withdrew from the 1950 World Cup and never even applied to appear in '54. Colombia, meanwhile, withdrew from the former and were banned from the latter. FIFA, for good measure, also banned Di Stéfano for playing for Argentina anyway, on account of him turning out for Colombia. A glorious FIFA mess as usual.
THE REAL CONNECTION
And into this muddy puddle, in stepped Real Madrid. And FC Barcelona.
In the summer of 1952, Millonarios, turned up at Real Madrid's newly constructed home ground, the Santiago Bernabeu, to participate in their 50th-anniversary tournament. By this time, Colombia had rejoined FIFA, and, so, all the players were directed to go back to their home clubs.
Millonarios were trying to mint as much as they could with these friendlies. And at these friendlies, in the Bernabeu, Di Stéfano mesmerised Madrid. And so, Madrid being Real, had to have him. There was, however, a small problem. So did Barcelona.
Madrid struck a deal with Millonarios and Barcelona with River Plate. Di Stéfano was stuck in a Barcelona hotel, impatient, and inactive. It took a long while, and lots of arm-twisting, before it was ruled that he should play alternate seasons with the two clubs, starting with Madrid.
READ MORE | 10 Tales of Intrigue From the First FIFA World Cup
 His first few games were unimpressive. And so, Barcelona—stupidly—sold Madrid their half-share. Almost immediately, they were made to suffer, as Di Stéfano, struck his first hat trick against them in the first Clasico of the year—Madrid won 5-0, Di Stefano scored four. He went on to spearhead the greatest Madrid team of all time, as they won five European Cups in succession—a feat never since repeated.
Now that he was in Spain, and widely loved, it made sense for Di Stéfano to play for Spain (there is simply no point trying to second guess FIFA's fantastical rulings during this period in football's history, you may as well just go with it). The Spanish, with a forward line also boasting Barcelona and Real Madrid stars Laszlo Kubala, Luis Suárez and Francisco Gento would surely get to the 1958 finals in Sweden then. And Di Stéfano would have something to show for his brilliance. Especially as they were drawn in a qualifying group with Scotland—whose team included players from a second-tier rabble-rousing club called Liverpool—and minnows Switzerland. They didn't.
They opened their qualifying campaign with a 2-2 draw against the Swiss and then lost to Scotland at Hampden park 4-2. They beat them 4-1 in a reverse fixture later, but the damage had been done. Scotland beat Switzerland and went to the World Cup. Spain stayed home.
Spain made it to the 1962 World Cup in Chile, but by then, Di Stefano, 36 years old, was past his prime. Nonetheless, he was included in the squad and travelled to South America. But, he was carrying an injury and never managed to get a look in. And so, it ended. Unhappily. Although five European cups on the bounce and a statue outside the Bernabeu is a strong consolation.
Watch the Video Here
Get the latest reports & analysis with people's perspective on Protests, movements & deep analytical videos, discussions of the current affairs in your Telegram app. Subscribe to NewsClick's Telegram channel & get Real-Time updates on stories, as they get published on our website.
Subscribe Newsclick On Telegram