Odisha: Lack of Smartphones, Connectivity Exclude Marginalised Children from Live Streaming
Most children from this school belong to marginalised communities and cannot afford to buy smartphones for studying. When we first did a door-to-door survey and started collecting mobile numbers we found only 112 families of a total 382 students owned smartphones.'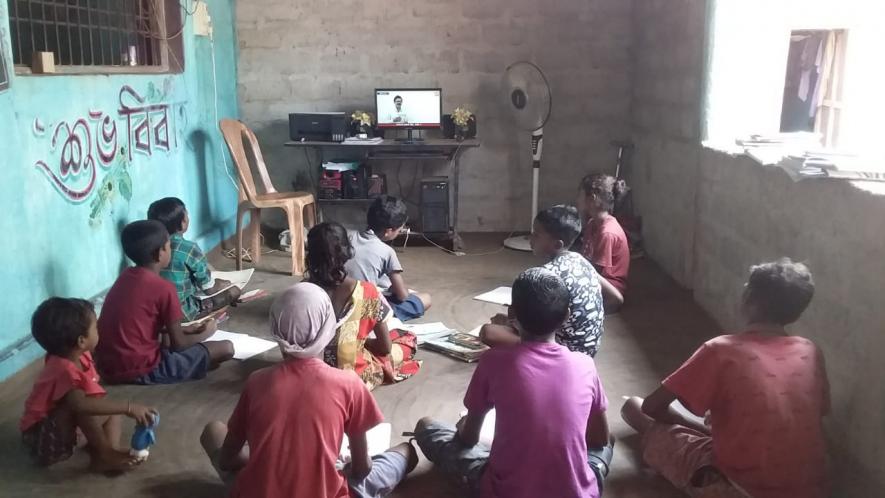 Ghasi Sisa, language teacher is teaching students of Bonda hills through his laptop. (Photo Courtesy- Ghasi Sisa)
Thirty-one-year-old Ghasi Sisa, a teacher of language at the Bondapada Primary School on Bonda Hill – about 4,000 ft above sea level in the Khairaput block of Odisha's Malkangiri district – wakes up early morning to climb up the hill top for better mobile connectivity. Once he finds a spot he sits there till about 10.30 am to download videos off YouTube which form the online lessons for students of state-run schools. Then he and another teacher from the school make sitting arrangements for 43 students following the COVID guidelines.
Students from classes four and five are called to the school premises, where they sit on school verandahs or inside the classrooms. However, the more junior children, those between classes one and three, sit in different spots in the villages of Mudulipada panchayat. Then Ghasi plays these videos on his laptop while translating for the children in the Bonda language. "I am a language teacher and children of this PVTG (Particularly Vulnerable Tribal Groups) do not understand Odia, so I need to translate the lessons in their mother tongue to make them understand," he said.
Since the state government launched live streaming of lessons on YouTube, teachers from far-flung villages are faced with different kinds of difficulties, and Ghasi is one of them. "The parents of these 43 students cannot afford to buy a smartphone for their children. Even if they do buy it they are of no use to children who don't understand the Odia language. So, I download the videos everyday and keep them engaged in their studies," said Ghasi, who is on a video call from Mudulipada. During the interaction, this writer asked a class 4 student Shiba Dora (9), whether he is able to understand his lessons through the videos or not. The shy child softly answered in Bonda,"Ning path abunthing chulang, bujhna bujhi ni ning anal andra" (I am unable to understand but our Sir makes us understand properly) Ghasi translated. He agreed that children are curious and watch the videos but do not understand what is being said.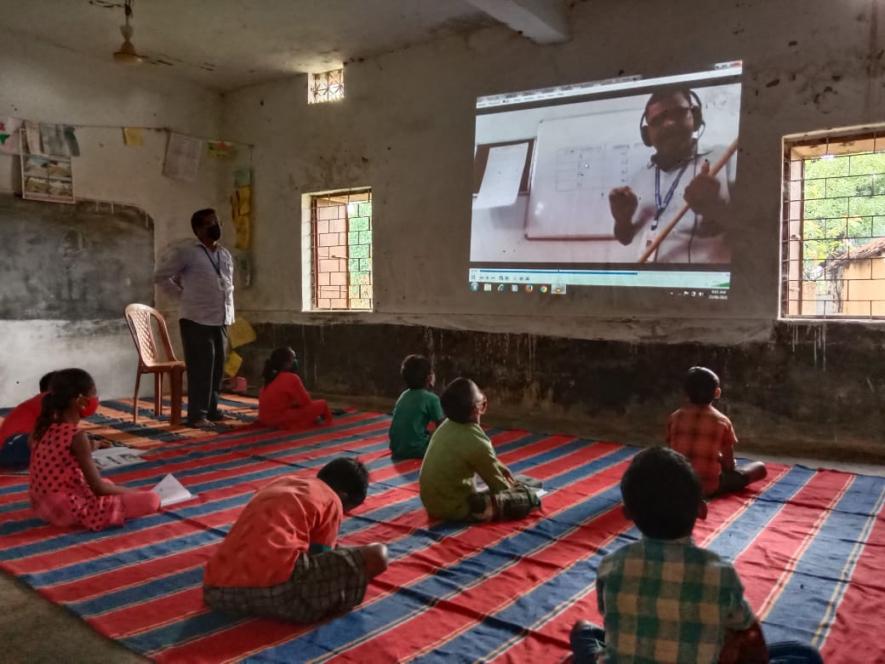 Students of UG High school are being taught through a projector at Nuapada (Photo Courtesy-Khem Das)
Around 386 kms from Malkangiri, children studying in the UG High School at Mendhatal in Komna block of Nuapada district face a similar kind of situation. Khem Das, its head master, said: "Most children from this school belong to marginalised communities and cannot afford to buy smartphones for studying. When we first did a door-to-door survey and started collecting mobile numbers we found only 112 families of a total 382 students owned smartphones. These phones belonged to their parents, relatives or neighbours. Spending on monthly internet packs is another problem shared by these families. So, we decided to come up with our own way of teaching students," he added.
Das asked local NGO AIF Lokadrusti to provide five tablets and projectors so that they could teach children while following COVID-19 guidelines. "Every morning during the live streaming session, all 13 teachers of the school download the videos on their own mobile phones and tablets. We then we move from one pada goan (hamlet) to another to teach students, a process whichid continues till three pm," he said, adding that they felt happy that they could keep the students in touch with their studies.
However, students continue to drop out. "The number of girl students has come down since the COVID-19 lockdown. They are mostly engaged in household work. Besides, it is the attitude of parents not to invest in the education of girl children, so buying a smartphone and spending on a monthly internet pack for girls is rare," said Rajalaxmi Mohapatra, a teacher from Bhubanpur Project Upper Primary School at Balianta. Children of migrant workers who work in brick kilns around Balianta form a large proportion of its students. "Their parents cannot afford to purchase a smart phone for them. So, every morning we (teachers) visit these brick kiln sites to teach students," she added.
Lack of connectivity
It is not just that parents of marginalised children are unable to afford smartphones in Odisha, a lack of connectivity poses another problem in far-flung villages. According to the Odisha Economic Survey 2020-21 the overall tele-density of Odisha is 76.46 while the national average is 87.37. The tele-density in rural areas is 62.25 and the internet subscription per 100 people in rural areas stands at 34.51; it is 85.98 in the case of urban areas. Thus there is a significant urban-rural divide in the state, both for tele-density and internet subscription.
A survey involving block level officers during 2016-17 found that out of the total 51,311 villages in the state, about 11,000 villages do not have mobile connectivity. Out of this, 10,000 villages come under LWE affected area. Special funding is required to set up more number of mobile towers in these uncovered areas for improving the tele-density in the state.
Activists working in the education sector are concerned, and said that even though the government understands the ground reality of online education, it still allows all the children to study on digital platforms. "There are several tech companies tying up with the government to make a profit during this pandemic. They don't want to understand the flip-side of online education. If this continues for a longer period it will have an adverse impact on both urban and rural children," said an activist who wished anonymity.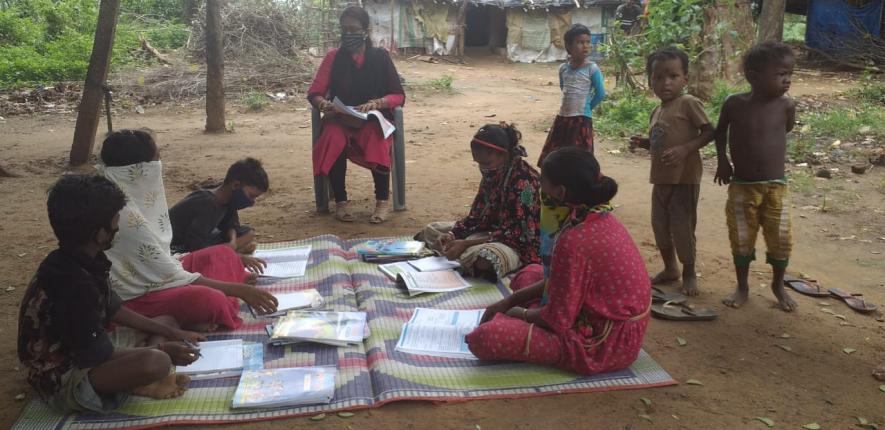 At the brick kiln site one teacher teaching students (Photo Courtesy- Rajalaxmi)
Need for Alternatives
It is proving to be much more difficult for students from classes one to three to make sense of online education. To strengthen their foundations teachers have to help them in writing and reading both alphabets and numbers. "If they continue seeing videos without understanding them, they will lose interest to attend classes," said Ghasi. Head master Khem Das suggested: "If the college-going youths at the village level are encouraged to teach these younger children in their particular hamlet/village it will help them engage in studies; the youths will also get some form of financial support," he said.
Anil Pradhan, state convener of the Odisha RTE Forum said: "Children from marginalised communities have already lost one and a half years of academic sessions. Thus, before starting with live-streaming sessions the government should have discussed the idea with educationists, activists and academics for a constructive solution to this problem". Emphasising on other alternatives, he suggested that apart from live streaming, the government needs to think airing classes on TV and open schools in green zone areas. He said there was a need to setup a committee that includes PRI members, members of SMC, teachers, ASHA, AWW, health workers of PHCs and village heads. It would be responsible for the safety of children; from thermal screening, regular health check-up, sanitisation of the school and class rooms, providing water facilities, masks and for the behavioural change of students etc.
"When we have to live with COVID-19 we have to find alternate ways to bring children to school. After the introduction of YouTube live streaming sessions, young children are missing the usual play and learn method of education, which reflects on their face. My son is no more enthusiastic about going to school every day," said Badaka Muduli, father of a class four student at Bondapada PS.
The writer is a freelance journalist based in Odisha. 
Get the latest reports & analysis with people's perspective on Protests, movements & deep analytical videos, discussions of the current affairs in your Telegram app. Subscribe to NewsClick's Telegram channel & get Real-Time updates on stories, as they get published on our website.
Subscribe Newsclick On Telegram